BACTA SUPPORTS 'OPERATION EAGLE'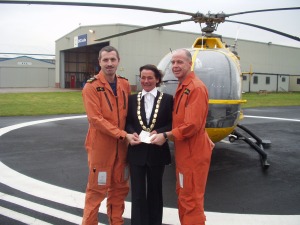 BACTA, the trade association representing the gaming machines' industry, supports 'Operation Eagle', an appeal recently launched by North West Air Ambulance, to raise funds for a new helicopter.
Barbara Thompson, North West Region chairman, who presented a donation of £3,500 to North West Air Ambulance at Blackpool Airport said:- "We are delighted to support 'Operation Eagle' and wish them every success with their fund-raising. This service is vital to the people of the North West.
The funds were raised at charitable events held by the North West Region over the past year, which were supported by members of the amusements' industry throughout the UK."
Lynda Brislin, NWAA charity chief executive, said:- "The NWAA belongs to everyone in the region, and we would urge people to support this new appeal."

Pick up a pumpkin at Pleasureland this half term!
YES, Pleasureland have come up with a novel way to help guests prepare for Halloween. Throughout the October half term visitors to the Southport theme park will get an unusual freebie with their wristbands, a free pumpkin? Yes a free pumpkin! Children can then decorate them and enter them in Pleasureland's Grand Pumpkin Carving Competition on Sunday 31st October. The competition is a major part of Pleasureland's annual Halloween party, which sees the whole park transformed into a spooky 'scream' park, with Halloween themeing on the rides and staff in frightful fancy dress!

As Pleasureland Marketing Manager Stephen Christian prepared to give away almost 1,000 pumpkins he explained "The Halloween party is a major event in the Pleasureland calendar. The staff put an awful lot of effort into decorating the park and their costumes and it makes a great evening for kids. We're giving the pumpkins away with wristbands all through half term week and hoping to see all of them back on the 31st for the competition!"

The pumpkins will be available to ride wristband purchasers from Saturday 23rd October, and judges will be looking for style, originality and innovation when they pick the best of the bunch. In addition to the pumpkin competition there's also a kids fancy dress party with prizes for the best-dressed boy and girl. Pleasureland will be open from 12pm to 9pm, with the Halloween fun starting after dark. Wristbands prices are £9 all day or just £7.50 after 5pm.
ENGLISH ROADS FACE DECADE OF REPAIRS AT BEST
IT would take nearly eleven years to bring the quality of England's roads up to squatch even if the highway engeneers were given akll the money they claim to need. According to a survey of local authority highways engineers in England, given adequate funding and current resources it would take until the summer of 2015 to clear the road maintenance backlog. And, says Jim Crick, chairman of the Asphalt Industry Alliance (AIA), which conducted the survey, the likelihood of adequate funds becoming available is very remote indeed.

"The current system of funding road maintenance is failing everyone," says Jim Crick. "Money promised from Westminster is not reaching the roads but being siphoned off at local authority level to pay for other services. engineers are becoming increasingly frustrated with their plight and want guaranteed funding and greater understanding from councillors, which is hardly surprising."

The AIA's survey found that 80% of local authority highways engineers in England believe that, to operate an efficient road maintenance programme, funds provided by central government to local authorities for road maintenance should be ringfenced for that purpose only. In addition, it found that less than half (41%) of engineers felt that their local councillors understood the issues surrounding road maintenance funding adequately.

"Current disparities between what highways departments need and what they are receiving make improvement in road condition impossible," claims Jim Crick. "The road network is the economic lifeblood of the country relied upon by everyone from businesses to schools and hospitals, and from locals to tourists. It is the country's most valuable asset and we need a radical review of how it is funded if it is to be kept in an acceptable and safe condition. The current system is doing no one any favours."