450 YEARS OF TOP FINANCIAL SERVICE AT ROYAL LIVER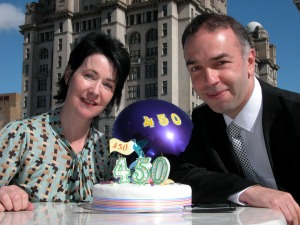 ROYAL Liver Assurance has notched up over 450 years of financial support for customers.

Eighteen of the multi-billion pound operation's 700 employees, whose head office is based in the famous Royal Liver Building, are celebrating over 25 years of unbroken service.

Last week, Royal Liver Assurance is now the UK's second largest society and looks after over one million members in the UK and Ireland. It was founded by a group of men in Liverpool's Lyver Inn in 1850 to help the city's poor and destitute avoid the dreaded pauper's grave by saving for a decent burial.

By the late 1890s, the friendly society had built up an extensive network of offices and decided to build a new headquarters to reflect the pride felt by those that worked for the society and the result was the Royal Liver Building, completed in 1911.

Neil Davies, 42, joined Royal Liver Assurance as an audit clerk in 1979. He now heads up the UK Home Service division that has a team of 250 representatives that collect life assurance premiums from policyholders in their own homes.

Neil explained:- "When I joined Royal Liver at 16 I didn't have a specific career goal. My supervisors gave me lots of opportunities to progress, and by pushing me to gain qualifications and move between departments I found an area that really interested me.

I thoroughly enjoy working in the Home Service division and can't imagine doing anything else now. Our home service representatives build up strong bonds with their customers, it's very rewarding to know that we're providing such a personal service.

Since so many of us have been here for over 25 years, we all get on extremely well and there's a real family feel to working here."

Siobhan Brennan joined Royal Liver's Youth Training Scheme straight from school. She now works as a test analyst for the company's Independent Testing Team, which ensures all new computer applications are smoothly integrated into the firm.

"I started on the youth training scheme when I was 16. Ever since Royal Liver has looked after my development, making sure I'm given every opportunity to advance my career.

I've lived and worked in Liverpool almost all my life and I love saying that I work in the city's most famous landmark."

Other members of staff celebrating 25 years at the company are: Mandy O'Hanlon, Steve Doyle, Kevin Nicholas, Phil O'Rourke, Linda Walsh, Peter McIlhoney, Bill Moores, Ann Jones, John Mooney, Monica Beacon, Steve Law, Gerard Boyd, Sandra Gregory, Phil Hartley, Barbara Cunningham and Jan Barlow.
Last baby born in old unit and first born in new unit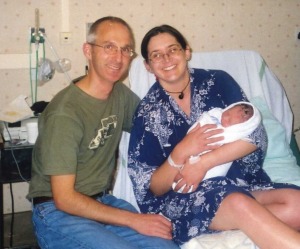 ALL the babies born at Ormskirk & District General Hospital Maternity Unit are considered special, but two extra special ones arrived last week with the move of the unit to the new facilities at the hospital.

Oliver Sharples was the last baby born in the old unit at 3.43pm on Tuesday 5 October weighing in at 7lb 10oz. He is the first child of Clare and Jonathan Sharples of Southport.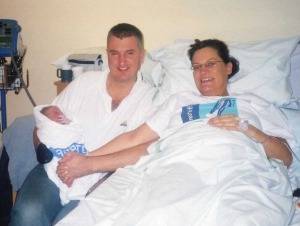 James Brown was the first baby born in the new unit at 1.27pm on Tuesday 5 October weighing in at 9lb 10oz. He is the third child of David and Joanne Brown also of Southport and has two sisters.

Carole Brazier, Acting Head of Midwifery said:- "All the maternity services have now moved to the new facilities in the main hospital. The delivery suite, which has its own entrance beyond the A&E Department, is on the top floor (level 4) together with the antenatal ward. The neonatal and postnatal wards are on level 3. The move from the old building went well and I would like to thank all the mums and dads for their patience on the day, and the staff for their hard work."

The children's ward is due move on Tuesday 12 October with the new children's Accident & Emergency Department opening on Wednesday 13. These will both be on level 1 of the new build (the lower ground floor). The ward is accessed from the main hospital corridor on level 2 (the ground floor) and the A&E has its own entrance on Dicconson way. The last part of the new building will be occupied from 1 November when the children's outpatients department opens on level 1.