FIREWORKS may be spectacular but they are also noisy and can cause fear related problems in dogs. It is no surprise that many dog owners approach this time of year with increasing dread.

This year heralds the introduction of a ban on air bombs and rockets and a maximum noise level of of 120 dB. It is also now illegal to set off fireworks between 11pm and 7am apart from on New Year's Eve, November 5th, Divali and the Chinese New Year. Furthermore, fireworks cannot be sold to or possessed by under 18 year olds.

However, many animal rescue organisations believe this will make little or no difference to pets. RSPCA research showed that a maximum noise level of 95dB (the equivalent of a door slamming) was required to make a significant improvement to the welfare of animals.

There is some hope, however, that pheromones may provide the answer to canine calm. Just over two years ago, CEVA Animal Health launched the pioneering dog appeasing pheromone - D.A.P(r) - which marked a breakthrough in dog behaviour therapy.

The pheromone replicates the signals of well-being generated by bitches and passed on to their nursing puppies and helps to alleviate fear-related problems in puppies and adult dogs. Since then D.A.P(r) has been proven to be effective in helping dogs during the firework season by reducing the signs of fear. Feedback from veterinary surgeons and pet owners has confirmed its success.

Lis Shaw-Brookman from Reading was hoping for greater changes to the new laws and will again be relying on her D.A.P(r) in conjunction with a specially designed noise phobia CD.

Lis's dog, Tess, a two year-old Staffordshire Bull Terrier, would become panic stricken by the noise of fireworks and would charge around the house shaking with fear and trying to hide. Lis said:- "Every time a firework exploded Tess would pace the room and pant and nothing could calm her down. At one point she became so upset that she bolted from the house, jumped over the partition fence in the garden and just went crazy. It was so distressing for all of us."

Lis's veterinary surgeon, Fiona Green from Burgfield Veterinary Surgery in Reading recommended the DAP(r) to her last year and she immediately took one home and plugged it into the room used most by Tess.

Lis said:- "I was very sceptical about trying it, but I must admit I was surprised at how quickly the DAP(r) took effect and there was a considerable improvement in Tess. She really settled down and was far less anxious and stressed."

Although they were too late to start a de-sensitisation programme for last year's fireworks season, Fiona suggested they play a CD of fireworks noises in the run-up to the new year celebrations to get Tess used to hearing these noises as part of her daily life at home. The CDs from Sounds Scary help desensitise dogs to the shock of loud and sudden noises so that they become familiar and less scary. This was to be used in conjunction with the DAP(r)

Professor Daniel Mills BVSc; MRCVS; who runs the Animal Behaviour Cognition and Welfare Group at the University of Lincoln, has been working with D.A.P.(r) for the past couple of years to assess its value in the treatment of troubled and stressed canines.

Danny Mills said:- "The best approach to treat dogs with firework fear is a controlled programme of systematic desensitisation and counterconditioning which would be part of a behaviour therapy programme running over a period of several weeks.

This ideally, would start a couple of months ahead of the fireworks season and would include the use of the D.A.P(r) in conjunction with a specially recorded sound sound track CD such as Sounds Scary and the use of a drug such as Selgian.

Selgian is the only drug licensed in veterinary medicine to treat specific phobias such as fireworks and thunderstorms because of its effect on reinforcement and learning, which proves highly effective during counter-conditioning exercises and also helps to reduce anxiety when the dog is involved in play exercises."
MINIBUS IS MASSIVE PRIZE FOR MERSEYSIDE SCHOOLS!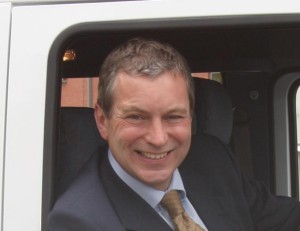 SCHOOLS in Merseyside are being offered the chance to win their very own, top of the range, £25,000 LDV minibus!

Emmerdale vicar, 'Ashley' (aka John Middleton) helped to get the 'Partnership Project' campaign up and running recently for organisers Bullet Point - the UK's leader for innovative technology solutions in education - which is in conjunction with leading manufacturers SMART Technologies and Epson UK.

It runs throughout the remainder of 2004 with all local schools eligible to enter by purchasing product from Bullet Point, or simply sending their name and address to the company. Find out more at www.partnershipproject.co.uk

Bullet Point communications director, Karen O'Mahoney said:- "We know that transport within schools is extremely important as it extends the learning experience by allowing pupils to leave the confines of the school gates. However, it also represents a huge investment for any school.

The LDV Bus is a therefore a fantastic, long term asset and we're all geared up to deliver a truly worthwhile prize. There are also spot prizes along the way, with schools having already won a DVD player and colour laser printer."

Established in 1998, Leeds-based Bullet Point is one of the suppliers recently chosen by the British Educational Communications and Technology Agency to supply interactive whiteboards under the £25million Education and Skills Schools Whiteboard Expansion initiative.
RUNNING HORSES IS A PUB OF TWO HALVES!
RIVAL rugby league fans have been united in praise for an Orrell Burtonwood pub, after a £90,000 refurbishment.

Half the Running Horses pub lies on Wigan soil - whilst the other half has its foundations firmly laid in St Helens.

Licensee Glynis Frodsham, who runs the pub with husband Clive, says:- "The pub is right on the boundary of Wigan and St Helens. This split is particularly evident when we show live rugby - when it comes to a derby match between rivals Wigan and St Helens, the pub has a clear divide.

It's all friendly competition however and there's a good atmosphere, especially since the refurbishment. Burtonwood managed to finish the refurbishment in just a month. But we weren't without our regulars for all that time. They are so loyal to the pub that many sat in the patio area with their pints whilst the work was being carried out."
Anti Smoking Lobby Wins City Vote
WHILE health officials in London are still debating whether to impose a national smoking ban, and New York moved against smokers last year, followed by Ireland earlier this year. The current debate whether Liverpool should follow suit ended this week.

Politically this has been a tough decision for the city to take but Liverpool local politicians voted 57 to 7 to snuff out smoking in restaurants, bars, pubs and offices. "The health of the people of Liverpool cannot wait until the government finally decides what action it takes," a city council spokesperson said earlier this week.