ISSUES BONFIRE NIGHT SAFETY WARNING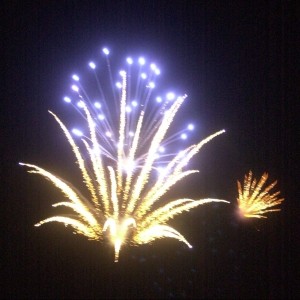 IN the run up to Bonfire Night, the Civil Aviation Authority (CAA) has drawn attention to its safety guidelines covering large-scale public events.

The guidelines require organisers of major events featuring fireworks, lasers or searchlights to contact the CAA with details of their displays. This will allow the CAA to notify pilots of potential risks they face if flying over the site.

The CAA has in the past received reports from pilots who have been unexpectedly dazzled by light shows, and on rare occasions fireworks have hit aircraft, with the potential to cause damage. Aircraft landing or taking off face particular hazards when firework displays or light shows are being held near airports.

Failure to take the necessary steps to prevent endangering an aircraft may lead to criminal charges.

Rich Preston-Whyte, of the CAA's Directorate of Airspace Policy, said:- "This guidance is essential for anyone organising a major display. We have already advised the aviation community of a number of events that are taking place throughout the UK around Bonfire Night, and are happy to offer assistance and advice to anyone else who gets in touch."

For more information go to:- www.caa.co.uk/publications/publicationdetails.asp?id=1108 or call 020 7453
Booth backs Merseyside Together Campaign
CHERIE BOOTH has added her support to a pioneering campaign by the Community Foundation for Merseyside to ŒBring Merseyside Together through an innovative programme of grant giving and action partnerships with leading organisations and individuals throughout the region.

Announcing her decision to join the Community Foundation as a Patron, Cherie Booth said:- "I am delighted to see the amount of fantastic projects and work that is being funded by grants from the Community Foundation. The difference this makes to families and communities is immeasurable.

It is the impact that this has on people's lives, young and old alike, for years to come that helps us all to understand what a vital role the Community Foundation for Merseyside plays in making sure that small grassroots projects receive the funding, advice and support they need to continue changing their own local areas."

Launched in April, the Community Foundation works alongside donors, companies, organisations and individuals to support local projects inspired by local people; often with a far-reaching, long-lasting impact.

More than 3,000 projects have already been supported, many of them helping to change the face of local communities and helping countless individuals improve their quality of life, their environment and their employment prospects.

Cherie Booth added:- "By supporting the Community Foundation you will be helping communities to help themselves, and helping donors to ensure that funds are targeted in the right area, for the right cause and for maximum benefit."
West Coast Timetable Restored
VIRGIN Trains will restore its published West Coast timetable, for services to and from London Euston, from the start of service on Friday 22 October.

The temporary timetable in operation due to heavy leaf fall on the West Coast route, will continue until the end of service on Thursday 21 October. Details of train service alterations can be obtained from National Rail Enquiries on 08457 484950