SWITCHED ON THIS WEEK

ALL THE BEST BITS ON UK TV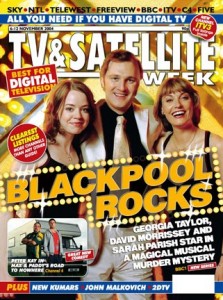 Written by Caren Clark of TV & Satellite Week

For the week Saturday 6 November to Friday 12 November
1. John Lydon's Megabugs Discovery Sunday 5pm NEW SERIES...

John Lydon Goes Ape Five Wednesday 8pm

The punk icon has turned into TV's most entertaining wildlife

presenter as he searches for the mountain gorilla and the world's most impressive insects.

2. Crazy Rulers of the World Channel 4 Sunday 8pm NEW SERIES...

Documentary maker Jon Ronson presents a revealing look at some

of the bizarre new military tactics which are being developed by a paranoid USA as a result of the war on terror.

3. Conviction BBC3 Sunday 9pm NEW SERIES...

Nicholas Gleaves and William Ash play two policeman brothers

investigating the murder of a young girl in this stylish new drama. David Warner co-stars as their ex-cop father who is suffering from Alzheimer's with Zoe Henry as their lawyer sister who defends the prime suspect.

4. Lawless ITV1 Monday & Tuesday 9pm

Fresh from Waking the Dead, Trevor Eve is in detective mode again to play a dedicated cop who has to abandon his family and go on the run when he's accused of murder.

5. The Kumars at No 42 BBC2 Monday 9.30pm NEW SERIES...

Number 42's got a houseful once more as music legends Jools Holland and Tom Jones pop round for a chat with Sanjeev and family. Let's hope Granny Kumar doesn't get overexcited.

6. 2DTV ITV1 Monday 11pm NEW SERIES...

Paula Radcliffe, Gordon Ramsay and Wayne Rooney and girlfriend

Coleen are among the victims being ruthlessly caricatured as the award-winning topical animation returns for a new run.

7. Blackpool BBC1 Thursday 9pm NEW SERIES...

This innovative musical whodunit sees David Morrissey as a

charismatic arcade owner in the Las Vegas of Lancashire. Sarah Parish stars as his neglected wife and John Thomson as his long suffering best friend.

8. Max and Paddy's Road to Nowhere Channel 4 Friday 9.30pm NEW SERIES...

In this spin-off from Peter Kay's hit comedy Phoenix Nights hapless bouncers Max and Paddy take to the road where they become embroiled in a host of misadventures.

9. Peep Show Channel 4 Friday 10pm NEW SERIES...

The flatmates from hell are back for a NEW SERIES... but can Mark (David Mitchell) win Sophie's (Olivia Coleman) heart by hacking into her email?

10. When Jordan Met Peter ITV1 Friday 11pm NEW SERIES...

The headline-hogging jungle bunnies give an insight into their everyday lives with this fly-on-the wall Osbournes-style show.

VARIATIONS

Crazy Rulers of the World S4C Sunday 1.15am NEW SERIES...

Max and Paddy's Road to Nowhere S4C Friday 10.30pm

NEW SERIES Peep Show S4C Friday 11.35pm NEW SERIES...