Commission Refers Mackin Case to Appeal Court
THE Criminal Cases Review Commission has referred Mr Paul James Mackin's convictions for wounding to the Court of Appeal.

Mr Mackin was convicted of two counts of wounding with intent and three counts of conspiracy to supply drugs at Manchester Crown Court in June 1999. Mr Mackin was sentenced to a total of seven years' imprisonment.

The prosecution had contended that in September 1998 Mr Mackin and another man attacked a couple at their Wigan home in a dispute about drug dealing debts.

Mr Mackin was refused leave to appeal by a Single Judge in March 2002 and by the Full Court in May 2002. The Commission has now reviewed the case and having considered new evidence has decided to refer the convictions for wounding back to the Court of Appeal.
Pub Adds Celebrity Ingredient to Menu
THE PUB chain O'Neill's has teamed up with renowned Irish chef Paul Rankin to create a range of hearty dishes in aid of charity.

Paul, who is famed for his successful restaurants in Ireland and appearances on TV shows such as Ready, Steady Cook and Masterchef, has created a host of dishes exclusively for O'Neill's as part of the first ever UK-wide festival celebrating the 'Spirit of the Irish'. A percentage of the proceeds from it will be donated to The Royal National Institute for the Blind.

Sarah Merrills, manager of O'Neill's in Southport said:- "It's a real coup for us to be working with Paul Rankin. He prides himself on using local Irish ingredients, so anyone ordering one of our special Rankin dishes will be guaranteed delicious Irish food - created by a famous chef - in the comfort of their local pub."

The new menu will feature a combination of favourites, such as Beef, Leek and Black Pepper Sausages with Stout Gravy and Champ plus Bacon, Scallion and Smoked Irish Cheddar Farls; and contemporary dishes with a Celtic twist.

The inaugural O'Neill's festival will run from 22 to 28 November at O'Neill's, Hoghton Street, Southport, incorporating Guinness pouring, snail racing, limerick competitions and live music throughout the week.
POP BAND ATOMIC KITTENS' VISION FOR LIVERPOOL.......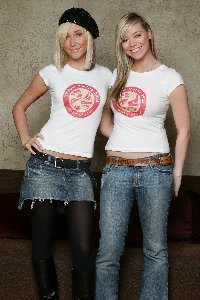 POP BAND Atomic Kittens' Liz McClarnon and Jenny Frost launched this week a nationwide T-shirt design competition run by aid agency World Vision and high street store Kookai, to help raise money for children overseas orphaned by HIV/AIDS.

The girls, who are ambassadors for the international relief and development charity, are helping to tell budding young designers from Liverpool about the T-shirt competition, which is the first part of the charity's annual youth fundraising campaign; the 24-hour Famine.

Jenny Frost, singer with Atomic Kitten said:- "Children orphaned by HIV/AIDS in countries like Zambia face a range of difficult challenges, so it is an amazing opportunity for me to be able to support World Vision's 24-hour Famine campaign and encourage kids from Liverpool to get involved and help make a difference."

World Vision's 24-hour Famine is the UK's biggest youth fundraiser and will take place from 18-20 February 2005. The T-shirt competition is calling on budding young designers from Liverpool to develop a new look for the 2005 24-hour Famine T-shirt.

The competition closes on December 10 and is open to all UK residents under the age of 21. Entry forms are available in Kookai's Bold Street store and stores throughout the UK.

To find out more about World Vision's 24-hour Famine and the T-shirt design competition please call 01908 84 10 10, log onto www.worldvision.org.uk or visit your local Kookai store.