BBC Children in Need
THAT TIME OF YEAR AGAIN! Yes on Friday November 19 was again Children in Need Night and braving the cold were Southport Hesketh Round Table, who came out to collect around the towns bars and clubs.
Routes of Formby Rotary Carol Wagon for December 2004
THIS year as normal the Carol Wagon will be out and about around Formby raising cash for charity. The routes, times and dates are as follows:-

Friday 3 December.

Start Grapes Hotel 6.00 pm.

Ryeground Lane; Southport Road; The Spinney; Deansgate Lane North; Hawksworth Drive; Longton Drive; Lingales; Deansgate Lane North; Turnacre

Halfway

Brackenway; Gorsefield; Heatherways; Spymers Croft; Heathfield Close; Paradise Lane; Ryeground Lane; New Road; Church Road

Sunday 5 December

Start Library in Duke Street at 5.00pm

Duke Street; Dukes Way; Elbow Lane; Cropton Road; Three Tuns Lane; Cross Green; Liverpool Road; Coronation Ave; Crown Close; Cheapside; Liverpool Road; Royal Crescent; Liverpool Road; Ravenmeols Lane; The Ravens; Ravenmeols Lane; Harebell Close; Ravenmeols Lane

Halfway

Walker Close; Ravenmeols Lane; Kings Road; Phillips Lane; Liverpool Road; Cross Green; Church Road; York Road; Three Tuns Lane; Halsall Lane

Monday 6 December

Start Kirklake Road at 6.00pm

Kirklake Road; Woodlands Road; Coniston Road; Greenloons Drive; Greenloons Walk; Kirklake Road; Edenhurst Drive; Greenloons Drive; Spruce Way; Ashdale Close; Foxhill Close; Grasmere Road

Halfway

Woodlands Road; Mere Road; Langdale Avenue; Eskdale Drive; Rydal Avenue; Ennerdale Road; Langdale Avenue; Tarn Road; Wicks Lane; Larkhill Lane

Wednesday 8 December

Start at Royal Hotel at 6.00pm

Liverpool Road; Alt Road; Monks Drive; Alt Road; Abbots Way; Abbots Close; Priory Close; Fountains Way; Friars Walk; Seafield; Ditchfield; Beaufort; Marshall Way; Formby Fields; The Nurseries; Hawthorne Crescent

Halfway

Cheapside; Redgate; Redgate Drive; Alt Road; Byland Close; Crowland Way; Whalley Drive; Bolton Close; Selby Drive; Romsey Avenue; Cleve Way; Buckfast Drive; Battle Way; Cartmel Drive; Kirkstall Drive; Tintern drive; Fountains Way

Friday 10 December

Start Railway Hotel at 6.00pm.

Formby Street; Windsor Road; Park Road; Park Avenue; Windsor Road; Balmoral Drive; Sandringham Road; Hampton Road; Balmoral Drive; Edinburgh Road; Osborne Road; Lancaster Road; Belvedere Road; Altcar Lane

Halfway point

Ashcroft Road; Liverpool Road; Marina Road; Kent Road; Liverpool Road; Birkey Lane; Dickinson Road; Norburn Crescent; Dickinson Road

Sunday 12 December

Start Harington Road Shops at 5.00pm

Wicks Green; Warren Green; Ince Crescent; Warren Gren; Harington Gren; Wicks Green; Wicks Crescent; Wicks Green; Larkhill Lane; Dunes Drive; Gorse Way; Squirrel Green; Proctor Road; Harington Road; Birch green; Oakfield Drive; Barkfield Lane; St Peters Avenue

Halfway point

Firs Link; Firs Crescent; Holmwood Drive; Barkfield Lane; Vicarage Road; Holmfield Park; The Evergreens; Holmwood Gardens; Weld Drive; Beech Drive; Holmwood Close; Harington Road

Monday 13 December

Start at Bay Horse at 6.00pm

Church Road; Davenham Road; Church Road; Alderson Crescent; Church Road; Formby Gardens; Old Mill Lane; Gores Lane; Graburn Road; Gores Lane; Old Town Lane; Freshfield Road; St George's Road

Halfway point

Freshfield Road; Marsh Brows; Granton Close; Marsh Brows; Brows Lane; Rosemary lane; Lonsdale Road; Rosemary Lane

Wednesday 15 December

Start Junction of Paradise Lane / Heatherways at 6.00pm

Paradise Lane; Kenton Close; Paradise Lane; St Annes Road; West Lane; Brewery Lane; West Lane; Stanley Road; Rimmers Avenue; Massams Lane; Green Lane; Timms Lane; Gores Lane

Halfway Point

Gregsons Avenue; Argameols Road; Victoria Road;Freshfield Road; Grange Lane; Gores Lane; Piercefield Road; Green Lane; Wrigleys Lane; Canterbury Close; Wrigleys Lane; Wrigleys Close

Friday 17 December

Start Junction of Church Road / Cable Street at 6.00pm

Cable Street; Watchyard Lane; Deansgate Lane; Mounthouse Road; Primrose Close; Mounthouse Road; Longfield; Mounthouse Road; Deansgate Lane; Watchyard Lane; Whitehouse Lane; Whitehouse Avenue; Whitehouse Lane; Church Road; Kenyons Lane; Bull Cop; Gardner Road;

Halfway Point

Gardner Road; Norris Way; Devon Farm Way; Gardner road; Mawdsley Close; Gardner Road; Bull Cop; Priesthouse Lane; Chapelhouse Walk; Priesthouse Lane

Sunday 19 December

Start Kirklake Road (opposite garage) at 5.00pm

Ward Avenue; Brooks Road; Bushbys Lane; St Lukes Drive; Church Green; St Lukes Drive; Bushbys Lane; Lime Tree Way; Chestnut Way; Beechwood Drive; Elm Drive; Beechwood Drive; Bushbys Lane; Pinewood Avenue; Jubilee Road; Cambridge Road; Stapleton Road; Mayfield Avenue; Stapleton Road; Elsworth Close; Stapleton Road;

Halfway Point... Stapleton Road; Barton Heys Road; Eccles Road; Carrs Crescent West; Elson Road; Carrs Crescent; Crescent Avenue; Andrews Lane; Andrews Close; Rostron Crescent; Elson Road; Foster Road; Sealand Avenue; Queens Road; Kirklake Road; Sefton Road; Kirklake Road;
Give Santa a grid reference
TO ALL children across Britain are being encouraged to help Santa locate their house on Christmas Eve by including a map grid reference as well as the postcode in their letter to Santa.

Ordnance Survey, Britain's national mapping agency is sure Father Christmas will find the extra help will speed up his journey this Christmas Eve.

Ordnance Survey's Elaine Owen says:- "Postcodes are great for getting the mail to the right address, but on Christmas Eve, in the dead of the night, Father Christmas will find it easier to rely on a map and to have an accurate grid reference to help find that all important chimney."
DTZ ANCHORS IN ALBERT DOCK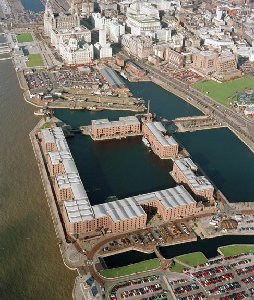 ARROWCROFT Group has appointed DTZ's retail team as leasing agent for the retail and leisure elements of its Albert Dock complex in Liverpool.

Formerly derelict, Albert Dock is the country's largest group of Grade 1 Listed buildings, undergoing a transformation over the past twenty years into complex, incorporating residential, retail, commercial, leisure, hotels, museums and tourist elements.

Albert Dock also houses some of Liverpool's most active nightlife with Bars including Babycream and Blue Bar to which the centre itself attracts over 5 million visitors per year.

Commenting on the instruction Alex Wagstaff, DTZ Director and head of the north west retail team says:- "We are delighted to have won this instruction for such a high profile site. Albert Dock, is a household name throughout the UK and has a fantastic reputation as one of the UK's premier tourist, leisure and retail complexes."
I
an Brown who is the newly appointed Estate's Manager for Albert Dock Company Ltd (a wholly owned subsidiary of Arrowcroft Group Ltd) added:- "Our vision is to further establish Albert Dock as a strong tourist destination as well as attracting more local people to take advantage of the extensive retail and leisure elements to the scheme."
'Babyfather' workshop comes to City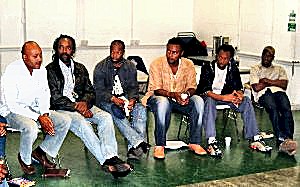 BARNARDO'S has once again teamed up with Patrick Augustus, author of the hugely successful 'Babyfather' books and BBC TV show, to host an event focusing on the roles of fathering.

The workshops are structured on an African concept, 'Each One, Teach One'. Putting this into practice has helped men find their role as fathers in an effective and dynamic format, whilst also giving them the 'space' to express their thoughts and fears as parents.

Patrick Augustus set up 'The Babyfather Alliance' (BFA) in 2002 to encourage responsible parenting amongst black males in the UK, and in particular among those who were separated from their children.

The Babyfather Alliance linked up with Barnardo's as the charity is actively engaged in a range of parenting and other community-based activities and services working with Black communities around the UK.

Patrick Augustus says of his partnership with Barnardo's:- "Being a father myself, I was aware of the issues surrounding parenting within the Black community. I set up the BFA to raise the awareness of absent fathers within the family unit by offering advice and support. Having seen the work of Barnardo's, we could use our joint knowledge and experience to address one of the most serious issues within the Black community".

Spokesperson for Barnardo's, Errol John says of The Babyfather Alliance:- "Joining hands with the BFA is a major step in reaching the Black community and creating awareness about Barnardo's. This has given us the opportunity to reach an audience who have shown great interest in working for their community. To many, the perception of Barnardo's has been limited to the original idea of running orphanages, but the charity has moved a long way and now run over 300 Community based services to improve the lives of children and their families by working together."

The Liverpool event takes place on November 24 at the Kummba Imani Millennium Centre, Princess Road, Toxteth, admission is free.
ROWETTA TURNS ON CHRISTMAS X-TRAVAGANZA!
X FACTOR favourite Rowetta Satchell is set to sparkle this Sunday, as she switches on Warrington's Christmas lights.

Previously a backing singer with the 1990s Manchester band, Happy Mondays, Rowetta has rebuilt her career and emerged from obscurity to become a household name in her own right by reaching the final stages of the X Factor - all under the watchful eye of pop svengali Simon Cowell.

Organisers at Warrington Borough Council in conjunction with 105.4 Century FM chose Rowetta to be the star guest at this year's big switch on.

Stephanie Barker, Regional Marketing Controller commented:- "Rowetta is an obvious choice, we're just so pleased that she is able to take time out of the competition to attend. She has a great following in the North West, and is the perfect special guest to get the Christmas fun rolling and kick off our Singalong Christmas campaign!"

The larger-than-life, mother of two from Bury will delight local crowds when she arrives to turn on the town's Christmas lights at 5pm on November 21. The event will also include special guests, 105.4 Century FM's Darren Proctor and Barney the Dinosaur.
Elderly Survive the Winter the Tai Way
PENSIONERS were assisted with advice for the winter after receiving their free flu jabs at St Georges Hall this week in a rather unusual way during the survival information Fayre.

At the same time as getting a flu jab, they were given an experience the Chinese art of Tai Chi which will help them keep warm and in good shape during the cold winter months.

Liverpool councillor Ron Gould said:- "Many people are predicting this winter will be the coldest on record. So it's very important vulnerable people in the city take steps to keep warm and healthy."