CHRISTMAS beckons already and at this time of the year we all feel a heavier than usual, turning to low fat options to help shift those extra pounds - but does the 'low fat' label really mean what it says?

The average supermarket stocks around 25,000 food items, which can make shopping a daunting task, particularly for those of us opting for the 'healthier version'.

Trading Standards ensure that foods are properly labelled but this does not stop manufacturers from putting certain ingredients into them that are not particularly healthy.
Trading Standards urge consumers always to read the label carefully to make sure that what they are eating really is the healthy option.

When it comes to choosing what's good for you, Warrington Trading Standards has a few tips to set you off in the right direction:-

Think twice when buying 'fruit bars' as a healthy option, as they often contain more than 60% sugar making them a sticky, calorie-laden threat to healthiest of teeth and the slimmest of waists.

Meat is not always what it seems to be and is often less than 100% and made up with starch, additives and water.

If you suffer from breathing difficulties avoid fizzy drinks as they often contain Sulphur Dioxide (or E211), which acts as an odourless gas which can cause breathlessness and wheezing.

Fruity soft drinks and fruit squashes are seldom as healthy as they look. Cheap flavourings, colourings and sweeteners are used instead of real fruit. 100% pure juices are often cheaper and contain no hidden surprises.

90% of food additives are used for cosmetic purposes, changing the appearance of food, whether colour, flavour or texture. These additives can be used to make unhealthy, processed foods cheaper and more appealing than healthy foods.

Low fat spreads are not as healthy as you may think. Butter-like spreads can legally claim to be 'low fat' even when they only contain 40% fat. Guidelines recommend other foods should only claim to be 'low fat' if they claim less than 3% fat.

'Luxury' cereals are marketed as nutritious mixtures of fruit, nuts and grain, but often contain surprisingly large doses of fat and sugar.

Raspberry flavour yoghurt should contain raspberries shouldn't it? Only if it were described as raspberry flavoured would its flavour need to come from real raspberries, and even then the fruit content could be very small (less than 1% in some cases).

Ingredients must be listed in descending order of weight - largest first - which means that anyone can quickly check the main ingredients in a product.
Remember - a chicken pie that lists chicken as the fifth ingredient doesn't contain much chicken!

Many food colourings were first invented to dye fabrics, but are now routinely added to our food and drink. Some, such as Tartrazine (E102), Sunset Yellow (E110), Carmoisine (E122) and Ponceau 4R (E124) have been shown in a recent government funded study to cause behavioural problems in young children.
Positive action wins award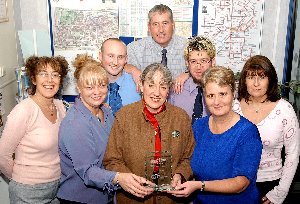 STAFF at Warrington Borough Council's transport department is celebrating after scooping a positive action award last month.

The department received news that they had won the service provider category at the Positive Action Awards held at the Halliwell Jones Stadium in Warrington on last month.

The award recognises the Council's commitment to developing transport services for disabled people and their carers, such as improving access and facilities at bus stops, disability awareness training and assistance for people with communication problems.

Cllr Linda Dirir, Executive Board Member for Transport, said:- "I am very proud we have won the Positive Action Award and that we are making transport more accessible to people with disabilities across the borough.

By consulting with people and listening to what they had to say, we were able to produce and deliver new services that would be of benefit to them and we will endeavour to do so in the future."
CASH BOOST FOR LOCAL HOSPICE
HOPE House Children's Hospice benefited from the extension of the Tesco store on Telegraph Road, Heswall when the store re-launched to customers on Monday.

Wirral town Mayor Cllr Hilary Jones performed the ribbon cutting duties to officially re-launch the extended store before being asked to accept a £1,000 cheque from store manager Carl Whiteley on behalf of Hope House Children's Hospice, as part of the store re-launch celebrations.

Tesco have adopted hospices as their 'Charity of the Year' and together with the UK hospice movement hope to raise £3 million via the Tesco Time to Care Appeal.

Hope House Children's Hospice operates in both Oswestry and Conwy, providing respite, palliative care and terminal nursing for terminally ill children. The Community Care Team also offers support in the family home, free of charge.

Appeal Co-ordinator Tracey Pearson said:- "Tesco's donation will go a long way towards ensuring patients receive the best possible care and help to restore their quality of life. The support of companies throughout our catchment area is vital to our Hospices and we are very grateful to Tesco for this donation."

Hope Hospice in Oswestry has been caring for children in Cheshire for nearly ten years. It costs around £3 million per year to run the two hospices with donations making up 95% of income to cover the cost of care for patients and their relatives.