THE TWELVE DANGERS OF CHRISTMAS
Report by BSAVA
'Tis the season to be jolly, but spare a thought for your pet, as Christmas can often spell danger for cats and dogs, as owners forget to extend their seasonal goodwill to protecting their furry friends.

To combat this, Bayer Animal Health, makers of the market leading Drontal worming tablets for dogs and cats, is issuing its top tips for a safe and happy Yuletide. Sabrina Stroud of Bayer Animal Health advises the following to protect your pets:

1. Christmas decorations - such as baubles and tinsel - are new and exciting objects for pets, be aware that they may try to eat them!
2. Ensure fragile glass decorations are placed towards the top of your Christmas tree to avoid your pets breaking them and stepping on the fragments.
3. Only give your pets turkey when you are sure there are no small bones contained within the meat - pets can choke on these small bones.
4. Remember - chocolate is poisonous to dogs, so no Quality Street for your furry friend!
5. Beware cats (especially kittens) chewing through fairy lights and risking electrocution.
6. When pulling crackers, try to ensure your pets are in another room as the loud noise may scare them.
7. Don't leave pets 'home alone' when visiting friends and relatives, enlist the help of a responsible (and sober!) neighbour to feed and care for your pet during this time.
8. Alternatively, if going away for Christmas, make sure you make arrangements well in advance for boarding kennels (vaccines need to be up-to-date to meet kennel requirements).
9. If you are having a party, ensure your pet is kept in a quiet room and is checked regularly. Also, be aware that, with lots of noise and guests arriving, doors may be left open and pets may slip out unnoticed.
10. If they do manage to run away, make sure dogs and cats are identifiable. An excellent method of ensuring that your pet will be safely returned, is to insert a Tracer micro chip into your pet - ask your vet for details.
11. When buying a Christmas gift for your beloved pet, consider making a small donation to an animal charity to help those animals less fortunate at Christmas-time.
12. And finally, remember, dogs (and cats!) are for life, not just for Christmas.

Sabrina adds:- "Christmas should be a fun time for all the family, including the family pet. By taking a moment to consider how our celebrations are likely to affect our pets, we can ensure a safe and happy festive season."

Bayer Animal Health and the BSAVA (British Small Animal Veterinary Association), recommend worming your pet at least four times a year. Drontal is one of the only wormers that controls all common intestinal worms in a single dose in cats and dogs.

ANTIQUES EXPERT VISITS TESCO HESWALL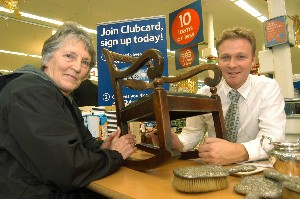 BUILDING antique collectors had a fantastic day at the Tesco store on Telegraph Road, Heswall on Saturday 27 Novmber when Paul Hayes, resident antiques advisor on BBC's "Cash in the Attic" and "Housecall" visited the store.

Paul, who is also a co-presenter on BBC's "Crimewatch" and made his TV debut on the extremely popular; "Bargain Hunt" with David Dickinson, enjoyed the day along with the stores customers who turned out in droves for a valuation.

Paul invited locals to bring along any old china, glassware, silver, jewellery, watches, painting-prints, small furniture or other items for appraisal with a prize of £50 in Tesco gift vouchers on offer to the customer who brought along the most interesting antique!

The prize was eventually won by Mrs Janet Smith of Heswall who had brought along a child's rocking chair dated 1810 in great condition, which has been in her family for eight generations and was made for her great great grandfathers christening. Janet has compiled a book of all her family in the chair and wasn't interested in its value but considers it a family air loom.

Paul said:- "It's was great fun and we had an amazing turnout. It was a pleasure to meet the people of Heswall and was like coming home as my father is from this area. I hope that customers were happy with all the valuations I gave them on their treasures".

Valuations were free to all customers, but the store collected money for local children's Hospice Claire House.