DRIVERS ARE YOU READY FOR WINTER?
DRIVERS on Merseyside are being urged to make sure they are properly prepared for winter driving as temperatures drop and daylight hours decrease. As well as freezing temperatures and darkness, being ready for fog, snow and ice is essential for all drivers in Merseyside.

Liverpudlian Michael Welch, managing director of Black Circles.com said:- "In the UK the unpredictable weather makes it hard to be prepared for every weather condition but there are many things everyone should be doing to prepare for any type of winter driving.

Things as simple as making sure that your screen washer is topped up to making sure that all the lights on the car are working are essential at all times and, in particular, in the winter. Being properly prepared for motoring at any time is important but when winter comes round the corner safety becomes a must."

There are lots of simple things you can do to maximize your safety and minimise the risk of things going wrong.
You should make sure that:-

All your lights are working and, if not, make sure all light bulbs are replaced. You should also check that they are always clean and that they aren't damaged in anyway - if they are get them fixed.
You'll be using your windscreen wipers a lot so make sure they are in good condition and that your screen washer bottle is always topped up and has cleaner fluid that won't freeze in the cold.
Make sure your oil and water levels are all at the right levels and ensure that the cooling system has the right amount of anti-freeze in it.

Make sure your tyres are in good condition. Check the tread depth which should be at least 1.6mm however in wet and winter conditions that thread should really be a lot more (Tyre performance and in particular braking in the wet, deteriorates dramatically below 2mm). The greater the tread depth the easier it is for the tyre to displace the water on the road and provide a better and safer grip. You must also check the tyre pressure is correct too because if that's not right the tyre won't work to its best.

Worn tyres significantly impede the performance of your car as well as reducing the effectiveness of braking, steering, and acceleration, all of which are vital in staying safe

Tyre pressures should only be checked when your tyres are cold so leave them for an hour to cool down before checking.

Driving on 'under' or 'over' inflated tyres impedes the vehicle's handling and, in many cases, makes the vehicle unstable.

Michael Welch added:- "Safe driving in the winter isn't only about making sure you have checked the physical state of your car but its also about sensible driving itself and using common sense before making journeys. Making journeys in poor conditions should only be done if it is absolutely essential - otherwise, don't make the trip.
If you do have to go out in the car in poor conditions make sure you plan the trip and let people know what route you are taking and when you expect to arrive."

Additional safety measures include:-

Ensure you've got enough fuel to get you to where you're going! Don't forget that stopping and starting in busy traffic uses up lots of fuel so a spare fuel can with a top up is a good idea.

Remember to be as visible as you can. Put your headlights on and if it gets foggy use your fog lights.

Don't take chances on the route you take. Main roads are more likely to be treated with grit and salt by so they're the safest ones to drive on. And, if you do break down it'll be easier for any breakdown service to reach you too.

Be aware that road conditions are very different from normal so give yourself lots of room to brake. And always leave more space between you and the driver in front.

Make sure your mobile phone is fully charged so that you can contact anyone you need to if problems occur.

Planning for a worse case scenario is a good idea. Take a blanket, sweets and chocolate, a flask of soup or tea and waterproof clothing in case you have to get out of your car.

Other equipment can be very useful too when driving conditions are not at their best. Having a first aid kit is a good idea as is a warning triangle, a spare can of de-icer and a fire extinguisher for the worst situation. A strong rope will come in handy in certain situations as will jump leads and spare bulbs for the lights.
Local Hero's Medallion on Display.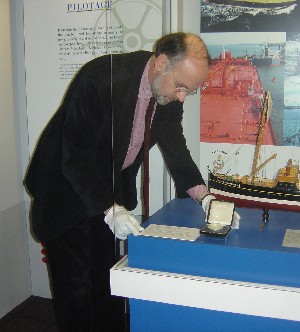 THE Maritime Museum in Liverpool has this week unvailed a new exhibit. The exhibit is an "In memoriam" medallion. It was awarded by the Liverpool Shipwreck and Humane Society to a local family.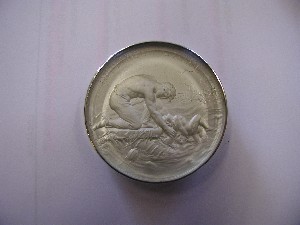 The finely detailed, glass-encased silver medallion was presented to the parents of a 19 year old apprentice pilot, Frank S. Waddington, who lost his life during a violent gale on 26 November 1939. He and three other boathands from the Liverpool Pilot Service drowned while attempting to rescue their companions on the No 1 Pilot Boat, Charles Livingston, stranded on Ainsdale beach. Of the thirty-three men on board the boat, only three survived.

The Liverpool Shipwreck and Humane Society's "In Memoriam" medal was awarded to the families of those who died while attempting to save the lives of others. The first medal was made circa 1878 and the last in 1970. A total of 50 of these medals have been issued resulting from 38 incidents. The medal was recently bought at auction by the Museum.
Alan Scarth, curator at the Merseyside Maritime Museum told us that:- "We are delighted to have this wonderful tribute to one of the youngest heroes of the Liverpool Pilotage Service."
2020 LIVERPOOL AWARDED £25 M CONTRACT BY KNOWSLEY COUNCIL
KNOWSLEY Metropolitan Borough Council has been awarded the 2020 Liverpool, Mouchel Parkman's partnership with Liverpool City Council, as preferred bidder to enter into a strategic partnership to deliver its professional architectural, landscape and engineering design services.

The contract is worth an estimated £25m over 10 years (with the Council having the option to extend up to a maximum of 20 years). Around 40 local authority staff will join the joint venture to deliver the services.

Commenting on the appointment, Graham Kilner, managing director of 2020 Liverpool says:- "This win demonstrates the attractiveness of the 2020 type of model to local authorities and confirms Mouchel Parkman's view that this type of relationship is one which local authorities will increasingly choose as a vehicle for service delivery."
Southport St John Silver Band

SOUTHPORT St John Ambulance are asking anyone who is interested in helping them restart the Divisions Brass Band to get in contact with them.
They are after experienced musicians and learners of any age, and they do not have to be members of St John Ambulance.
If you are interested please contact Steven Herron on 07709 848 534 or the Division Headquarters on 01704 531 021 between the hours of 9.00am and 12 noon.