Beatles records on display
YES once again a Beatles record will be on display in Liverpool. But it won't be singles and albums made by the Fab Four that will be available at Central Library, but documents relating to John, Paul, Ringo and George, such as baptism and school records.

The fascinating documents form part of the millions of archives held by the city council's Record Office. A selection is being displayed as part of a Family History Day being held from 10am-4pm this Saturday (4 December 2004).

Just to add to the 60's atmosphere, there will be a performance by tribute band the Mersey Beatles.
Silver Service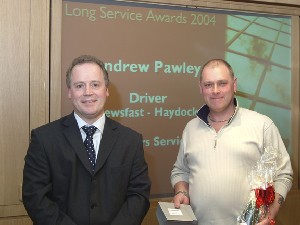 CALVIN Klein launched designer jeans, Alien and Mad Max hit the big screens and Village People released cult record YMCA.

The year was 1979 and for Andrew Pawley, TNT Logistics and 29 of his colleagues it marked the beginning of a 25-year career, which recently received well-deserved recognition at a Long Service Awards celebration.

With 811 years service between them, each of the award winners was presented with a gold watch, a cheque for £100, a gold pen, and a bottle of champagne. Flowers were also sent to partners in recognition of their support.

After the awards the winners, who had travelled to TNT's head office from all over the country, enjoyed a visit to TNT Logistics' Volkswagen distribution centre followed by dinner at nearby Bosworth Hall hotel.

Neil Crossthwaite, Managing Director, TNT Logistics UK reflected on the changes brought to TNT over the past 25 years and thanked each and every one of the long service award winners for their contribution.

"I was honoured to present the long service awards to our people. Their dedication has contributed greatly to the success of our business. They should be very proud of their achievements and I hope they continue to enjoy a rewarding career with TNT Logistics."
FIRST NORTH WESTERN HELPS LAUNCH NEW CAMPAIGN TO COMBAT ASSAULTS ON STAFF
REGIONAL train operating company First North Western (FNW) is backing a campaign to protect its staff from assaults, threats and abuse. The nationwide campaign was launched on Saturday 30 November to coincide with the Christmas festive season, which traditionally sees an upsurge in the number of rail staff falling victim to verbal abuse, threats or physical violence. Many of these incidents are drink related. Last year FNW had the fifth highest number of incidents of assaults on staff among the country's train companies. So far this year FNW staff have suffered 54 physical attacks and 44 incidents of verbal assaults. In the past year, from November to November, the figures for FNW are 80 incidents of physical assaults and 60 verbal assaults.

In line with other UK public service industries, violence at work has been recognised as an issue of growing concern for the rail industry, with efforts being focused on taking the necessary steps to protect staff.

Every day an average of six staff are assaulted in the course of their duties.

In 2003, reported assaults in the rail industry increased for the third successive year to more than 3,500, an increase of 18 per cent.

More than 1,500 assaults were on board trains, a 37 per cent increase on 2002.

Assaults related to fare evasion increased by 27 per cent in 2003 and accounts for about one third of all assaults.

But while this area remains a major conflict point - and one where there is a greater risk of physical assault - most of the recorded increase in 2003 was for verbal assaults occurring on trains.

Most assaults happen during the evening peak and later at night, corresponding to when passenger frustration and alcohol levels are likely to be greatest.

Female staff are more likely to be victims of non-physical assault than men. The proportion of physical assaults actually reduced in 2003 for men, but not for women.

This demonstrates a worrying trend although sexual assaults on female staff are small in number.

FNW Commercial Director Denise Lennox says:- "We will not tolerate verbal or physical attacks against our staff and those who become a victim for simply doing their job will be given our total support in any prosecution.

We know that frustrations can arise from time to time but it's no excuse for people to be verbally or physically abusive. They wouldn't like it if they or a member of their family had to put up with the abuse our staff do, so the message is simple. Violence and abuse against our staff will not be tolerated in anyway, shape or form."