New £3m community sector waste fund in England
ON Wednesday 1 December 2004, the Department for Environment, Food and Rural Affairs (Defra) and the Royal Society of Wildlife Trusts (RSWT) joined forces to launch a new £3 million community sector waste fund.

The Waste Partnership Fund will be managed by RSWT with the aim to increase voluntary and community sector involvement in the sustainable management of municipal waste.

Applications are invited from projects showing partnership working and innovation in order to promote and deliver waste minimisation, reuse and recycling services.

Applicants need to act quickly!

The deadline for expressions of interest to be received by RSWT is 4 January 2005. Successful applicants must complete their projects and submit their final data by 31 March 2006.

On announcing the new fund, John Burns, Head of Defra's Waste Implementation Programme, said:- "This funding provides powerful support for the community waste sector, which already brings enormous benefits to the sustainable management of waste in England".

Louise Owens, Waste Partnership Fund Manager at RSWT, welcomed the news adding:- "This new fund will boost the proven ability of the community waste sector to contribute to sustainable development and waste minimisation. We will ensure that this money will be used to maximum effect".
NEW TRAIN TIMETABLE COMES INTO FORCE ON FIRST NORTH WESTERN RAIL SERVICES
CUSTOMERS who travel on First North Western train services are being advised to check their journey times before travelling, as new winter timetables are introduced on Sunday 12 December.

The times of some services will be different and customers should check the new timetable booklets carefully.

The winter timetable will also be the first to be operated by the new franchise holder, Northern and customers will notice that the timetable booklets have different covers and are numbered differently.

Full details of the changes are available from staffed stations and at:- www.firstnorthwestern.co.uk. The new timetables will also be available from 12 December at www.northernrail.org. Alternatively, customers can call National Rail Enquiries on 08457 48 49 50 with any enquiries.
GARDEN CENTRE PUTS DOWN ROOTS AT CHILDREN¹S HOSPICE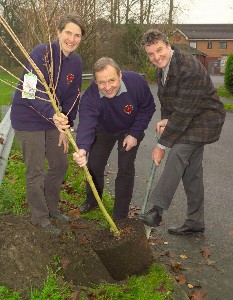 TO mark the thirtieth anniversary of National Tree Week, one of West Lancashire¹s leading Garden Centres has begun a month of community charity initiatives, by donating a selection of its finest trees, to one of the country¹s busiest children¹s hospices.

Dunscar Garden Centre, on Southport New Road, Tarleton, chose from its large range of tree species, and opted to plant an apple, a birch and a cherry tree at Derian House Children¹s Hospice, in Chorley, where Hilary and Shaun Lewis did the spadework with general manager, Trevor Briggs.

The planting of the cherry tree along the driveway leading up to the hospice, is a significant addition to poignant tributes of trees and bushes, planting often occurring at a Memorial Garden at Derian House, called "Forget Me Not". The hospice cares for children as young as new -born babies, and as old as young adults, up to the age of 21 years. Parents of the children who have passed away often plant a tree or bush as a tribute and remembrance to their loved ones.

Shaun and Hilary Lewis, of Dunscar Garden Centre said:- "National Tree Week is something that Dunscar will always help to highlight within the community. Planting trees is educational for future generations, but at the same time, trees are more than just for planting - they often represent something special in people¹s hearts.

Historically, apple trees have come to represent youth, beauty and love and apple juice was used to infer strength and beauty.

Birch has come to symbolise healing and protection, and so we feel that the meanings of these trees are so poignant for Derian House."

Trevor Briggs, general manager at Derian House added:- "The gift of a tree to a place like Derian House is both special and significant and will enhance the approach to the hospice for many years to come."