Peak Condition
THE Meningitis Trust is appealing for adventurous individuals looking for a challenge in 2005.

The Three Peaks Challenge takes place over one action-packed weekend. In just 36 hours participants will climb the UK's three highest peaks -Snowdon, Sca Fell Pike and Ben Nevis

Event Organiser Steve Williams explained:- "We provide your coach travel between locations, and an experienced team of guides to instruct you throughout the event. This is a tough event both physically and mentally. The ascent from Sca Fell Pike in the dark will test the whole team. Whether you enter as part of a group or as an individual you'll soon forge new friendships, as at the end of the day, this a team exercise. The group will rely on each other's encouragement and enthusiasm, right to the last step.

On completing the third summit, the group will have the chance to trade trekker's tales over a celebratory meal and drinks. Finally in the shadow of the conquered Ben Nevis, tired trekkers get a well-deserved night's sleep in a Fort William hotel. "

In return we ask for £75 non-refundable deposit and sponsorship of £375. All money raised helps fund vital research into the disease and provides support for life to those affected by meningitis.

This year the Three Peaks Challenge takes place 8 - 10 July or 9 -11 September. For more information email Steve Williams on stevew@meningitis-trust.org or call 01453 769 024.
DEFRA five-year strategy:- "all rural people want is action"
THE Countryside Alliance has questioned why DEFRA's new five year strategy "Delivering the Essentials of Life" has come only 18 months after a three year strategy.

Alliance Chief Executive Simon Hart commented, "DEFRA has produced another glossy report so soon after the last one which merely provides an impressive shop window when all rural people want to see is action taken at ground level. Farming is still in crisis and there is a massive shortage of affordable housing yet delivery is still a long way off."

DEFRA uses the word "sustainability" and now needs to practice what it preaches in order to deliver. "The essentials of life" for, as Tony Blair termed them, "Britain's hard working families are housing, jobs and services. They form the backbone of sustainability for which we now need a strategy for delivery. In its four years of existence DEFRA has done little to help rural people, devolving power to the regions next year should help alter this but there is plenty that needs to be done"
AUTUMN ACTION PLAN CUTS LEAF-FALL DELAYS BY 75%
Photograph by Patrick Trollope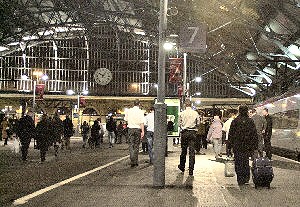 DUE to comprehensive autumn planning by train operating company First North Western, it has seen a 75 per cent reduction in delays, due to leaf-fall problems.

In conjunction with Network Rail and the Strategic Rail Authority, FNW has seen a dramatic drop in disruption caused by leaf-fall in comparison to 2003 thanks to the series of measures.

The meticulous planning for this autumn began last year and helped FNW achieve a 12.1 per cent improvement on overall performance in comparison to the same period in 2003. There has also been a 40 per cent reduction in station over-runs.

For the first time specially trained Customer Action Teams were introduced to assist at stations and in Control during heavy leaf-fall.

FNW also put in place extra autumn co-ordinators to help its Control Team during the busy leaf-fall period. The co-ordinators liased with train crew, Driver Team Managers and Network Rail to pinpoint locations where leaf-fall was causing problems so that sandite machines could quickly be deployed to improve the friction between train wheels and rails. Drivers also underwent special skid-pan training so they were better prepared to deal with slippery rail conditions caused by leaves falling on the line.

Commenting on the improvements, FNW Operations Director Dave Hooper said:- "This autumn we have seen significant improvements in performance thanks to our own efforts and working closely and proactively with Network Rail.

We introduced a series of measures to combat the problem of leaf-fall, and this has proved effective in minimising delays for the benefit of our customers."

Local community work has also helped to make customers more aware of how much of a problem leaf-fall poses for the rail industry.

FNW teamed up with schools to produce posters explaining the problems faced during autumn, with the winning artwork displayed at local stations across the FNW network.