WATER WAY TO HAVE A GO AT HALF TERM
A WEEK of free water sports is on offer to hundreds of children in Liverpool this half term as part of Sea Liverpool 2005. A team of expert instructors has been drafted in by the Liverpool Culture Company to give kids free tuition on activities such as sailing, windsurfing, canoeing and kayaking at the city's Watersports Centre.
Merseysport will provide the have-a-go sessions, a project set up by charity Local Solutions, and begin on Tuesday 15 until Friday, February 18. The hourly sessions start at 11am. Final session begins at 3pm.
All half term sessions must be booked in advance. All participants must be over the age of eight years old, able to swim and accompanied by an adult. Booking can also be made for individuals or groups by telephoning 0151 708 9322.
The programme is part of the city's pledge to engage every child in river and water-based activities during Liverpool's Capital of Culture themed year - Sea Liverpool 2005.
Four extra staff have been hired to swell the ranks of qualified instructors at the centre who will each offer five hours of lessons a day to ensure that almost 600 children can take advantage of the free offer next week.
And the Liverpool Culture Company has arranged to offer a potential 800 hours of free tuition at the centre in 2005, by offering a further three weeks of free activities for thousands more people during Easter half-term, the Summer holiday and October half-term.
A special package of free Have a Go Weekend have also been arranged for the Mersey River Festival on 11 and 12 June and for the start of the 2005-6 Round The World Clipper Yacht Race on Saturday and Sunday, September 17 and 18.
The Sea Liverpool 2005 free starter courses may also help push up attendances at the Watersports Centre which last year attracted 21,000 people.Councillor Warren Bradley, Executive Member for Culture and Tourism, said:- ''We want to help reconnect our younger generation with the Mersey and our waterways and open up a new world to them. Liverpool is blessed with a wealth of maritime facilities, offering a whole host of skills and opportunities which will enrich and broaden our children's experiences in life.
Liverpool has an unrivalled maritime tradition and it also has unrivalled facilities such as the Watersports Centre. We want involvement in maritime activity to be as familiar and popular to our young people as playing or watching football or going to see the latest movie.''
Based at Queens Dock, in the shadow of the city's World Heritage waterfront, the Watersports Centre was purpose-built by the Merseyside Development Corporation in 1994. It is now a nationally recognised centre of tuition by the governing bodies of the British Canoe Union (BCU) and the Royal Yachting Association (RYA).
It also holds a licence granted by Adventure Activities Licensing Authority (AALA) to provide activities and courses to young people under 18 years of age.
Rob Sutcliffe, Manager of Merseysport said:- ''This is a fantastic opportunity for kids to take part in dynamic and exciting watersports. We appreciate the opportunity to work in partnership with the city council and the Culture Company to deliver free watersports to Liverpool children.
In light of recent success in British sailing and canoeing we hope that children taking part will be inspired to further develop their skills with us and become champions for the future.''
As part of the Sea Liverpool pledge, more than 1,000 nautical events will be staged in 2005 with the intention of giving the city's school children a taste of life at sea.
Additional experiences lined up include a programme of maritime themed walks and tours; participation at the Mersey River Festival; and sea-inspired community theatre and cultural events.
The city is also running a website based educational programme for children to coincide with the 2005-6 Clipper Round the World Yacht Race, which leaves Liverpool on Sunday, September 18 this year for its eleventh month voyage around the globe.
This year's Capital of Culture theme corresponds with a national series of events, SeaBritain 2005, held to celebrate Britain's maritime heritage, centred on the 200th anniversary of the Battle of Trafalgar.
SANDGROUNDERS STAY TOP... WORCESTER v SOUTHPORT FC




Report and photographs by Sally Devine
SOUTHPORT were the visitors to St Georges Lane last Saturday hoping to continue their fine form at the top of the Conference North. The game was played in constant drizzle throughout but this did not dampen the Sandgrounders who took the lead as early as the third minute. Terry Fearns latched onto a perfectly weighted pass from Dominic Morley and calmly slotted the ball past Worcesters keeper.
The home side under new player/manager Andy Preece, signed this week from Carlisle, hit back with an equaliser on 8 minutes, Adam Webster scoring with a crisp volley from 10 yards out.
Steve Dickinson was in fine form for Southport parrying a fierce shot over the bar from Kelly.
Southport presses forward and took the lead on 37 minutes when Kevin Leadbetter lashed home from Jimmy Williams pass to make it 2-1.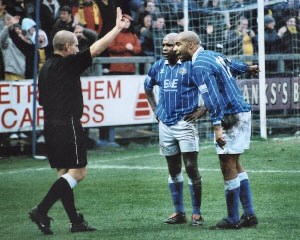 A moment of controversy leading up to half time saw Steve Daly clean through on goal only to be upended by Worcesters keeper who was sent off for his misdemeanor. The Worcester players protested long and hard but the decision was made and Andy Preece sacrificed Kelly for Skyers who's first touch of the ball was to pick Terry Fearns penalty from the back of the net.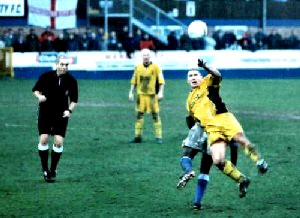 Southport led at the interval 3-1 and surprisingly in the second half failed to capitalise on the reserve keeper's nerves. There were several wayward shots from Southport who took their foot off the pedal and protected their lead. Worcester could not find another goal to inspire them and the 10 men battled gamely through the mud to no avail.
Southport entertain Droylsden from Manchester this Saturday 12 Febuary Kick Off at 3pm.
Team lineup...
Southport:- Dickinson / Williams / Fitzgerald / Kilbane / Davis / Morley / Pickford / Lynch / Fearns /
Daly / Leadbetter
WORCESTER:- McDonnell / Warner / Gardiner / Hoyle / Wooley / Carty / Stanley / Warmer / Kelly / Webster / Preece
Result:- Worcs. 1 Southport 3
Attendance:- 940