Put a spring in your step and help Guide Dogs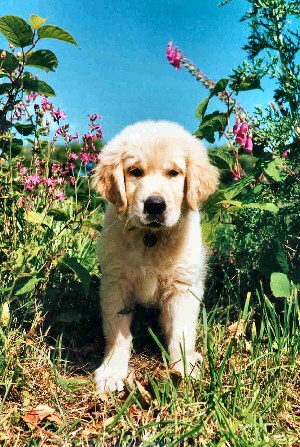 WITH spring fast approaching, people in Southport are being urged to put their best foot forward and support a national charity. Specsavers Opticians has launched a national appeal to help Guide Dogs find local puppy walkers. The charity is desperate for more people to apply in order to help socialise young pups that may then go on to train as guide dogs.
Stuart Roberts store director at Specsavers Southport says:- "Before a puppy can undertake its specialised guide dog training, it needs to spend much of its first year being cared for and educated by a puppy walker volunteer. These volunteers are essential in the training of new guide dogs and the help they give will ultimately change the life of a blind person."
The puppy walker teaches them basic obedience skills and accustoms them to a home environment and the hustle and bustle of towns. They prepare the animals for their working life ahead, which includes taking them on public transport.
Regional Guide Dog co-ordinator Philippa Mitton, comments:- "A young Guide Dog puppy is a companion for its temporary owners, who find it rewarding to raise a dog which will one day give a blind person a new independence by acting as their eyes. Puppy walking does require commitment but it is also extremely challenging and worthwhile."
Guide Dogs supply all basic equipment and cover all veterinary and feeding expenses. Representatives from the charity would also provide regular support, home visits, help and advice.
Because the puppy would live at home with its walker, potential puppy walkers must meet a number of criteria. Volunteers need to have access to a car and they have to be home for most of the day, and free to take their puppy into many varied environments, sometimes busy and difficult. Volunteers must have a yard or garden within easy access that is securely fenced so that the puppy remains safely within its confines. Puppy walking is unsuitable for families with children under three years old.
The UK's largest optical retailer adopted Guide Dogs as its official charity in 2004. After 6 months of fundraising, Specsavers is well on its way to raising the ultimate target of £100,000 in order to buy and train 20 new guide dogs.
If you are interested in applying to become a puppy walker, please call 0118 9838290 for further information.

Just 5 quick facts about Guide Dogs:-

Fact 1. There are currently over 5,000 working Guide dogs in the UK.
Fact 2. Its costs £35,000 to care for a dog from puppy through to retirement.
Fact 3. Each year Guide Dogs spend over £2.2 million on training alone.
Fact 4. Guide Dogs was set up in 1931 to give blind and partially-sighted people greater independence. Seventy years later, we are recognised as the world leader for breeding and training guide dogs.
Fact 5. When Guide Dog puppies are born each litter is named by a letter in the alphabet.. an A litter, for example, could be named Adam, Anna, Algie, Amy and Albert.
The only letter we don't use is X!
Letters to editor:- "Thanks."
DEAR Southport Reporter, "Thank you for helping me find the information for my University work. I wanted information about the local Viking History and found your information in a book called 'Mersey Viking'. I didn't know if you could help, but I emailed you and you responded quickly. Your staff were very friendly and helpful and the result was I found the information I was after. Once again thanks. This project makes all the difference in my grades and I am now set for a 2.1. Thanks and good luck. I will keep logging on." a big fan, Mark Smith, Liverpool (when not at Uni.)...
EMBRACE THE CHINESE EXPERIENCE!
ROOSTER years, which this year starts on the 9 February, are a time for families and joint ventures so the Meningitis Trust's China Challenge in October is the perfect opportunity to enjoy the journey of a lifetime while helping fight a life-threatening disease that every parent dreads.

China Challenge is a five day trek through Beijing Province along stretches of one of the world's great wonders: the Great Wall of China. It is a chance to see what China is really like, away from the main tourist trail, and takes place 8 October to the 17 October 2005.

Over the next 9 months participants will be getting in training and raising funds with the Meningitis Trust on hand every step of the way to help with preparation, fundraising ideas, advice and support.

One of this year's participants, 20 year-old Matthew Maney has a cousin who survived meningitis. "I got a leaflet in the post. I thought... 'What a great way to see China and give something back.'

It will be tough walking for seven hours a day but I'm looking forward to the experience and meeting the team. With backing from friends, family and colleagues I'm determined to help The Meningitis Trust offer support for life for all those affected by meningitis."

Participants must pay a registration fee of £300 and raise a minimum sponsorship of £2,500.

If you'd like to complete this challenge of a lifetime please contact the Meningitis Trust Events Hotline 0845 120 4530 or contact sarahl@meningitis-trust.org
On your bike!
THE Roy Castle Lung Cancer Foundation is urging the public to get on their bikes to raise vital funds by taking part in a 600km ride through Vietnam. One of the first to sign up for the challenge is Corporate Fundraising Manager for the Foundation, Liz Legge, who, encouraged by her friends and family is busy raising the £2,500 needed to take part in the trip. Now Liz is busy training to help build up her stamina. Liz has been involved in helping to co-ordinate such events as the London Marathon and the Great North Run as well as other sporting events.

Liz said:- "Every year I speak with the many wonderful people who generously and selflessly give their time and a lot of effort to raise funds for the Foundation, and every year I get asked if I'm taking part too. The response is always 'no way' followed by a feeling of guilt.
But at the end of 2004 the Foundation signed up for 10 places in the Vietnam cycle ride and I just told myself it was time to get fit and get on my bike!"

The lung cancer charity has secured another 9 places by covering the initial registration fees needed to take part in the Vietnamese challenge.

The challenge takes place between Saturday, November 12 and Thursday, November 24, 2005 and cyclists will embark on their once-in-a-lifetime experience from Hanoi. From there, they will pass through various towns and villages, from beautiful valleys and plum orchards, to corn plantations and awesome gorges. Cycling in temperatures reaching 26°C, the grueling journey will be hot and humid. Food, internal travel, accommodation, as well as 21 gear bikes, water and refreshments on cycling days, medical support, mechanics, and guides are all provided during the 13 day challenge.

The Roy Castle Lung Cancer Foundation will give as much assistance as possible to volunteers who need to raise £2,500 for the Vietnam Cycle Ride, by helping to publicise fundraising efforts and you could event join Liz on her training schedule!

If you are interested in booking a place on the Vietnam Cycle Ride, then please call Liz Legge or Janine Drew on 0871 220 5426 or contact them via the website www.roycastle.org.
UP TO YOUR EARS IN ESSAYS?
EARTHWATCH, the international environmental charity, is pleased to offer students across the country the opportunity to apply for an Earthwatch Student Award. The award offers a £500 grant to put towards the cost of an international Earthwatch field research project. With 140 projects to choose from, you might find yourself tracking endangered Black Rhino in Namibia, monitoring the health of nesting green turtles in Malaysia, or working alongside leading scientists to research the impact of climate change at the Arctic's edge.
Whichever project you choose, rest assured that you will gain practical experience in the field while working with a diverse team of volunteers, not to mention enhancing your career prospects, making a real difference for the environment and having the time of your life!
Past award winner Jonathan Crowley from Oxford University joined the Earthwatch project Whale Sharks of Baja. He made this comment:- "An amazing, life-changing experience that just leaves you wanting more; a fun, rewarding, challenging, unique and a very special two weeks that I would go back to in a flash."
Earthwatch are looking for students of any discipline over the age of 16 who can demonstrate an enthusiasm for environmental issues and a genuine commitment to conservation. If you can tell us how you intend to share your experiences and environmental knowledge when you return, then we want to hear from you.
There are 18 awards available and the deadline for applications is 18 March 2005. For an application form and more information call 01865 318831 or download a copy from the groups web site. International Earthwatch projects last for 10 to 14 days and range in cost from £295 to £1975. All award winners must join a project between April and December 2005.