WOODCHURCH PARISH COMMUNITY HALL TO GET A FACE LIFT
BIFFAWARD is giving a grant of £21,429 to the community hall in Woodchurch, Wirral. The award is from a multi-million pound environment fund managed by the Royal Society of Wildlife Trusts, which utilises landfill tax credits donated by Biffa Waste Services. The grant will enable the building to be upgraded to ensure the hall can continue to serve as a community facility for many years to come. Work will include improving the toilets and access to the hall, replacing the windows with double-glazed units and making minor alterations throughout to accommodate for the needs of the less-abled.
The hall was built in 1938 and is well used by the local community as a venue for many church and community services, activities and private functions. However, the building no longer meets the needs of the local community and requires upgrading to comply with modern legislation relating to access for all and health and safety.

Martin Bettington, Chairman of Biffaward, said:- "This is a worthwhile project that Biffaward is pleased to support. The work will provide improvements to a local community facility, allowing it to continue to meet people's social, recreational and educational needs."

The Reverend Anne Davis, Rector of Woodchurch said:- "We are delighted we can upgrade our hall and hope it will continue to be a focus for the local community and parish use."

Biffa provides a range of public sector, commercial and industrial waste collection services as well as the management of 33 operational landfill sites across the UK. The multi-million pound a year Biffaward fund has been set up, using tax charged on waste taken into landfill sites, to help finance environmental projects.
Tall Buildings Consultation Starts
A planning guidance has been produced outlining a policy for tall buildings which suggests the most appropriate locations where they should be sited in Liverpool it also sets out the heritage and design issues involved.
The consultation document says:- "Tall buildings can contribute to the continuing growth of the city and emphasize the logic behind its development. Conversely they can undermine the ability of the city's users to read and understand the way the city has developed and its underlying logic and or 'legibility'. The City Council would want to see tall buildings contributing positively to the 'legibility' for the city."
Three clusters have been identified as the most appropriate locations for tall buildings. These are:-
· The commercial district, where tall buildings can help it grow "in a confident and imaginative manner". There is already a cluster of tall buildings in this area
· The southern approach to the city centre based around the Sefton Street/ Parliament Street/Chaloner Street junction. This marks the southern points of the city centre and has the potential to be a counterpoint to the commercial district with tall buildings framing the skyline.
· The Lime Street area, where there are a number of tall buildings, including St John's Beacon.
However, the guidance adds that tall buildings could be sited in other parts of the city in exceptional circumstances.
Councillor Peter Millea, Executive Member for Regeneration, said;- "As Liverpool's regeneration picks up even more pace, there will be increasing interest in putting up tall buildings in the city.
We need a policy which helps developers know what is acceptable in terms of location and design and we have identified those areas where tall buildings can make the most impact. It makes sense in terms of environmental sustainability that there are clusters of such buildings.
However, I would stress that each planning application will be treated separately. Some applications for tall buildings in these areas may not be acceptable and conversely others outside these areas may be approved in exceptional circumstances.
What we are trying to achieve is a world-class city, fitting for a Capital of Culture and World Heritage city and this document sets out the guidance on how tall buildings fits into that aspiration.
We are seeking views from a wide range of people and organisations and we want to hear from them before we finally determine this policy."
Copies of the document are being sent to architects, developers and other businesses in the city. It is available on the council's website and in the city's libraries.
The Council's Executive Board will consider a report on the consultation later this year.
It Is Very Shocking News... "Homes are at Risk from Socket Overload"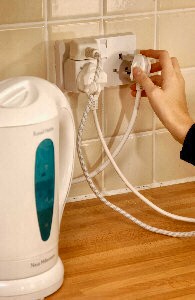 THE UK's electrical safety body, the NICEIC warns that overloading electric sockets at home with too many high-rated appliances such as irons and kettles can increase the risk of electrical related house fires.

A simple task like switching on your kettle or plugging in your iron could put you at risk, especially in today's homes, packed with a variety of appliances putting extra strain on your electrical system. Installing additional sockets may be the solution, but remember the new electrical safety law Part P, requires a government-approved electrician to carry out electrical work in the home, especially if in a kitchen.

Worryingly, the NICEIC's latest research reveals that 40% of homeowners overload their circuits by using several multi-extensions plugged into each other. 63% of those questioned use them in the kitchen, but even more disturbingly 23% admitted to having 1 or more extensions in their bathroom, mixing a deadly cocktail of water with electricity.

Additional appliances mean that multi-extensions and adaptors are a common sight in many homes. Although they can provide a simple and speedy solution, if misused they can put lives in danger. The overheating of appliances is one of the most common electrical hazards in the home. According to the NICEIC the average room contains around 4 sockets, but with the increased use of computers, printers, and hi-fi's there can be double the number of appliances to available sockets. This often leads to people plugging multi-extensions into each other.

"It is easy to take electricity for granted and forget how dangerous it can be, but lots of people are plugging in too many appliances for the available sockets without thinking about the consequences," says NICEIC director general, Jim Speirs. "Every year 20 people die and 500 are injured in fires caused by an electrical fault in the home. We can reduce this risk of injury by simply taking extra care to avoid electrical accidents."

Having a separate socket for each appliance provides the safest solution and should be installed by an NICEIC approved electrician. The NICEIC already has a roll of government-approved electricians, you can find one in your area by visiting www.niceic.org.uk or call the NICEIC on 0870 013 0381.

To stop your house overheating, follow the NICEIC's simple safety tips:-
· Never use adaptors plugged into other adaptors.
· Always check your adaptor complies with British Standards and does not get hot or have any burn marks on it.
· Do not overload adaptors, particularly with high-rated appliances like kettles, irons and heaters, not only could an adaptor overload the socket, but if used with a number of plugs it could also increase the stress on the socket too.
· Avoid trailing cables under rugs, to prevent people tripping over them and wear and tear on the insulation.
· If you have two appliances that are regularly used from one power point, it should be replaced with a double socket.
· Ensuring your home has sufficient socket outlets at convenient points will avoid the danger of overheating and will minimise the need for ugly extension leads and adaptors
· New sockets in kitchens MUST be installed by a government-approved electrician such as one registered with the NICEIC