Croxteth Comprehensive Get A Special Visit

Photograph by Patrick Trollope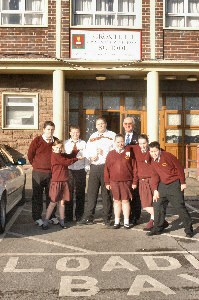 ON 10 February at Croxteth Comprehensive Liverpool's Cultural Ambassador and booking manager for the original Beatles, Joe Flannery, visited the school to see the pupils who have helped raise cash for the appeal. Sadly, Mersey Beatle and ex-Croxteth pupil, Jason "John" Murray could not make it, due to his car braking down. On the phone he said:- "I was looking forward to playing to the school, but I am sat in my car on the motorway waiting for the breakdown truck."
Both Jason and Joe Flannery praised the Croxteth Comprehensive pupils who raised money to help fellow ex-pupil John Metcalf, who is seriously injured in the tsunami disaster.
Joe Flannery also gave the students an inspiring speech and told them a bit about his time with the real Beatles.
FUNDING FOR BROADBAND INNOVATION IN SOUTHPORT
BUSINESSES and community organisations in Southport are being targeted to apply for funding to encourage innovative use of broadband technology. Business support networks, suppliers and associations representing groups of companies or institutions and charities are being targeted to apply to MerseyBroadband's Community Chest to help get their ideas off the ground.
The Community Chest has already made several grants to local projects. £22,000 has been awarded to Liverpool John Moores University for an innovative scheme to promote broadband for businesses, encouraging use of e-Commerce as a business tool.
While a new E-zine - All Together Now! providing news and information for the region's disabled people, carers and people who are aged over 65, across the Greater Merseyside region, will soon be in production thanks to a grant from the Community Chest.
The MerseyBroadband programme is a partnership led by Merseyside's Chambers of Commerce and Industry and funded by the Northwest Regional Development Agency (NWDA). SMEs in all sectors, colleges and research organisations, voluntary and charity organisations in the Southport area are all eligible to apply.
John Blades, Community Chest Project Officer said:- "We are seeking applications from private sector, public sector, charity and community based organisations with proposals that target the benefits of broadband. We'd really like to see applications from right across Merseyside. The invitation is open, the most important feature of all bids this that they must be innovative and not replicated elsewhere in Greater Merseyside. Funding of £22,000 to £150,000 is available for each project."
Kevin Morley, Head of ICT Policy at the Northwest Regional Development Agency (NWDA), said:- "This significant project will enable businesses and communities throughout Merseyside to experience the real benefits of broadband, helping to place the area firmly on the map for ICT development. Access to fast and reliable Internet connections is becoming increasingly important, and the Agency is working hard to ensure that the Northwest is able to fully grasp the new opportunities presented by the digital revolution."
For further information or to register take part in the project visit the website www.merseybroadband.com or call 0845 145 1115.
TO SYDNEY
THE first step in a drive to make chlamydia screening available in high street pharmacies across the country is now underway, Public Health Minister Melanie Johnson announced this week.

Independent health care providers are being asked to submit bids to pilot this new scheme in community pharmacies throughout London and Cornwall, making it easier for young men and women to use chlamydia screening services.

Successful applicants will provide free chlamydia screening for 16 to 24 year olds, including the partners of those who test positive and may also be able to offer patients the choice of receiving treatment at their local pharmacy.

Public Health Minister Melanie Johnson said:- "It's vital that we make it easier for young men and women to get tested for chlamydia. By offering this service in convenient locations on the high street, it will make it easier for people to call in for a screening test - helping to speed up the detection and treatment of chlamydia cases.

The advantage of using Independent Sector providers, such as pharmacists, is that they are already in position on the high street to provide NHS quality chlamydia testing. This means costs to the taxpayer are kept down and we won't need to draw on staff from other areas of the NHS."

The pilot will be monitored and evaluated over a 2 year period to test the community pharmacy setting as an alternative access point for chlamydia screening. If successful, the scheme could be rolled out nationally.

Chlamydia testing and screening is currently available in 26 areas of England under the National Chlamydia Screening Programme and is offered in a variety of healthcare and non-healthcare settings including further education colleges, armed forces bases and prisons.

David Pruce, Director of Practice and Quality Improvement at the Royal Pharmaceutical Society of Great Britain (RPSGB) said:- "The RPSGB welcomes the announcement by Public Health Minister Melanie Johnson for pharmacists to submit bids to pilot a new chlamydia screening service.

Pharmacists are experts in medicines and their use, and already make a significant contribution to improving health and preventing illness. The RPSGB works to ensure pharmacists can make their full contribution to the work of the NHS at both national and local level."
FPB warns businesses of premium rate phone line scam
A leading business pressure group has been alerted to a premium rate phone line scam that could trick businesses into paying out a hefty bill for accessing adult chat lines. February has been designated 'Scam Awareness Month' by the Office of Fair Trading, so the Forum of Private Business (FPB) is warning all businesses to be on their guard against this particular scam.
Jane Davies, FPB Member Contact Manager, was alerted to the scam by member Graham Calvert, whose company received a bill for £64.95, accompanied by threats of a County Court Judgement being levied against the company for non-payment, for a phone call he knew nothing about.
"Businesses can block access to premium rate phone lines, which usually start with an 090 code, quite easily. Yet with this scam the number began with a standard rate 020 code, which meant access could not be blocked. The first demand for payment Mr Calvert's company received suggested that two previous letters had been sent from Telecom Billing Services (TBS) Ltd for £34.95 and had been ignored. Mr Calvert never received either letter and the first he knew of it was when a letter was sent to his business informing him that the outstanding debt, which had by then increased to £64.95, had been passed on to a debt collection agency, Persolvo Debt Collection Ltd." said Ms Davies.
Graham Calvert, Managing Director of Howarine Calvert Ltd said, "Having checked with my staff, I am confident that none of them actually made a call to TBS, yet somehow TBS has managed to get hold of our business number in order to bill the company for the call.
For many business owners, the fact that an adult chat line has been accessed from their business is a huge embarrassment and many are loathe to challenge the bill as a consequence. When this is allied to the fear of being taken to court, it is little wonder that many businesses decide to just pay up. But they shouldn't."
"Business owners should ensure that they have taken steps to prevent employees from accessing premium rate phone lines,' As this particular case illustrates, though, even when they have taken measures to block premium rate numbers, there is still a chance that they could be caught out. The FPB advises business owners to carefully monitor employees' telephone use in an effort to avoid falling foul of scams like this." said Ms Davies.
Liberal Democrat MP Vince Cable has criticised the fact that Ofcom, the telecoms regulator, appears powerless to prevent this particular scam. He claims that companies such as TBS are taking advantage of a loophole in the current law that prevents 020 numbers from being regulated under the ICSTIS, Independent Committee of Standards of Telephone Services, controls.
The FPB has contacted both Trading Standards and ICSTIS regarding its concerns about the service and have learned that TBS is not actually doing anything illegal under current legislation and it is therefore up to the individual business owner to pursue the matter through legal channels.
BG SPIRIT SETS PACE UPFRONT ON THE DASH TO SYDNEY
Report by BG Spirit Crew.
FOR Tony Summers from Liverpool and the BG SPIRIT Crew, the exciting sprint from Wellington to Sydney is now well underway. The cannons fired at 01.30 (GMT) yesterday, 6 February, signifying the start of Leg Three of the Global Challenge 2004/2005 Yacht Race. After a highly competitive start, which saw Team Stelmar, Spirit of Sark and Samsung cross the line first, BG SPIRIT managed to climb her way to the front of the pack where she now lies in second position, just 1nm behind VAIO.

Queens Wharf dock, which has been home to the 12 identical Global Challenge yachts since their arrival in Wellington on 4 January, was suddenly deserted yesterday lunchtime as the fleet headed out in blistering hot sunshine to take up their position in the start box. BG SPIRIT got off to a good start in the middle of the pack in 10 knots of northerly breeze and maintained her position round the first mark. On the second beat the BG SPIRIT Crew demonstrated the superior sailing skills and teamwork they have consolidated over the past four months, achieving great boat speed and gaining enormous ground on the leading yachts. As they approached the second mark at Ngauranga, BG SPIRIT converged with the lead boats and managed to pull up to second place by Sinclair Head as they headed out into open Cook Strait waters.

The week ahead will see fierce competition amongst the Global Challenge fleet. There will be no time to relax as they match race across the Tasman Sea to Sydney and any mistakes could be costly. BG SPIRIT Skipper, Andy Forbes, commented on the leg ahead:- "This is more of a sprint leg - a time trial. It will be very intense on the tactical side because the boats will be so close. I expect to see at least eight boats every day between here and Sydney. We saw how close the fleet raced down the Argentine coast and even closer coming into Wellington. This leg could go to any one of the 12 boats out there and I would not be surprised to see yachts jostling for position in Sydney harbour itself at the end of the race."

Forbes, however, clearly has great confidence in BG SPIRIT and his team. Commenting on their current position in second place on the leaderboard, Forbes said:- "We are still in a very good position on level points with Spirit of Sark and with three boats just one point above us, we have all to play for."

Tony Summers commented:- "This next leg will have the intensity and emotion of the first three days of the last two legs, followed in swift succession by the intensity and emotion of the last three days of the previous two legs. I really am looking forward to getting back on the boat and back into some sort of routine and I hope that we will make it an exciting race for all to watch!"

BG SPIRIT is due to arrive in Darling Harbour, Sydney, on 13 February, no doubt to a rapturous welcome by the hoards of family and friends who will be there to greet them.