Southport FC v Lancaster City FC Bore draw at Haig Avenue
Report and photographs by Sally Devine
Saturday 26 February 2005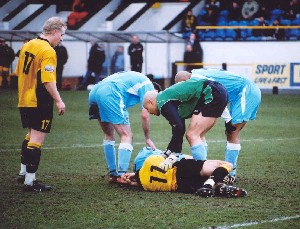 A LOCAL derby between fierce rivals Southport and Lancaster City failed to ignite due to the defensive approach adopted by the visitors. Lancaster, managed by former Southport boss Phil Wilson, included 5 ex Sandgrounders and goalkeeper Jamie Speare who may move to Southport in the close season.

The crowd grew restless as few chances materialised, Southport failing to find the net for the first time this season at Haig Avenue. A Terry Fearns shot rattled the Lancaster bar and Kevin Leadbetters attempt on goal was well saved by Speare. Peter Thomson looked dangerous in attack for Lancaster but as the lone striker his chances were limited.
After half time Southport made a change, Neil Robinson replacing Steve Daly, in an attempt to inject more firepower into the forward line. Lancaster sat back in defence under the instruction of Phil Wilson and soaked up all the Southport pressure. Kevin Leadbetter came off the worst in a clash with the Lancaster keeper but after lengthy treatment was able to continue.

The away side barely had a shot on goal in the second half as the match turned into a bore draw. Neil Prince tested Dickinson in the Southport goal who blocked his crisp volley but the game fizzled out badly with only the home side making an effort to break the deadlock. This result still leaves Southport at the top of the league with games in hand.

Score:- 0 - 0
Attendance:- 1,008

Southport FC:- Dickinson / Williams / Fitzgerald / Kilbane / Davis / Morley / Lynch / Pickford / Fearns / Daly / Leadbetter

Lancaster City FC:- Speare / Clark / Scott / Sparrow / McMahon / Hollis / Elderton / Jones / Thomson / Zico-Black / Prince