Pollution of the Beaches at Southport & Blackpool!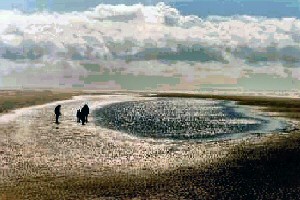 WE have got a to a stage now, that we can see the beaches in the North West are losing the title "Dirties beaches in Europe". Improvements with the water quality have been staggering, but all this work to improve the quality of our beaches will be lost if United Utilities release untreated raw sewage into our rivers.
It is planned that the Calder and Ribble will be used to do just that. This raw sewage then travels down the river to the estuary, where it joins the sea before being washed along the coastline and onto our beaches!

A notice of Application appeared in a Burnley newspaper under "information", and was placed by the Environment Agency, following United Utilities application for consent to release effluent into the River Calder at times of spate or emergency conditions.

If consent is granted, then it would mean that effluent, including untreated human excrement, can be emptied into the river! Not only will it have a significant and detrimental impact on the whole of the Ribble Valley, its fish life and whole ecology of the river, but, in addition the pollution of our coastal beaches at Southport and Blackpool with raw sewage!

I would like to ask every reader, resident and conservationist to make the strongest possible objection to United Utilities application being granted consent!

All objections to this application must be made in writing and quoting;

Reference c/175/a/04/v by the deadline of 25 March 2005.

The address where objections should be sent is:-
Mr D.EDWARDS.
AUTHORISATION OFFICER.
THE ENVIRONMENT AGENCY.
NORTH WEST CENTRAL AREA OFFICE
P.O.BOX 519
SOUTH PRESTON.
PR 5 8GD
Object to United Utilities application by writing ASAP and stating clearly that you OBJECT to this proposal.

Please...
DO IT NOW!
New grants scheme under RSPB spotlight
FARMERS can find out more about the benefits of grants available under the newly launched Environmental Stewardship Scheme at a series of RSPB training courses. Using its nature reserves in Cheshire, Lancashire and Cumbria, the RSPB is running the courses to focus on managing important habitats for wildlife. Forthcoming courses will look at managing wet grasslands for birds like lapwings and redshanks. These birds only nest in grass of a certain length, so managing the grazing is important. They also need damp areas for feeding, so using diggers to provide wet pools and to build sluices on ditches helps create these damp areas. Events are also planned for farmers who manage upland farms, and for those on the coast.

RSPB reserves are managed to provide ideal conditions for birds and other wildlife. Using them to share these ideas provides an ideal opportunity to help farmers manage the wider countryside. This management can be funded from Defra grants, so helping farmers deliver positive management and attract grant aid onto the farm.

Andrew Gouldstone, RSPB Area Conservation Manager, said:- "The response from farmers to these courses has been very positive, and the opportunity to share ideas is very rewarding. With the launch of new Defra grant schemes, the time is right for farmers to consider new sources of income for their farm business. With these courses, we can help farmers understand what might be expected if they apply for the new Environmental Stewardship Scheme, and how it could work for them on their farm."

Stephen and Wendy Wharton, from Sykeside Farm, Kirkby Stephen, attended a course in Cumbria and commented:- "The day reinforced many of the ideas we have already tried, such as using sluices and bunds to control water levels, and it gave us fresh techniques for sward management, all of which we saw in action."

The dates of future courses include:-

Marshside RSPB reserve, Southport, Lancashire on 21 March 2005, covering wet grassland, scrapes, and breeding waders.

Inner Marsh Farm RSPB reserve, South Wirral on 22 March 2005, covering wetgrassland, scrapes, and breeding waders.

North Plain Farm RSPB reserve, nth Cumbria on 24 March 2005, covering wetgrassland, scrapes, and breeding waders.

Geltsdale RSPB reserve, Cumbria on 25 May 2005, covering upland in-bye management for waders and black grouse.

Further courses are also planned in 2005:-

Leighton Moss RSPB reserve in Lancashire during July, about Saltmarsh management.

RSPB in Geltsdale in late August/ September, about Moorland management.

RSPB Leighton Moss reserve in October about Wetland management, scrapes, ditches,
ponds, reeds etc.