WARRINGTON MARKET 750th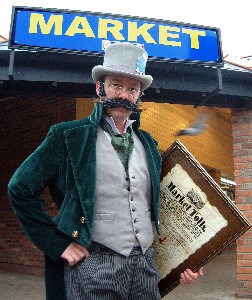 WARRINGTON MARKET is to celebrate the ultimate in birthdays as it approaches
its 750th year in service.
From yesteryear, when wares were delivered to the Market by horses, which trudged over cobbled streets to bring the finest in materials, food, drink and hardware to the people of Warrington.

It will be a yearlong celebration, beginning with the return of the Staffordshire Pot Fair on Monday 9 May for one week. This unique event, the origins of which are based in medieval trading fairs, presents quality china, porcelain, crystal glass, cookware, figurines and associated items from traditional wooden and canvas pot fair stalls, the likes of which you have never seen before!

May sees the Market getting back to its roots, as activities of the medieval variety take place in July, and moving into September with a series of guided tours to coincide with National Heritage days.

It will be another 750 years before we can celebrate this way again, so make sure you pop along and join in the festivities!
Secretary of State to officially open £1.25m sports centre in Warrington
SECRETARY of State for Culture, Media and Sport, Tessa Jowell MP is to officially open the £1.25m multi-purpose community sports centre at Sir Thomas Boteler Church of England High School in Warrington next week on Monday 14 March.

Tessa Jowell will be given a tour of the new facility while taking the opportunity to meet the people who made it possible, and look in on some of the sporting activities it will be home to.

The state-of-the-art sports facility has been made possible thanks, largely, to investment by the Big Lottery Fund.

The investment has transformed the school's sports facilities and pupils will now be able to play a whole host of games including netball, basketball and badminton, the national governing bodies of all these sports have endorsed the design of the centre.

The centre is a joint partnership between the school and 'Ball Hall', which specialises in the provision of sports such as basketball, netball and badminton. The community sports centre will be available for use by the school during the day and by the local community in the evenings, at weekends and during school holidays.
LOCAL MP IS STAR PHOTOGRAPHER
CROSBY MP Claire Curtis-Thomas is having her photographs in a prestigious exhibition. The images were captured for the Jessops Parliamentary Photography Competition. She was one of many MP from both sides of the Commons and the House of Lords aiming to impress others with their standard of photography.

Peers included in the competition are Former NATO Secretary General Lord Robertson, Former Chancellor Lord Healy, Lord Allenby and Lord Monague. While representing the Commons you have Minister of State Nick Raynsford, shadow ministers Michael Fabricant and Gerald Howarth, Whip Peter Luff and PPS to the Leader of the Opposition Desmond Swayne, plus well known backbenchers such as Austin Mitchell and Ann Clwyd.

With almost 400 entries, the annual competition features images taken either during duties or on travels around the world and country. Some are thought provoking and some are light-hearted. The 6 best entries chosen by a panel of expert judges each earn £100, which will then be donated to children's cancer charity CLIC Sargent, Jessops adopted charity.

Austin Mitchell, Chairman of the Parlimentary All Party Photography Group, said:- "Photography flourishes in Westminster and this competition offers a fantastic opportunity for MPs and Peers to reveal what they can do from behind a camera, rather than in front of one. The standard of entries was extremely high and the subject matter offers a fascinating insight into the things that inspire and amuses Members of both Houses."

Members of the public can view the images from the exhibition when they tour Jessops stores in the year. Further details are available by visiting www.jessops.com/parliament.
Organisations are 'sitting ducks' as they fail to plan for major disruptions
ORGANISATIONS in the North West admit they are failing to protect key assets and the ability to function in the face of major disruptions, according to research published today by the Chartered Management Institute. The 2005 Business Continuity Management Survey uncovered alarming inactivity, with organisations ignoring threats to their business, neglecting the needs of their managers, and not communicating plans with employees.

The research, published in association with the Continuity Forum and VERITAS Software, does, at least, reveal increased levels of awareness about potential dangers to business. 59% of the organisations in the North West have a business continuity plan (BCP) in place - the highest figure, nationally and an increase on last year. Across the UK the study also demonstrates varying attitudes to risk across business sectors and organisation size. Continuity management is most widespread amongst the banking sector and in organisations with a turnover of more than £11 million.

Threats to business... Managers were asked to identify the threats most likely to have an impact on their organisation. 70% suggested that loss of IT capability was their top concern. Reflecting the tight labour market, managers also identified loss of skills, 56%, and loss of people, 55% as major threats to their business.

It has also become clear that UK businesses are 'sitting ducks' as most plans fail to cater for the disruptions being experienced by organisations. Despite an increase in incidents relating to loss of people, up to 41% from 25%, and skills, up to 28% from 20% to hit organisations over the last 12 months, only a handful of BCPs cover staff issues.

Mary Chapman, chief executive of the Chartered Management Institute, commented:- "It's a matter of concern that many organisations still fall short when it comes to implementing thorough business continuity management strategies. However, the rising awareness of corporate governance responsibilities, and in particular the demands of the new Operating and Financial Review regulations should ensure that managers focus on the impact and cost that the loss of staff and services can have."

Demands for continuity management... A significant shift has also occurred over the past year, with external drivers influencing the extent of business continuity management (BCM). Corporate governance is considered the key reason, 34%, up from 24% in 2004, followed by demands from insurers, 25%, central government, 22%, and auditors, 20%.

Encouragingly, in 27% of organisations, the Board leads business continuity management. Budgetary control has also shifted into mainstream business operations, with 38% of organisations ensuring BCM budgets are held at director. The research indicates that now only 9% of organisations give financial control of BCM to risk managers and 5% to IT directors, recognising the need to prioritise business continuity.

Dr David J Smith, principal consultant at EMEA BCM Practice at VERITAS Software, says:- "When the number of remote workers increases, IT departments are under more pressure to ensure that core systems are always available; or can be recovered quickly should a system failure occur. Whilst UK businesses are making investments in this area, surprisingly few are communicating business continuity plans to staff - even though they recognise the need to do so. VERITAS' own Disaster Recovery research in 2004 highlighted that there was a lack of regular rehearsals completed by businesses to ensure that such plans are comprehensive enough and it appears from this survey that there is still a long way to go before this practice becomes standard."

Inadequate preparation... Respondents expressed anxiety over the lack of a communication chain about business continuity plans. Of those organisations with a plan in place, only 58% regard their employees as a key audience to share continuity details with. Only 1 in 4 organisations have an awareness programme for all staff and just over half, 53%, provide additional training for specific, relevant, employees.

The research also indicates that organisations do not rehearse the effectiveness of their BCPs. In 2005, 20% of organisations admitted they never test their plan and, of those with a plan in place, only 52% meet the minimum recommended frequency of rehearsing BCPs once a year. The finance sector is most likely to ensure plans are robust, and the manufacturing sector comes bottom of this year's BCM rehearsal 'league table'.

Worryingly, the research indicates that business continuity management is still not part of UK organisation's performance culture. A total of 86% claimed their rehearsals revealed shortcomings and 13% admitted these problems had not been addressed. Nearly two-thirds, 58%, do not even measure BCM performance and 40% of organisations with turnover of less than £10 million do not audit their continuity programme.

John Sharp, policy and development director at the Continuity Forum, says:- "The evidence suggests a small but consistent growth in business continuity management. Having a plan is not enough! Major steps still need to be taken as too many organisations are scraping by with inadequate and untested plans that expose them to unnecessary risk."