PRESCRIPTION CHARGE INCREASE STAYS THE SAME
AN increase in prescription charges of 10p was announced today by Health Minister Rosie Winterton with the charge for a single prescription item rising to £6.50 on 1 April 2005.

The changes to NHS charges are:-

The cost of prescription prepayment certificates will rise 50p to £33.90 for a 4 month certificate, and increase £1.40 (to £93.20) for a 12 month certificate

The maximum patient charge for a single course of dental treatment will increase from £378 to £384, applicable to only two in every 1,000 courses of treatment

To help those on low incomes and those with complex sight problems, with the cost of glasses or contact lenses, optical voucher values will rise by 2.5 per cent

Rosie Winterton said:- "We have held the increase to 10 pence for the seventh consecutive year, well below the rate of inflation to ensure that people can get the prescriptions they need, at prices they can afford. Through our extensive exemption arrangements, 86 per cent of prescription items are dispensed free, with another 5 per cent dispensed to people with prepayment certificates at no additional charge. This modest increase will contribute £452 million towards the cost of the NHS."
LISA SCOTT LEE HITS THE RIGHT NOTE WITH LAUNCH OF BT CHATTERBOXES
NOBODY seems to talk these days; it's all email and text messages. Whatever happened to the great British chat? A new initiative from BT, launched by pop sensation Lisa Scott Lee, plans to get people chatting again in BT phone boxes and it starts in Liverpool. To encourage us to bring back the great British chat, BT is challenging Liverpudlians to chat for a cash prize in their phone boxes and show the rest of the nation what it means to be a Chatterbox!

Everyone in the area will be encouraged to call a designated Chatterbox competition number, and talk on a subject of their choice without an "umm" or an "err" for 30 seconds - if they can, they could win £1,000!

The competition will be promoted on local radio stations, in local newspapers, and on bus tickets, text messages and BT payphones throughout March. 30p buys 15 minutes of local and national talk time at anytime of the day. This means that the customers can talk for 15 minutes at a rate of just 2p per minute.

Pop star Lisa Scott Lee said:- "Chatting from a BT payphone is good value and great fun. I hope the Chatterbox competition will inspire the people of Liverpool to get chatting again."
Smoke-free Bill goes before Lords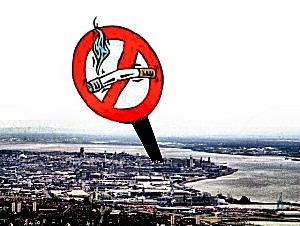 LIVERPOOL'S plan to outlaw smoking in every work place in the city will face its second parliamentary hurdle this week. On Friday, the House of Lords will give a second reading to Liverpool City Council's Bill, just days after national No Smoking Day. The legislation is being promoted on health and safety grounds. Smoking kills 1,000 people in Liverpool every year, and around 100 of these have never smoked.

Leader of Liverpool City Council, Mike Storey, said:- "This second reading is the latest landmark in Liverpool's bid to become smoke-free, healthy city. On Friday, the Lords will have the opportunity to debate key issues, which surround our smoke-free proposal. We need to protect all employees who are exposed to smoking at work. Just last week, new figures showed every day 30 people in the UK die as a result of second-hand smoke. This has prompted medical professionals throughout the country to support Liverpool's Bill and adds to the overwhelming backing we've already received from smokers and non-smokers in the city."

The Bill was initially delivered to Parliament in October 2004, and had its first reading in January. It will ban smoking in restaurants, pubs, shops, offices and all other workplaces to protect employees from being exposed to cigarette smoke.

Smokefree Liverpool, a partnership between health groups, the city council, Liverpool Chamber of Commerce, the North West TUC and the Roy Castle Lung Cancer Foundation are supporting the legislation.

Andy Hull, chair of Smokefree Liverpool, said:- "History is repeating itself in Liverpool. In 1846 this city was the first to have a public health act - the Liverpool Sanitary Act. In 1848 the Government adopted it for the whole country. We're hoping that this will happen with this smoke-free Bill. Our predecessor's recognised Liverpool had the worst health in the country, and once again we are recognising that, for different reasons, we still have terrible health conditions in the city. The city council and Smokefree Liverpool feel strongly that this Bill is the right one for Liverpool. Smoking has to be banned from every workplace."

Under the Liverpool City Council (Prohibition of Smoking in Places of Work) Bill any individual or business in breach the new law will face fines of up to £5,000. The legislation is similar to laws already in force in Ireland, New York, Norway and Los Angeles.

After Friday's debate, a third reading of the Bill is likely to take place in the summer. City council bosses hope the Bill will become law in 18 months time.