Wayne Rooney at Elements Restaurant
Pictures by Sally Devine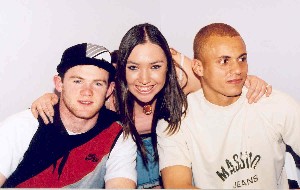 THE Manchester United Supporters Club, Southport branch charity evening at Elements Oriental restaurant at Ocean Plaza was held on 15 March 2005.
Wayne Rooney and Wes Brown were the star attractions of the night and spent over an hour signing autographs for their many fans and posing for photographs.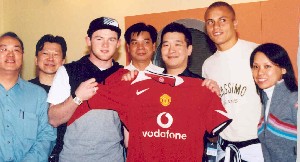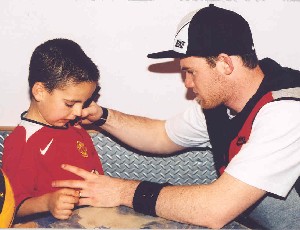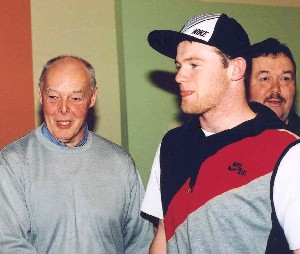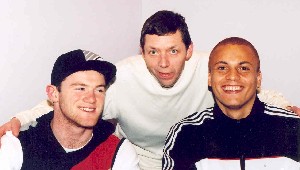 CALL FOR YOUNG SPORTS STARS
BUDDING young sports stars throughout the UK are being given the opportunity to win sponsorship in the 8th year of the OCS Young Sportsperson of the Year Awards. The competition is open to all young people who are still at school or college, who will be under 18 on 1st September 2005, and have a special talent for a sport. This year OCS will give away a total of £35,000 in sponsorship and cash.

The winner of each of the 1 disabled and 10 regional categories will receive a prize of £2,500, whilst the overall UK winner will walk away from the award ceremony, scheduled for November 2005, with prizes valuing £10,500. In addition, the school, college or sports club of the OCS Young Sportsperson of the Year will receive a donation of £2,500 for the sole purpose of purchasing sports equipment. The new category for 'Young Stars' will see a talented youngsters receive a cheque for £500.

Last years winner from the region was weightlifter Andreas Michaelas, who is the current British Weightlifting Champion in his age group and has been winning in Under 20's competitions despite his young age. As a British and Austrian record holder, Andreas competed in the Junior Commonwealth Games in Melbourne last year coming 3rd and plans to take the gold at the European Championships this year. He used the £2,500 prize money to purchase a new Olympic Bar and Weights.

Application forms for the 2005 OCS Young Sportsperson of the Year Awards are being sent to every school in the UK. Further information about the awards and additional application forms can be downloaded from www.ocsyoungsportsperson.co.uk. Alternatively telephone 0870 442 0990
'Beefy' and 'Lamby' Take To The Road For Big Taste Test Tour
TO celebrate the launch of the new Quality Standard Mark by the English Beef and Lamb Executive (EBLEX) cricketing legends' Ian 'Beefy' Botham and Allan 'Lamby' Lamb are reunited to tour England in order to encourage each region to put Quality Standard beef and lamb on their menus.

The two sporting heroes are currently bowling viewers over in a new series of television adverts, which use incredible animation to portray the characters living in their cricket pavilion home. Debating the virtues of Quality Standard beef and lamb, they will take their infamous rivalry on the road next week on The Big Taste Test Tour. Visiting seven cities across England to encourage people to vote for signature Quality Standard 'Beefy' and 'Lamby' dishes created by top London Chef Angela

Hartnett, the sporting icons will be in competition to raise the cup for the country's preferred dish.

The Big Taste Test Tour will kick off in London on 21 March before heading to Bristol, Birmingham, Leicester, Nottingham, Liverpool, Manchester and finally Leeds. 'Beefy' and 'Lamby' will visit restaurants in each city where they will host a cook off which mirrors the advertisements by competing to out-do each other on whether beef or lamb is the superior dish. 'Beefy' naturally extolls the virtues of Quality Standard beef while 'Lamby' bats for the merits of Quality Standard lamb

The Quality Standard campaign introduces a new scheme to provide high assurance levels about the meat that consumers buy. It sees the return of this classic double-act, who have, in addition to completing many cricketing tours together, also performed to sell-out tours with "Balls N All" and "Beef and Lamb in a Stew."

The Quality Standard Mark is visible in independent butchers and on pack in supermarkets from March 2005 to enable consumers to easily identify quality meat at point of purchase. All beef and lamb carrying the Quality Standard Mark is chosen according to a strict selection process to ensure that it is consistently succulent and tender. Quality Standard beef and lamb is produced to higher standards than even required by law with a supply chain that is fully assured and independently inspected at every stage from farm to meat counter.