REPORT REVEALS SOARING COST OF MEETING RECYCLING TARGETS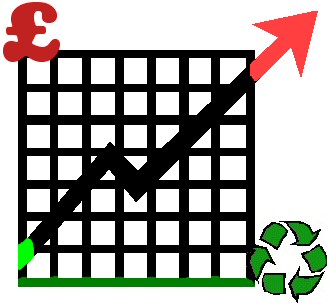 THE amount of money the average council feels it needs to meet recycling targets is soaring, according to the State of the Nation Report 2005, published by Materials Recycling Week (MRW).

Councils across England, Scotland, Wales and Northern Ireland all participated in the Report, supported by the Local Authority Recycling Advisory Committee (LARAC), by sharing their views on recycling targets, funding and legislation.

One of the most striking findings is that since the publication of the inaugural State of the Nation Report 12 months ago, the amounts of money councils feel they need each year to meet Government demands has virtually doubled, to an average of £917,000. Consequently, only 33% of respondents to the 2005 survey said they would definitely meet their targets, compared with 40% last year. "Household participation" and "the market for recyclables" were also cited as factors which would influence their success.

The Report found that the biggest rise in recycling costs appears to be from the massive roll out of kerbside collections of recyclables (where households can leave out designated boxes or bins containing recyclable waste such as paper, glass, plastics and cans). Councils now spend 53% of their recycling budgets on such collection schemes, compared with 39% in 2004.

However, the majority of councils feel that funding is finally improving, with 66% of respondents saying they were receiving "fairly adequate" or "entirely adequate" funding, compared with less than 50% in 2004.

Despite the enormity of the challenge, more than 4 in 5 local authorities said they would like to see further recycling targets, with more than 50% of respondents believing that the UK should be aiming to recycle between 30% and 49% of all of its waste by 2010.

However their views on how this might be achieved have changed considerably over the last 12 months. The percentage of councils who would consider introducing a household charging system for waste collections has dropped to 38% from 60% in the previous year, with the majority feeling it was "unworkable." Incentivising the public to recycle was a much more popular approach, with cash rewards and reduced council tax cited as examples.

The Report shows that legislation will continue to have a major impact on the way the recycling and waste management industry develops over the next 12 months. Councils highlighted the Landfill and Waste Electrical Electronic Equipment (WEEE) Directives as the two that will have the biggest impact, primarily for the penalties involved and the recycling provision that will.... ...continued...
...continued... be required.

"MRW's second State of the Nation Report demonstrates that progress is being made in some areas but there is still a need for investment and preparation if councils are to meet their recycling targets and comply with legislation. We will watch the next 12 months with interest and monitor the state of the nation through the many hundreds of local authorities at the sharp end of recycling in the UK," said Jane Rayner, group editor for MRW.

HOUSE SPARROW REMAINS TOP OF THE TABLE IN Lancashire
FIGGERS announced this week by the RSPB have revealed the house sparrow has taken top spot for Lancashire in the world's biggest bird survey, Big Garden Birdwatch.

House sparrow numbers have been relatively stable in recent years, although they are still massively down from levels at the beginning of Big Garden Birdwatch 26 years ago. With an average of 4.56 sparrows seen per garden this year, compared to an average of 10 in 1979, the house sparrow has declined by 54 per cent.

Having dropped off the top spot nationally last year, the starling continued to decline in 2005, with numbers per garden down almost to a quarter of those recorded in gardens in the first Big Garden Birdwatch survey.

Around 8800 people in Lancashire watched their gardens and local parks during the RSPB's Big Garden Birdwatch on 29-30 January, a fantastic level of participation. There was an average of 3.70 house sparrows seen per garden with the starling coming in in second place (3.58) and in third place was the Blue tit (2.72). (See Lancashire's Top Ten figures for 2004/05).

Another change giving cause for concern is the song thrush. After a slight increase in recent years, song thrush numbers dropped in 2005, and for the first time this red-listed species dropped out of the top 20 garden birds. It held 7th place in 1979.

Kirsten Whittaker, Big Garden Birdwatch co-ordinator, says:- "Big Garden Birdwatch allows hundreds of thousands of people to get involved with a project that tells us how some of our best loved birds are faring. This sort of survey enables the RSPB to understand more about the population trends of UK garden birds.
For the first time ever we asked those who took part in Big Garden Birdwatch online if they provided food and what food their birds were feeding on. An amazing 92 per cent of people put food out and the commonest bird coming to food was the blue tit, which was seen at feeding stations in 72 per cent of gardens surveyed.

RSPB Big Garden Birdwatch aims to find the most commonly seen garden birds. Wild birds are a fantastic indicator of the health of the environment and the survey requires only one hour to take part, producing a snapshot of winter garden bird populations.

The most widespread species this year was the blackbird, recorded in 92 per cent of all gardens, with house sparrows and starlings seen in 68 and 53 per cent of gardens respectively. Blue, great, and long-tailed tits all continue to prosper, and since over 70 per cent of the gardens surveyed provided peanuts, this may not be surprising!"