Melanie C with Special Guests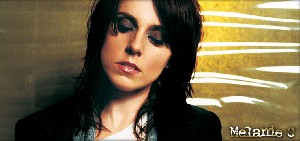 ON FRIDAY 15 April 2005, Melanie C will be on stage live with special guests at the Carling Academy Liverpool. Tickets are £15adv, but selling fast and only the last few tickets are available now, so do not delay!

With solo album sales close to 3 million copies and a string of top 5 and top 10 singles, Melanie Chisholm, is one of the most successful British female artists of the last decade. Incredibly Melanie has co-written 11 UK number 1 singles - more then any other female artist in chart history!

Passionate and fiercely creative, her new album 'Beautiful Intentions' to be released on 11 April 2005, is a genuine testament to her talent, determination and the realisation of a long held dream.

Released on her own independent label, Red Girl Records (inspired by her love of Liverpool Football Club and her propensity to blush easily), 'Beautiful Intentions' is stuffed with anthemic rock hits and deeply personal songs, developed over a period of nine action packed months.

Melanie co-writes all the songs on the album except the first single 'Next Best Superstar' written by Adam Argyle. The song is a comment on celebrity culture and the perils of instant fame!

"With this album, I wanted to show what I do best. I love performing!"

Carling Academy Liverpool, 11-13 Hotham Street, Liverpool, L3 5UF
Box Office:- 0870 771 2000 (24hr) / Customer Info:- 0905 020 3999
The Son of Former Holmwood School Headmaster is Running up Funds for the Alzheimer's Society.....
THE son of Johnston Cassidy a former Headmaster of Holmwood School is calling on any alumni who remember his father to support him in his effort to raise £20,000 for the Alzheimer's Society.

Johnston Cassidy was Headmaster at Holmwood from 1977 to 1992 has had dementia for the past 3 years. Determined to help people like his father, his son James is pulling out all the stops in his efforts to raise vital funds for the Society.

James an Army Officer says:- "I am sure there are many past pupils in Formby who will remember my father. The illness has taken its toll and this vibrant and entertaining man is now a shadow of his former self. Dementia is a cruel illness with devastating effects for all those involved. I ask any former pupils who remember him to help me raise the much needed funds to help find a cure for this cruel and debilitating disease."

James is running in the marathon with three of his friends. Calling themselves Team Cassidy the four pals are putting as much effort into their fund-raising as they are into training for this world famous marathon.
Anyone wishing to help James reach his fundraising target can log on to:- www.justgiving.com/teamcassidy to support him.

For an information pack and details on how to apply for a guaranteed place with the Society at other forthcoming prestigious running events please contact:- events@alzheimers.org.uk.
FREE WATER SPORTS THIS EASTER
YET AGAIN Liverpool is host to a week of free water sports. The offer is open to children this Easter holidays as part of Sea Liverpool 2005 and follows a hugely successful February half term deal. The Febuary deal saw a 70% rise in usage at the Liverpool Watersports Centre and with better weather, organisers are expecting a bumper turnout for the have-a-go sessions.

The team of expert instructors at the city's Watersports Centre have been commissioned by the Liverpool Culture Company to give kids free tuition on activities such as sailing, windsurfing, canoeing and kayaking. Provided by Merseysport, a project set up by charity Local Solutions, the sessions begin on Tuesday, 29 March 2005 and run until Friday, 1 April 2005.

All half term sessions must be booked in advance. All participants must be over the age of 8 years old, able to swim and accompanied by an adult. Booking can also be made for individuals or groups by telephoning 0151 708 9322.

The programme is part of the city's pledge to engage every child in river and water-based activities during Liverpool's Capital of Culture themed year - Sea Liverpool 2005.

The qualified instructors will each offer 5 hours of lessons a day to ensure that almost 600 children can take advantage. The Liverpool Culture Company has arranged to offer a potential 800 hours of free tuition at the centre in 2005, by offering a further 2 weeks of free activities for thousands more during the Summer holidays and October half-term.

A special package of Have a Go Weekends have also been arranged for the Mersey River Festival on 11 and 12 June and for the start of the 2005-6 Round The World Clipper Yacht Race on Saturday and Sunday, September 17 and 18.

The Sea Liverpool 2005 free starter courses may also help push up attendances at the Watersports Centre which last year attracted 21,000 people.

Councillor Warren Bradley, Executive Member for Culture and Tourism, said:- ''I'm delighted to see that the free sessions are working so well at the Watersports Centre. The more children that experience this fantastic facility the better, as the skills they learn can be invaluable - not just life-saving but life-changing. I hope this pledge can make a big difference to our children and to their families and help breathe new life into our maritime attractions.''

Based at Queens Dock, in the shadow of the city's World Heritage waterfront, the Watersports Centre was purpose-built in 1994. It is now a nationally recognised centre of tuition by the governing bodies of the British Canoe Union (BCU) and the Royal Yachting Association (RYA).

Rob Sutcliffe, Manager of Merseysport said:- "The events generated huge interest in the centre, not just for the free sessions but also for the rest of the year. About 70% of the available hours were taken up over the February 05 half term, which is fantastic for the time of year given the weather conditions. We have had several new memberships and our weekend activities have increased, everyone at the centre is eagerly looking forward to the Easter half-term."

As part of the Sea Liverpool pledge, more than 1,000 nautical events will be staged in 2005 with the intention of giving the city's school children a taste of life at sea.

The city is also running a website based educational programme for children to coincide with the 2005-6 Clipper Round the World Yacht Race, which leaves Liverpool at noon on Sunday, September 18 for its 11 month voyage around the globe.

This year's Capital of Culture theme corresponds with a national series of events, SeaBritain 2005, held to celebrate Britain's maritime heritage, centred on the 200th anniversary of the Battle of Trafalgar.