LINE DANCERS WANTED!
A local charity is inviting members of the public to put on their dancing shoes, or should that be boots? ... at a 'Line Dancing Extravaganza', to be held on Saturday 9 April at the North Meols Leisure Centre near Southport.

All money raised will benefit Henshaws Society for Blind People's Southport Centre in Norwood Road, which provides tailored residential care for over 40 people.

Entertainment will be provided courtesy of Graham Mackey and Owen & Mel, and there are great raffle prizes up for grabs.

Tickets are fantastic value for money at only £5, with a hotpot supper included in the price.

To book tickets please call 01704 533317, or visit the 'What's On' section of Henshaws award-winning website at www.hsbp.co.uk
Take control of your doorstep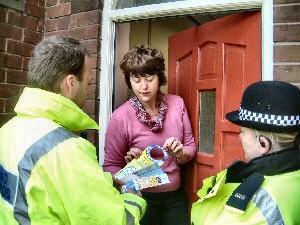 OFFICERS from Warrington Trading Standards joined forces with Cheshire Constabulary during Doorstep Crime Week, 14 March to 18 March, to raise awareness of the issues surrounding 'Doorstep Crime'. A number of traders who were either carrying out work in the area or were stopped in trade vehicles were advised of their responsibilities.

A number of traders acknowledged that they did 'cold call' in order to solicit for work and were advised of the requirement to give a written cancellation notice, which included the traders name and address.

Their vehicles were often well badged with pictures depicting examples of the work they were carrying out. They often included freephone numbers, mobile numbers and occasionally web site details. Many traders were using trading names that were similar to well known businesses and were distributing glossy flyers.

The majority of reputable traders who were stopped by the team were in favour of the initiative.

Members of iCAN were asked to keep a look out for any cold callers and contact Trading Standards if they had any suspicions. Officers responded to a number of requests and were able to reassure the consumers.

During the week an officer from Trading Standards met with members of Victim Support to explain the issues surrounding Doorstep Crime as many of the people who have contracted' with cold callers are referred to Victim Support.

Two arrests were made during the initiative and whilst they were not directly connected with Doorstep Crime they resulted from the checks that were carried out on the vehicles that were stopped.
Help us protect rare Fylde birds
THE fight to thwart callous egg thieves attempting to steal from the nests of one of Britain's rarest breeding birds begins again next month.

Local people are being urged to join forces with the RSPB and other conservationists to protect these special birds.

With the support of Lancashire Police, local farmers and Fylde Bird Club, the RSPB is aiming to stage their annual round-the-clock watch over the nests of black-tailed godwits at Newton Marsh, between Preston and Lytham-St-Annes this spring.

RSPB project officer Carol Coupe said:- "In the past these birds have been the target of cruel thieves, who steal the eggs of rare birds and kill the growing chick inside, then conceal the empty shell, only bringing it out to show off to other egg thieves.

Between 30-50 pairs of black-tailed godwits nest throughout the UK and we know that in some years as many as three pairs have been on Newton Marsh. If these eggs are stolen, then the birds could disappear altogether from the site."

Last year two pairs of birds nested, and successfully hatched six chicks. Young birds face many hazards such as predators and poor weather, which can lead to starvation. Many do not make it to adulthood, which is why it is so important to protect the eggs to help the chicks survive.

Carol added:- "Our aim is to provide round-the-clock protection to give the birds the best possible chance to breed successfully and raise their young. The more pairs of eyes we have watching over the nests then the more likely we are to be able to repeat the successes of previous years, when black-tailed godwits on the Ribble Estuary reared almost all their young."

The support and dedication of all our volunteers is vital to the project. Without it, the black-tailed godwits' future at Newton Marsh would look very bleak."

Under the Countryside and Rights of Way Act, anyone taking eggs from the nest of a black-tailed godwit could face a fine of up to £5,000 per egg and/or an overall prison sentence of six months. Disturbing the nest, parents or any dependant young would also carry the same maximum sentence.

Paul Ellis, secretary of Fylde Bird Club, added:- "Ever since it was proven that black-tailed godwits nested on Newton Marsh, the club has been working towards improving their protection. We hope to repeat the successes of previous years to ensure a brighter future for these birds on the Ribble Estuary."

The wardening rota will run from mid-April until the end of May. Each day, a minimum of two volunteers will warden the marsh.

Volunteers will receive full training and information. If you can spare a few hours to help these wonderful wading birds, please contact:-
Carol Coupe,

RSPB Farmland Bird Officer,

Rural Business Centre,

Myerscough College,

Bilsborrow,

Preston
PR3 0RY, Tel:- 01995 642251 or 07739 659643 Email:- carol.coupe@rspb.org.uk

Or come along to The Ribble Discovery Centre, Inner Promenade, Fairhaven Lake, Lytham-St-Annes, FY8 1BD on Thursday, 31 April at 7.30 pm to learn more about the project.