Southport FC v Moor Green FC
Report and photos by Sally Devine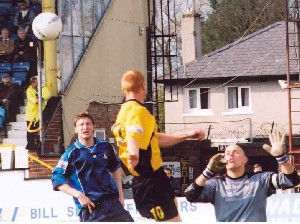 MONDAY 28 March 2005 was the second match in three days for the Sandgrounders, still top of the Nationwide Conference North league.
At a sunny Haig Avenue in front of an impressive 1,315 crowd, Southport were aiming to do the double over relegation threatened Moor Green from Birmingham.

In a lively game the home side were always on top in the first half, creating waves of attack on goal.Terry Fearns was first to open the scoring on eight minutes, lobbing the ball over Adam Rachel after Morley supplied the pass.Middleton and Davis both had shots on target for the Moors but
Southport increased their lead on 26 minutes, Fearns again finding the back of the net from a neat one two with Steve Daly.
Moor Green battled hard in the second half and were rewarded with a goal on 83 minutes, Neil Davis from an oblique angle fired a searing shot past Dickinson to make the last ten minutes of the game an uncomfortable time for the home supporters.Neil Robinson replaced Daly in attack and his header sailed narrowly over the bar.Moor Greens goalkeeper,in a last ditch effort to equalise, joined the attack for a succession of corners but Southport held on for a much deserved win.

Southport FC:- Dickinson / Pickford / Fitzgerald / Kilbane / Fitzhenry / Morley / Lynch / Price / Fearns / Daly / Baker
Moor Green FC:- Rachel / Foy / Follett / Collins / Sanders / Petty / Faulds / Middleton / Davis / Bridgwater / Trainer
Goals:-
Fearns 8min and 26 min Southport
Davis 83 min Moor Green