HOPE UNIVERSITY RECOGNISED BY THE BIG DRAW CAMPAIGN
THE Campaign for Drawing has awarded a runners-up prize of Berol writing and drawing products to Liverpool Hope University College for their participation in last year's The Big Draw, an initiative to raise awareness of drawing. Liverpool Hope was one of almost 1000 organisers who supported The Big Draw last year, which drew in an estimated 320,000 participants.

The prize in the Drawing Inspiration Awards will be presented on 21 April in the Sainsbury Wing Theatre at the National Gallery in London. Over 900 credit card sized drawings were submitted by people of all ages and backgrounds, spurred on by the knowledge that they would be publicly displayed. By ignoring the usual conventions of scale, the work assumed an unusual intimacy and encouraged entrants to draw regardless of competency. Richly varied in content, the 'miniatures' intrigued and amused exhibition visitors. The event was organised by the 'Teaching the Eye to See' group, led by Peter Moore, Associate Tutor, Education Deanery.

Berol is one of the UK's most loved handwriting and craft brands, used every day by millions of schoolchildren. Berol, which is a sponsor of The Big Draw, donated products such as crayons and handwriting and drawing pens to regional centres for their visitors to use during the event's activities.

"There is a simple but adventurous aim behind The Big Draw, to get everyone drawing, and at Berol we have enormous pride in the performance of our products in helping the creative process. This was a great opportunity for people of all ages to get drawing using Berol products and be part of a very powerful creative initiative." said Jamie Faulkner, Trade Marketing Director of Sanford, owner of the Berol brand.
MERSEY HEALTH PILOT COULD HELP 17 MILLION PATIENTS
FUNDING of £63k from Merseybroadband's community chest fund is helping breast cancer patients across the region test a new and innovative way to access information about their treatment.
The project run by MiHealth Ltd, a new company created from the research and development work at the International Centre for Digital Content at John Moores University's will use technology to meet the information needs of cancer patients and their friends and family. The prototype system, developed in Liverpool, is currently being piloted as part of a study at the Linda McCartney Centre at Royal Liverpool University Hospital.
It will examine the potential benefits of delivering information via the web, and hand held computers and compare them to more traditional approaches such as patient information leaflets. It includes appointment and treatment diaries, important contacts and a mood journal to record their mental and physical changes.
MerseyBroadband is an initiative funded by the Northwest Regional Development Agency (NWDA) and led by Liverpool Chamber of Commerce & Industry, which funds innovative broadband connectivity and aggregation projects. Funding of £25,000 to £150,000 is available for innovative projects using broadband technology.
Jane Wood, MiHealth Project Manager said:- "The system has the potential to help the 17.5 million patients with chronic and long term medical conditions by delivering timely, high quality information that gives them power and choice over their treatment to improve the quality of their lives.
It will provide patients with personalised information that is accurate, authoritative and always up to date. In addition, the system has great potential to educate healthcare professionals in understanding the patient's experience."
Kevin Morley, NWDA Head of ICT Policy, said:- "This pioneering project is an excellent example of just one of the many varied ways in which broadband can be utilised, and will provide a valuable resource for patients and the healthcare sector as a whole. This project, which will undoubtedly make a huge difference to people's lives, is one that the NWDA is very proud to support."
The system is an all in one means of support that is likely to have a direct impact on the patient experience of treatment. This prototype has been developed for use within the Linda McCartney Centre covering just breast cancer at this stage. Development would see use of the system on a much wider scale across the region providing simultaneous access to multiple NHS trust centres.
SWITCHED ON THIS WEEK THE BEST BITS ON UK TV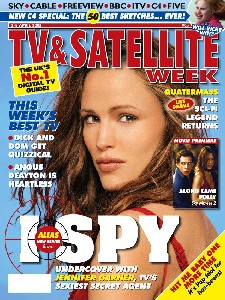 Written by Caren Clark for the week Saturday 2 April to Friday 8 April
1. Hit Me Baby One More Time ITV1 Saturday 5.45pm & 8.55pm. NEW SERIES. Gloria Gaynor, Limahl and Howard Jones are among the former music legends on the comeback trail in this new Pop Idol-type series which sees each act performing their most memorable hits as they compete for the public vote. Vernon Kay hosts.

2. The Quatermass Experiment BBC4 Saturday 8.20pm. In the BBC's first live TV drama for over 20 years, Jason Flemyng takes the role of sci-fi hero Professor Quatermass as part of the TV on Trial season. David Tennant, Adrian Dunbar and Mark Gatiss co-star.

3. Alias Bravo Sunday 9pm.NEW SERIES. Jennifer Garner steps back into the shoes of Sydney Bristow for the fourth series of the hit US drama. The opening double bill sees the super spy undertaking a new top-secret job alongside some familiar faces.

4. 50 Greatest Comedy Sketches Channel 4 Sunday 9pm. Are Vicky Pollard's swimming pool antics funnier than the Two Ronnies' communication difficulties in 'Fork Handles'? Channel 4 counts down the finest comedy sketches ever.

5. Dead or Alive:-The Hunt for Bin Laden BBC1 Sunday 10.15pm. CIA agents and Special Forces operatives who were recruited to search for Osama Bin Laden talk about their experiences of the biggest manhunt in history.

6. Ask the Family with Dick and Dom BBC2 Monday-Friday 6.30pm. NEW SERIES. The kids' favourites take a break from Da Bungalow to offer their own irreverent spin on the classic family gameshow.

7. Not the Royal Wedding Channel 4 Monday-Thursday 7.55pm. The Royal Wedding BBC1 Friday 12.30pm ITV1 2.15pm. Charles and Camilla BBC1 Friday 7.30pm. Charles and Camilla:-Madly in Love Sky One Friday 9pm. As Windsor Guildhall hosts its most high-profile wedding ever, Channel 4 takes a cheeky look at the preparations with the help of look-alikes, while a Sky One documentary looks back on Charles and Camilla's 30 year love affair. With live coverage of the day's events on BBC1 & ITV1.

8. Poisoned Sky One Monday 9pm. This chilling documentary looks at the history of political poisonings, focussing on last year's Ukranian Presidential Elections in which the ultimately successful candidate Viktor Yuschenko was left disfigured after being poisoned with dioxin.

9. Heartless ITV1 Monday 9pm. Angus Deayton stars in this one-off romantic comedy about a fast living barrister who discovers his softer side after undergoing a heart transplant and tracks down his donor's widow (Simone Lahbib).

10. Supernanny Channel 4 Tuesday 9pm NEW SERIES. There'll be tears before bedtime as Jo Frost returns to put more troublesome tots through their paces in a new series of the parenting show.

VARIATIONS:- 50 Greatest Comedy Sketches NOT S4C, Not the Royal Wedding NOT S4C, Supernanny NOT S4C