Green Machine swings into action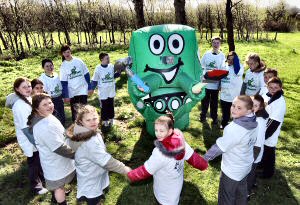 A major campaign to "green up" the region swept into action this week with the help of some local youngsters.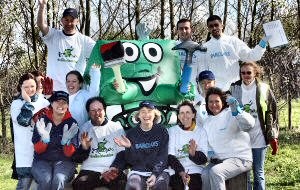 Pupils from Sefton¹s Rowan Park School and Litherland Moss Primary School got stuck into cleaning up a problem litter area to mark the launch the Green Machine campaign, a unique initiative by the Community Foundation for Merseyside.

More than 30 children rolled up their sleeves to shift rubbish from the Sterrix Lane wasteland in Litherland and kicked off the innovative project to address the region¹s pressing environmental issues.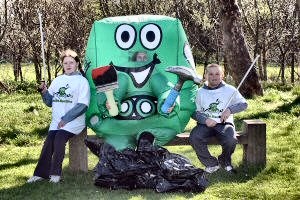 The campaign, with the support of local businesses, will help fund various projects across Merseyside designed to improve the local environment and tackle litter, fly tipping and derelict land.

Representatives of Barclays Bank, which has ploughed in more than £16,000 into the campaign, and several Community Foundation staff, were also happy to get their hands dirty and take part in the clean up. The Green Machine himself was also on hand to help out.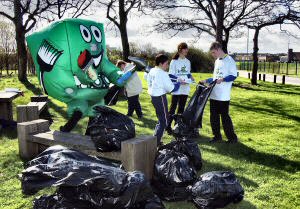 Emma Leaman, Community Foundation for Merseyside¹s Director of Fundraising and Development, said:- "A litter pick seemed like a fantastic way to kick start the Green Machine campaign as..." ...continued...
...continued... "... litter is just one of the environmental issues that this initiative is going to tackle with fly-tipping, derelict land and buildings also on the hit list. We want local groups and schools to come up with imaginative ideas that will change the way that their environment is used and viewed. It is great that two schools have helped us with this litter pick. It is so important to encourage young people to take responsibility for their environment."

The litter pick was overseen by Sefton Council's Environmental team, which provided equipment to collect the litter and removed the bags of rubbish.

Sefton's Environmental Projects Officer, Chris Carlsen, said:- "The litter pick went really well and the children collected more than 20 bags of rubbish which we took away.

We encourage any schemes that create a cleaner and healthier environment in Sefton."
ROXY MUSIC @ the Liverpool Summer Pops 2005
Monday 11 July 2005. Tickets are £32.50, £38.50 (Limited number of higher priced Gold circle seats available)

Queen of Soul Diana Ross has sensationally added a second night at the Pops, while 70s pop gods Roxy Music become the latest star names to be announced for the Big Top Arena. Both shows go on sale at 9.00am on Monday 11 April.

Roxy Music join Ross, McFly, Will Young, Daniel Bedingfield, Meat Loaf, Brian Wilson, Ronan Keating, Andy Williams, Status Quo, The Australian Pink Floyd Show and Jools Holland on the Big Top bill, with yet more announcements promised in the coming weeks as the final line-up is secured!

The Roxy Music show is the only gig they will be playing on the English mainland this summer. Featuring the original line-up of singer Bryan Ferry, guitarist Phil Manzanera, saxophonist Andy Mackay and Paul Thompson on drums, this is the first time they will have appeared in Liverpool together since their heyday in the 70s, when they became known for trailblazing pop anthems, including 'Love is The Drug', 'Virginia Plain' and 'Dance Away'.

Meanwhile, Diana Ross has added a second show on June 29th, after her first date, on July 1st, completely sold out. These will be the first shows the former Supremes singer performs in the city since The Supremes played at the Royal Court Theatre, in 1965, and public demand has been extremely high.

The Pops are organised by Chas Cole for CMP Entertainment in association with Liverpool City Council.

Mike Storey, leader of Liverpool City Council:- "The Pops is now firmly established as one of the country's leading music festivals. Liverpool is now a really big draw for some of the most influential bands and singers around."

Chas Cole said:- "Roxy Music is another very strong addition to the bill, while the response for Diana Ross has been simply phenomenal. This is the first time she performs in Liverpool for over 40 years and this is a once in a generation opportunity to see a living legend in the flesh. We are working to try and find yet more acts for the Big Top. Look out for announcements soon."