New Wirral mobility business gets on the road
A NEW Wirral-based business is aiming to make life better for millions of disabled motorists. Aiding Mobility Ltd provides a web-based one-stop shop that takes care of all disabled drivers' needs from buying and insuring a vehicle to after-sales management and any specialist requirements.

"The existing motoring disability scheme caters for less than half a million people but there are 11 million registered disabled people in the country so there's a huge market. We want to address the needs of disabled people and their carers and relatives," says Director Peter Lyne from Thingwall.

Peter recently gained the approval of the Department for Work and Pensions for his plans and is already working with partners that include the National Association of Disabled Supporters, RADAR, Canine Partners, Vitalise and the Spinal Injuries Association.

"This is a new concept with massive potential," says Paul Rittenberg of Business Link for Greater Merseyside, who provided support with business planning, networking and marketing. "Most of the major disability support agencies and charities are getting involved and we hope to go on working with Aiding Mobility to develop that potential."

Peter Lyne spent three years planning his business before going operational at the start of the year. In November 2003, he was voted Vice-President of the Disabled Motorists Federation. Now he is eager to establish more links with local and regional charities and is attracting interest from major national bodies.

A key feature of the Aiding Mobility scheme is a royalty payment from the supplier, which the purchaser can have paid to the charity of their choice. All products and services are specifically designed with disabled people in mind, and the company is particularly keen to help disabled people who do not qualify for any level of support. They're also hoping to be able to provide jobs for disabled people as the business grows.

Peter admits he was particularly delighted to receive encouraging comments from the Government about his ideas. "The DWP sent us this superb letter saying that if we could work together with the existing Motability scheme to improve the circumstances of disabled people or their carers, friends and relatives, then we should carry on the good work."
Top Ten Unlikely Hugs from Help the Aged
TO celebrate the launch of the new Helping Unite Generations (Hug) campaign from Help the Aged, the Charity has put together its own list of well-known rivals who they would like to see come together during Hug Month running throughout April. The campaign aims to help end loneliness among older people.

A variety of famous names feature in the list including football rivals Kieron Dyer and Lee Bowyer, and Tony Blair and Michael Howard. Model rivals Jordan and Jodie Marsh also feature high on the list. The full run down of the Help the Aged 'Top Ten Unlikely Hugs' is as follows:-

1. Kieron Dyer - Lee Bowyer
2. Tony Blair - Michael Howard
3. Jordan - Jodie Marsh
4. Jose Mourinho - Arsene Wenger
5. Jamie Oliver - Ronald McDonald
6. Jennifer Aniston - Angelina Jolie
7. Darth Vader - Yoda
8. Rachel Hunter - Penny Lancaster
9. Alastair Campbell - Greg Dyke
10. Neil Morrissey - Les Dennis

Tamsyn Clark, Events Manager, at Help the Aged said:- "Hug Month is all about brining people together to raise money to help end loneliness among older people and seeing some of the names on this list coming together for a hug would be a great way of celebrating and showing their support for Hug Month.

Throughout April, there are lots of ways that people can get involved in the campaign and thousands of people nationwide will be taking part in a Hug Quiz. All questions have been designed around a 'generations' theme with the aim of bringing both the young and old together. Quizzes can be held anywhere from people's homes to workplaces and pubs to community centres, and a Hug Quiz pack is available which contains everything individuals and groups need to know to host their own quiz.

There is also the option of purchasing Hug badges and awareness bands from a variety of outlets including Alliance & Leicester, Specsavers, Help the Aged shops and the Hug website. Volunteers are also needed on Hug Day (22 April) to become Hug street collectors across the UK".

All money raised will continue to provide support services that allow older people to continue living independently and help them to feel less alone. Help the Aged is calling on everyone to give a thought to older people, whether it be family, neighbours or community members, and reach out and support Hug.

For further information and a Hug Quiz pack, please contact the Hug hotline on 0870 770 3288, or visit the website www.allhug.org.uk.
OUTDOOR CHARITY CHALLENGE IS ON THE MAP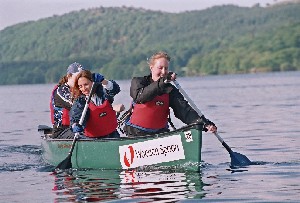 IT is One of the UK's toughest outdoor charity challenges is well and truly on the map. 35 intrepid teams have now signed up for the Ford Ranger Great Lakeland Challenge, which takes place in the Lake District on May 20.

Dubbed 'England's longest, steepest and highest' challenge, this annual event has attracted its biggest entry list to date. Teams of stockbrokers, nurses, IT consultants, solicitors, engineers, investment bankers and HGV drivers are preparing to battle for the top honours.

They are joined by motor industry teams representing Ford, Vauxhall, MG Rover, Toyota and Lotus, while last year's overall winners - two plumbers, a firefighter and a sports retailer from Lancashire - are returning to defend their title!

The teams of three 'athletes' and a support driver are all committed to raising at least £3,900 for organisers Wooden Spoon, the charity of British and Irish rugby union.

'Spoon' uses the money to support a wide range of capital projects which benefit disadvantaged children and young people and has already helped fund the Amanda Unit for young people with cystic fibrosis at Broad Green Hospital and sailing boats and equipment for disabled children attending Merchant Taylor's School in Crosby.

With the support of main sponsor Ford, which supplies Ranger, Galaxy and Mondeo vehicles for use by the teams and marshals - the Challenge has generated in excess of £850,000 for Wooden Spoon projects located throughout the UK and Ireland during the past eight years.

After canoeing the length of Lake Windermere (10.5 miles), teams cycle over Hard Knott and Wrynose Passes - a distance of 26.5 miles, involving 1,200 ft climbs at gradients of 1:3. They then set off up Scafell Pike (3,208 ft) for the final eight-mile run into Langdale Valley. The objective is to complete all three elements of the challenge in the space of 12 hours!

To boost their confidence, teams attend a special training weekend where they get the chance to hone their canoeing skills and practise one other element of the Challenge. They also receive map and compass tuition plus health, nutrition and fitness advice.
City stages historic boxing showpiece
THE eyes of the boxing world will be firmly on Liverpool this week, as the Cuban national team makes an historic first ever visit to Britain. The Cubans are in town for a prestigious international against last month's Four Nations gold medallists, including Liverpool's David Price.

The highly-anticipated showdown takes place at the Liverpool Olympia this Friday 8 April
(7-00pm). The star attraction in a strong Cuban team will be double Olympic gold medallist Mario Kindelan, Amir Khan's conqueror in Athens last summer. The home team has been assembled from the victorious fighters at last month's Four Nations Championships at the Olympia.

Liverpool City Council's boxing development officer, Paul King, said:- "This will be an incredible night of top class boxing, because the Cubans really are the best of the best. For them to compete anywhere in Europe would be a massive occasion, so for us to welcome them in Liverpool is very special for the city."

Liverpool City Council's executive member for leisure, Councillor Warren Bradley, said:- "Liverpool is firmly established as Britain's number one city for boxing, so it is fitting that we should play host to the Cubans on their first ever visit to these shores. This is another real feather in Liverpool's cap and it is one of the most eagerly anticipated sporting contests we have staged."

The contest is being supported by the Liverpool Culture Company. Chief operating officer Jason Harborow said:- "We are delighted to be supporting such a high-profile, highly anticipated event. It is further proof that Liverpool is the most passionate sporting city in Britain and it is sure to be another special night."