Momentum Dance Company on stage in Southport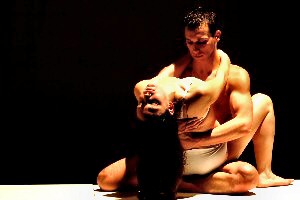 THE Momentum Dance Company, winners of the 'Best New Show' at the 2003 Daily Post Awards, bring their unique brand of contemporary dance to Southport Arts Centre on Wednesday 27 April (8pm). This young Liverpool based company have caused a stir with the striking visuals, acrobatics, movement and music of their show 'Tmesis', based on a Greek story of the origin of love and why we restlessly search for our other half. Described as 'sensual' by Time Out, 'inspired' by The Stage and 'totally mesmerising' by The Daily Post, this is as beautiful a performance as you could ever dream of seeing.
New ball boys and girls please!
A GROUP of Liverpool children are set to help Martina Navratilova serve up a tennis treat in the city this summer. A team of 150 kids has been chosen for the Ball Boy and Girl Squad for the Liverpool International Tennis Tournament 2005 at Calderstones Park this June. The youngsters who are aged between 8 and 18 have been selected from the Inner City Tennis Programme, which is one of the largest schemes of its kind in Europe. It's a rare opportunity for local children to take on ball boy and girl duties, which are usually carried out in major tournaments by models from agencies.

The team is now in full training each week at Wavertree Tennis Centre in preparation for the tournament, which boasts legendary names such as Navratilova, Pat Cash, Ilie Nastase and Mansour Bahrami, along with ATP stars Ivan Ljubicic and Jan-Michael Gambill.

The tournament is organised by Northern Vision Ltd, in partnership with Liverpool City Council and the Liverpool Culture Company.

Councillor Mike Storey, Leader of Liverpool City Council, said:- "This presents a wonderful opportunity for these youngsters to experience the thrills and spills of a major sporting event at first hand. By using local children as ball boys and girls, we hope to inspire our tennis stars of the future to pick up tips from the legendary names on show and give them an experience they will never forget."

Reebok is sponsoring the ball boys and girls and the lines people at the Liverpool International Tennis Tournament.

Tournament Director, Anders Borg, said:- "Having such an established and well recognised brand sponsoring the tournament reflects how it has grown and the respect it has gained from national companies as a vehicle to promote their brands. Companies such as Reebok are imperative to the tournament and we are proud to be associated with such a great brand and all our other sponsors."
SPRING CLEANS UP ON FAMILY TIME IN THE NORTH WEST
A SURVEY released this week by 1001 highlights yet another way we are neglecting our children following the government's new children's charter and Jamie Oliver's crusade to get kids eating healthier food at school.

According to the nationwide study of 1,500 adults, conducted by tickbox.net for 1001, parents in the North West regularly spend twice as much time cleaning as they do playing with their kids and just 14% of parents in the North West spend more time with their kids than their duster.

On average, parents in the North West spend 14 hours per week cleaning but only 7 hours of quality time with their children. 1001 found that 15 % of parents in the region spend as much as 15 hours per week with their kids but sadly 10 % spend as little as four hours.

David Whittome, 1001 Marketing Manager, said:- "The start of Spring is not just about thinking of Spring Cleaning, it's also about enjoying the lighter evenings and Bank Holidays AND spending time with loved ones. We have produced The 1001 Cheats Guide to Spring Cleaning to show you how to spend less time cleaning and more time together. Our products can reduce the time spent cleaning upholstery and carpets by as much as 80%."

It seems that the 'work hard play hard' motto of the eighties does not extend to parents who feel they have no time for play at all. 1001 may be 'the magic number for cleaning' but is there anything more magical than spending quality time with your family? Take 1001's advice and cut down cleaning time.

The 1001 Cheats Guide to Spring Cleaning gives simple advice on how to reduce time spent on the house by 80%, tips include:-

Freshen Up For Quality Time

Forget about vacuuming every day, new 1001 No Vac Carpet Freshener is an everyday foam freshener that can be sprayed directly onto carpets, rugs and fabric upholstery to eliminate trapped odours, including tobacco and pet smells, to leave you living room spelling naturally clean and fresh.

Stamp Out Stains!

If carpets and sofas need a facelift, new 1001 Spot Shot Instant Stain Remover is designed to get rid of tricky stains such as red wine, cola and tea. 1001 Spot Shot is the fastest and most effective stain remover for either old ground-in stain or a nasty new spillage. One blast and it will disappear in seconds, without the need for scrubbing!

David Whittome said:- "We believe that using 1001 Spot Shot and 1001 No Vac will help families spend less time cleaning and more time together. Stains disappear in minutes with carpets and rooms left instantly freshened, so you don't have to spend hours cleaning. It's the reason why 1001 is the magic number in carpet care."

The survey flagged up some positive benefits of the annual Spring clean, unsurprisingly, cleaning is considered one of the best excuses for getting out of doing things that we hate. Over half (56%) of respondents in the North West would prefer to Spring clean rather do other mundane tasks such as sitting in a traffic jam, spending time with the in-laws, visiting the dentist or visiting the bank manager.