Major Road Scheme Progress
THE £12.2m Hall Lane improvement scheme is aimed at ridding the city of one of its most notorious bottlenecks and improving the gateway routes from Edge Lane to the city centre.

The scheme involves...

The building of a new link between Edge Lane and Islington to improve the gateway route into the city centre from the M62.

A large new traffic signal controlled junction near the present junction of West Derby Street and Minshull Street.

The removal of through traffic from Towerlands Street and Hall Lane which would carry local traffic only. This would eliminate a major bottleneck.

Improvements to the local road network in the area Kensington Fields will be improved through the introduction of the linear park along the reduced highway on Hall Lane.

Improved pedestrian and cycling facilities...

Although most of the land involved is already owned by the City Council it is necessary to acquire a small number of premises and land for the scheme to go ahead. It is hoped that this can be achieved by negotiations but Compulsory Purchase Orders for a small number of premises or pieces of land will be published next week.

"This is a not a CPO which is being sought with the intention of demolishing a large number of buildings but it we have to obtain the land for this vital scheme to go ahead on time. " said Councillor Mike Storey, City Coucnil leader. "There has been a lot of consultation with local residents and businesses including two pubic exhibitions and there is overwhelming support for what we are trying to do.

Hall Lane has long been recognised as a major weakness in the city's road structure. And as more and more visitors come into Liverpool in the lead-up to 2008 it is vital that we improve this link with the motorway."

It is intended that work will start in Autumn 2006 and be complete by the end of 2007.

A public exhibition about the new orders will be held on April,18 to 20, at Local Solutions' Mersey Suite off Mount Vernon Green between 10am and 7pm each day .City Council representatives and the design team will be available to answer questions between 12.noon and 2.pm and again 5pm to 7.pm each day.
RTA on Junction of (B5193) Orrell Hill Lane & the A565 (Formby Bypass)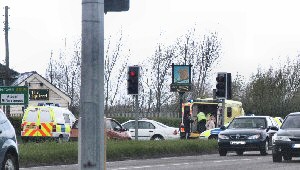 ON Saturday afternoon a white Rover collided with a motorcycle on the lights by the Lady Green Nursery and the Red Squirrel Pub. This resulted in tail backs. No information was available at time of uploading of this page. Police are appealing for whiteness.
CAST OF AGES TELL STORY OF CITY
THE greatest cast ever assembled in British theatre takes to the stage tomorrow to tell the story of Liverpool. Heroes, heroines and history makers of the past 800 years from King John to Queen Victoria, Florence Nightengale to George Stephenson and The Beatles to the founders of Everton and Liverpool FC, are being brought to life for a star studded play - City of the Sea.

Jem Mason and his horse Lottery, the first pair to win the Grand National also appear in the 2 night show, which begins tomorrow night at the Everyman Theatre. The history making play, written and acted by students from John Moores University as part of their second year course, was devised to celebrate Liverpool's third themed Capital of Culture year - Sea Liverpool 2005.

Financially supported by the Liverpool Culture Company's Creative Communities Programme, 'City Of The Sea' navigates 800 years of poignant events using historical documents and personal accounts from the building of the city's castle to the creation of the world's first man made non-tidal dock.

Acted by more than 50 students, Liverpool's history is told through a rich blend of drama, sketches, songs and stories charting epoch defining events such as the bubonic plague, the civil war and the slave trade to how the city shaped the age of the train, suffered in the blitz of WWII and then launched a musical revolution in the 1960's.

The stories will be embodied through movement and physical work, tales will be told by Shakespearean travelling players, and using Liverpool's strong connections to sea and land, the play aims to show how the city's story sent ripples around the world.

Councillor Tina Gould, Assistant Executive Member for Leisure and Culture, said:- ''By any standards the story of Liverpool is an epic. The city has been touched by people from all corners of the globe and in turn has shaped world history. I applaud the students for such an imaginative contribution to Sea Liverpool and for their ambition to tell an 800-year-old story in one night of theatre. I'm sure it will be compelling viewing. They certainly have enough comedy, tragedy and triumph to keep people riveted.

The play also says much about Liverpool's future and culture. Once again our fortunes are on the rise - not least in the record number of university graduates staying in the city to be part of a new wave of innovators, creators and history makers.''

The students worked with Liverpool based actors and dramatists Paul Simms and Charlie Dickinson as well as Andrew Sherlock, writer and tutor at John Moores University Drama Department.

Andrew, said:- ''It has been a fantastic experience to see what these young people from all over the country have made of the city they study in and hopefully will come to work and live in. It was fascinating to see them discover Liverpool's history and the fascinating figures who shaped it. It was a journey of enlightenment for them and I think their interpretation will be gripping. To perform a play at a professional theatre is a major event for any actor or writer. I'm delighted to see them contributing to the city's culture with such passion and professionalism.''