LOCAL SCHOOLS SET FOR KIELDER CHALLENGE
Photographs by Patrick Trollope.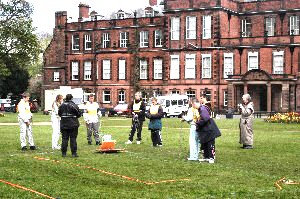 CROXTETH Hall Country Park was the venue for the Merseyside, Regional Heat of the 2005 Kielder Challenge, Thursday 28 April. The challenge is a unique outdoor adventure competition for youngsters with and without disabilities. It has five teams of eight youngsters between the ages of 13 and 16. The teams attempted a series of problem solving activities aiming to encourage integration between youngsters with and without disabilities.
The teams taking part in the Croxteth Hall Country Park heat on the 28 April were from:-
· Range High School, Formby
· Redbridge High School, Fazakerley
· St John Bosco Arts College, Croxteth
The teams were called upon to show their teamwork and communication skills to achieve points in each game. The games are designed to include every member of the team and in previous years have required the teams to negotiate rope mazes and obstacle courses.
This year the Kielder Challenge is celebrating its 21st anniversary and over the years has seen more than 10,000 youngsters compete. The competition is supported by the HSBC Education Trust and is organised by the UK's leading outdoor access charity Fieldfare Trust.
Dame Mary Richardson, Chief Executive of HSBC Education Trust, said:- "We do not like to just give money and walk away. We much prefer to work with the projects and involve our staff and the Kielder Challenge provides an ideal opportunity to involve my colleagues across the UK.
The philosophy of the competition is for youngsters with and without disabilities to compete on equal terms and to develop their self confidence and communication skills outside of the traditional classroom environment."
A record number of 220 team entries have been received for the Kielder Challenge this year and have been divided into 45 regional heats. The heats are taking place at country parks during April and May throughout England, Northern Ireland, Scotland and Wales.
The top 12 scoring teams from the heats will be awarded with a place in the 2005 Kielder Challenge Grand Final in Kielder Forest in September. The Grand Final is split into two two-day finals. The top six scoring teams will take part in the Kielder Challenge Cup Final on the weekend of Saturday 24 and Sunday 25 September while the second six highest scoring teams will compete for the Kielder Challenge Plate on Wednesday 21 September 2005 and Thursday 22 September 2005.
Rod Holmes, from Fieldfare Trust is looking forward to this year's competition:- "We've had more entries this year than any of us could have expected. The heats will be a great opportunity for the teams to get stuck into the activities and experience disabled and able bodied youngsters working together equally."