Happy Diamond Birthday Walton Hall Gardens!
A DAZZLING array of events are set to take place to celebrate the diamond jubilee of Warrington's premier park Walton Hall Gardens next month, 15 to 22 May. Over the week the gardens will home to a variety of activities to see and enjoy, marking its 60th year as a public park. Fun and frolics taking place include entertainers, the 20th birthday of 'Bobo' the donkey, school groups performing 40s hits and numerous activities for children.

As a special feature there will be chance for you to explore Walton Hall, as it opens to the public. There will be a 1940s style tea dance (on a ticket base), where you can enjoy tea and cakes with musical accompaniment from The Norman Roy Orchestra even a 13-piece Big Band!

Pop along to see the Veteran Cycle Parade from 10.30am, on Sunday 22, where bicycles from across the years will be on show. The Heritage Centre will be home to a photographic display of Walton Gardens through the decades.

The Ranger Service will be around to take you back in time with their interpretations of life at Walton Gardens through the ages and their Living History Walks on Sunday 15 and Wednesday 18 May.

Entrance to Walton Hall Gardens and the festivities are free for all to enjoy at their leisure, except for the tea dance and 'Bobo' the donkey's birthday celebrations.

To book a place at Bobo the donkey's 20th birthday call 01925 601617. To book a place at the tea dance, tickets £5, contact 01925 261957.
Book sale bonanza
BOOK WORMS looking for a bargain should get themselves to Warrington Central
Library and Museum next month. Staff have organised a book sale bonanza for people to get their hands on withdrawn library books at knockdown prices to tempt all appetites.
Prices will start from 10p and the sale will include hardbacks, paperbacks, textbooks, children's books, CDs and videos.

So don't miss out, so get on down to Warrington Library and Museum from 9am to
4pm on Thursday 2 to Saturday 4 June.
Southport Weekender Is a huge success yet again!
SOUTHPORT'S World Famous Weekender hit Pontins in Ainsdale for the fist of this years two big Sole events. The event went off with out any problems as normal and is now officially the Worlds Most Friendliest Music Event! See our Next Edition for lots and lots of to quality photographs and also a full report...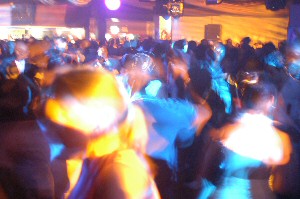 STUDENTS TAKE SPANISH STEPS FOR EURO DAY
EUROPEAN celebrations have been reaching fever pitch in Liverpool this week. While Liverpool FC and its fans noisily marched on to the European Cup final, the sound of Spain has been echoing at a Liverpool college to help the city celebrate European Day.

Dance students at Liverpool Community College have been receiving a crash course in Flamenco dancing from Spanish dance group Ballet Entredanzas to perform to thousands of people in the city centre on Sunday, 8 May. A total of 10 students, who are all studying for their National Certificate in Dance, have been going through their Spanish steps and on Friday, May 6 for final rehearsal.

The students will then perform a specially choreographed 5 minute routine with Ballet Entredanzas in Queens Square on Sunday at 2.30pm.

The dance exchange has been arranged through the Liverpool Culture Company who have also invited artists and dancers from the current Capital of Culture - Cork, and previous City of Culture Riga, from Latvia to ensure the city is awash with the sights and sounds of Europe.

Christine Maddock, Head of Dance at Liverpool community college, said:- ''To learn from and perform with professional dancers is always a fantastic opportunity. To learn Flamenco from a Spanish group is extra special. It's a very different style to what the students have been learning and for some it's been a very steep learning curve. But it's been great fun. So many opportunities are opening up now for the city as European Capital of Culture 2008, and its good to see the city using its status to develop cultural links to benefit others. It's a great time to be studying in Liverpool and I'm sure the students will do the city proud on Sunday.''

Joining the European performers will be home-grown international performers representing the city's Irish, Greek and Italian communities are to transform the city centre into a blaze of European culture. They are to be joined by brass bands and breakdancers to represent the English element!

Council Leader Mike Storey said:- ''Liverpool's links with Europe are growing every day. We are always looking outwards to what we can learn from other countries. Visitors will get a real flavour of Europe Sunday. The Euro Fest will give us a snapshot of what it will be like in the city in 2008."

The entertainment on May 8 will take place on 2 stages from 11am to 3pm in Williamson Square and Queen's Square.

Williamson Square will also get a makeover with a continental style café to give it a real European feel. At Queen's Square, local restaurants will be opening early to offer continental breakfasts and Spanish restaurant La Tasca will be handing out free paella.

Passers-by will also be offered to take part in free flag making, banner and mask making facilities, face painting, all with a European theme.

In the evening, there will be another opportunity to see the groups from Riga, Cork and Spain take to the stage again at "Performance" the Performing Arts Festival Concert in the Royal Court where a selection of winners from the local festival will also be participating. Curtain rises on the show at 6pm. Tickets are £7.00 - concessions £3.50.