STUDENTS ARE A 'GLASS' ACT!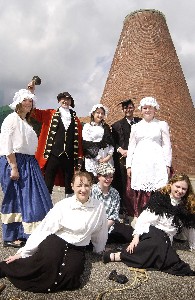 OVER 150 Bank Holiday visitors to the World of Glass experienced a tour with a difference courtesy of Edge Hill drama students.

Throughout the day, third year undergraduates from the Ormskirk-based College of Higher Education treated the public to interactive Victorian-themed scenarios as part of their Community Performance module.

Edge Hill Drama lecturer Karen Jaundrill-Scott said:- "This form of performance is known as 'Promenade Theatre' and relies heavily on interaction with the public. The students had to research the Victorian era, specifically the Pilkington family, coalmining and Greenalls Brewery, so that they could incorporate aspects into their acting.

"In some ways this is more difficult than conventional theatre as no two performances are the same – a need to react well to the crowd and improvise is essential."

Beverley Lynn, one of the fifteen students to participate in the interactive tour, said:- "The day was a huge success and everyone involved thoroughly enjoyed it. Performing at the World of Glass gave us a taste of what it's like working in the professional world – it was also a lot of fun, so much so that it was hard to remember that it was work!"

Edge Hill plans to perform at the popular tourist attraction for a third successive year in 2006.
Have you got what it takes?
CAN you even begin to imagine the upset and trauma of being separated from your brothers and sisters? Of being moved from home to home and away from friends and the places you know? This is what happens to many children each year and could easily be prevented by more people signing up to become foster carers.

Have you considered fostering? The difference you could make to a child's life by offering a secure loving home, or simply a weekend away? Have you considered that you may be able to prevent a brother and sister being split up from one another by offering your time and dedication and helping to build a brighter future for them?

This is what Warrington Borough Council's Fostering and Adoption Service is hoping to make people think about during Foster Care Fortnight (9 to 22 May).

The launch of the fortnight highlights the plight of over 50,000 children in desperate need of care, throughout the UK. The campaign is supported by the 22 Local Authorities in the North West and hopes to attract foster carers, with or without experience of caring or working with children, preferably older children.

Foster care applicants may be single parent families, others are stepparent families, some are married and others are not. Carers can be grandparents or great grandparents and some have other relatives or friends living with them as part of the family. Foster families may have young children grown-up children, or no children of their own. One thing they do have in common is that they care about children and want to help them.

Every local authority in the Northwest needs more foster carers. For further details about how you can help make a difference in Warrington contact Libby Addison, from the Fostering and Adoption Team at Warrington Borough Council, on 01925 444100
Multi-million pound boost for city's schools
PLANS are being drawn up to complete the multi-million pound transformation of schools in Liverpool. The Building Schools for the Future (BSF) scheme will overhaul secondary education in the city by providing £140M in wave 2 of the national programme, with similar amounts in waves 4 to 6.

The cash is being used to build new schools and refurbish existing ones to provide 21st century facilities for all pupils in the city. Liverpool City Council is set to approve plans to set up a new partnership of councillors, headteachers and governors to deliver the project.
A BSF Project Board will be made up of councillors, school governors and health officials. The city's children will also have their say on the project through the Schools and Youth Parliament. Work is also underway to identify a private sector partner to form a joint venture company to deliver the programme. Building work will begin in April 2007, with the first new school opening in September 2008.

Liverpool City Council's executive member for education, Councillor Paul Clein, said:- "This project is another major step forward in the regeneration of the city and will make sure that education in Liverpool continues to go from strength to strength. Education is right at the heart of the regeneration of our city and this means we will be providing 21st century education in 21st century schools."

Liverpool City Council's BSF project director, Anne Melville, said:- "This project will provide flexible, cutting edge, inclusive education for every secondary pupil across Liverpool. It will be a great opportunity to make sure all our children have the facilities they deserve, to raise aspirations and deliver high quality education throughout the city."

Plans for the structure of the BSF Project Board are set to be approved by the City Council's executive board this Friday.
schools
VOLUNTEERS all over the country are being urged to get involved with the 21st anniversary of Volunteers' Week, which runs from 1 - 7 June 2005. Volunteers' Week is a chance to celebrate the contribution made by the 22 million volunteers, who give up their time to help organisations and communities across the UK. Volunteers and voluntary organisations are being asked to hold events to say thank you to existing volunteers and to encourage more people to get involved. If you or your organisation is doing something, let everyone know what you're up to by logging the event on the website at:- www.volunteersweek.org.uk

If you're not already volunteering, the week is a fantastic opportunity to find out what you can do and how you can get started. Modern volunteering is enjoyable and flexible and can give you skills for a new career, as well as improving your well being and reducing stress and depression.

Volunteers' Week 2005:-

Thousands of people and hundreds of organisations from across the public, private and voluntary sectors are expected to take part

Pop stars will be trying their hand at volunteering on GMTV

The 21st Volunteers' Week will reveal the top 21 exciting, unusual and bizarre ways to volunteer

Volunteering organisations like Girlguiding UK and PDSA will be using the week as a focal point to celebrate and recruit volunteers

Awards ceremonies, fun days and information events will be taking place throughout the country - go to www.volunteersweek.org to find out what's on in your area

The Community Channel will be showing Cause Celeb which will follow celebrity volunteers including comedian Alexei Sayle, who has helped out at a community gardens project for 15 years

2005 is the Year of the Volunteer and this year Volunteers' Week will have a special emphasis on recognising the impact of volunteers.

Volunteers' Week is an annual event organised by Volunteering England.