SOUTHPORT FC CHAMPIONS 2005
Report and photos Sally Devine
Saturday 30 April 2005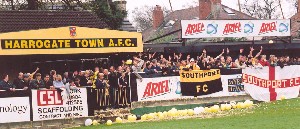 THE Sandgrounders finished the season in style at Harrogate winning 5 to 2.The destiny of the Nationwide North title went to the wire, both Droylsden and Southport needing a win to ensure the title for certain.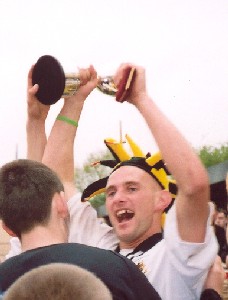 A large contingent of followers from Southport made the journey over the Pennines to Yorkshire and well outnumbered the opposition fans.
The game began with Harrogate pressing forward in search of an early goal, Dickinson having to make a succession of saves for the away side.The first goal came for Southport on 22 minutes, Steve Daly rose to head home a Carl Baker corner.Terry Fearns made it two ten minutes later, sweeping home a low shot to bring his total league goals for the season to 33.Sam McNutt fired in from the left with an acute close range shot to make it 3 - 0 to Southport at half time.With the news that Droylsden were losing the Yellows piled forward in numbers, Harrogate had little to offer being pushed back in their own half.
Steve Daly added to his score, the second making his hat trick, Harrogate got on the scoresheet courtesy of Sid Pickford giving away a penalty and Andy Brown headed in to make the scoreline slightly respectable but the day belonged to Southport FC, worthy champions who took the accolades of the supporters on the pitch as they were presented with the trophy.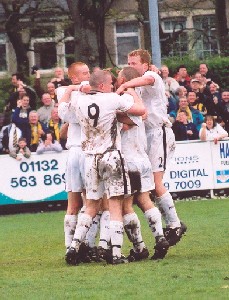 An official presentation will took place at Haig Avenue Thursday 12 May 2005.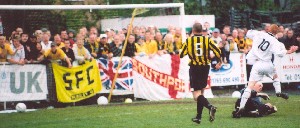 HARROGATE TOWN:- Pettinger; Dunning; Haran; Sturdy; Barnard; Krief; Wood; Philpott; Nogan; Holland; Smith.

SOUTHPORT:- Dickinson; Pickford; Kilbane; Fitzhenry; Fitzgerald; Baker; Price; Morley; McNutt; Daly; Fearns.