Southport FC Championship celebrations on Thursday 12 May 2005
Report and photos Sally Devine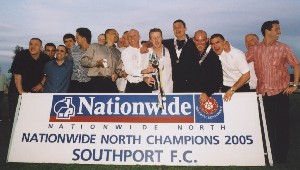 THE long waited day.... Yes Southport FC were presented with the Nationwide North trophy last night in front of their fans at Haig Avenue. The Yellows won the league in a race which went to the wire and depended on results from the last day of the season. Southport won convincingly 5 to 2 away at Harrogate Town.
The club also presented their own awards to the players. Dominic Morley received the players player of the season cup. Terry Fearns was the Nationwide North player of the month and supporters player of the year. The Southport manager Liam Watson received a trophy for manager of the month.
Chairman Charlie Clapham thanked the players, management and staff for their efforts in what turned out to be a momentous season for the club. Southport will play in the Nationwide Conference next season after an absence of two years.