Weekly News Comments:- "He's Back..."
Pictures by Paul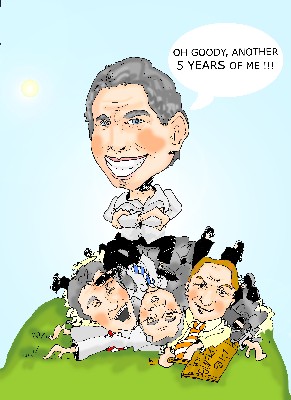 WELL, beyond the aftermath of the general elections we have had some responses in.

Jill from Southport said:- "Why do we vote... The sooner we get him out the better, but we now have yet another five years. God help us!"
Mark from Litherland told us:- "We have got back the UK's best party. He has given all of us the best wages of any government and also the best conditions of work."
Sam from Crosby said:- "We thankfuly got the best leader back. He is for the working people and he has shown the well -to- do that they can not trample over us."
Amanda from Formby said:- "I really do not know why he got back in. He and his party are killing the small businesses in the UK. Rover was the latest big business, but countless smaller businesses are falling by the wayside day in and day out."
Jean from Formby said:- "Considering how important to our future these elections are, none of the parties seemed in touch with the real issues affecting our daily lives .No wonder there's such mistrust and apathy!"

Next Week we want your feedback about the new electrical insulation laws that affect us all...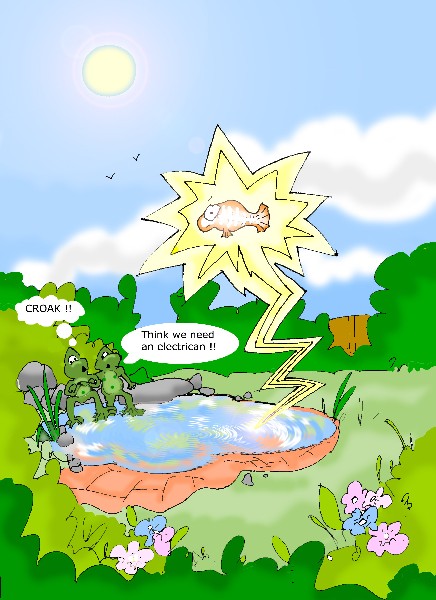 Frog 1. "Croak"
Frog 2. "Think we need an electrician!!"
CARBON CRUNCH
CHALLENGE of creating a 'low carbon economy' is key to unlocking new jobs and new wealth, conference is told. Sustainable development think-tank Sustainability Northwest (SNW) will this week, Tuesday 10 May 2005, outline its 5-point plan for business action on climate change at a conference to be addressed by Sir Digby Jones, director general of the CBI.

The 'Opportunities of a Low Carbon Economy' conference is being held at Ribby Hall Village in Lancashire, and is a joint initiative of the CBI and the Northwest Regional Development Agency. The event is being supported by SNW and the organisation's chief executive, Erik Bichard, will address the conference.

"Business has already done a great deal to confront the challenge of climate change. But the real leaps and hurdles still lie ahead. The regional economy that really gets to grips with providing low carbon solutions and a reduction in energy demand will succeed in winning a massive competitive advantage, but action has to start today, not tomorrow." says Bichard.

Bichard will outline 5 key areas where business must do better to achieve higher levels of efficiency and to open new market opportunities.

Leadership:- the business sector must take a lead on climate change and show what can be achieved if innovation and entrepreneurialism are directed at reducing greenhouse gas emissions.

Transport:- from road freight to commuter travel plans, transport is the 'black hole' when it comes to CO² emissions and business needs to back cleaner fuels, public transport options and smarter ways of moving goods and people around the economy.

Targets:- as the number 2 region in the UK for greenhouse gas emissions businesses should lobby for the Northwest to set tangible targets to reduce energy use and to lay out the strategic objective of becoming a 'zero emissions region' by 2050.

R&D investment:- The global renewable's market alone is growing by £6 billion per year. Northwest partnerships involving the business community must invest more in the research and development of low carbon solutions, and particularly in new forms of renewable energy.

Green energy:- Business has the opportunity to demand clean, green energy as a matter of course and in doing so could help kick start a new market sector for the region. To hit some tough targets on renewable energy generation, energy users large and small must start demanding renewable's.

"We have to decouple energy use from economic growth and make England's Northwest a region synonymous with low carbon solutions. If the government is to hit its own target of a 60% reduction in greenhouse gas emissions before the middle of this century then there can be only once conclusion, we'd better mean business when if comes to climate change." added Bichard.
Baron's Bar wins award!
ON Wednesday the Barons Bar, within the Scarisbrick Hotel, was presented with the Pub of the Year award from the Southport & District branch of CAMRA (Campaign for Real Ale). Unusually this has gone to a hotel bar rather than an outright pub. It clearly rewards the Barons for their efforts over the last 18 months in promoting Real Ales and Ciders.

The accolade is rewarded to just one pub every year and reflects a continued choice of top quality beers, a high standard of the service of the beers, promotion of CAMRA events and incentives throughout the year and a series of successful Beer Festival's held at the Barons Bar. It really does show that hard work pays off.

George Sourbutts, Bars Manager at the prominent Hotel on Lord Street quoted "To receive this award is a fantastic achievement by everyone involved with the Barons Bar, and has been timed perfectly to be presented to us at the end of our annual beer festival. All of the team involved, including our cellarmen are absolutely delighted, and look forward to proudly displaying the award in the bar"

The Barons Bar will now be entered into the Regional competition for 'Pub of the Year' and will be judged later throughout the year