How To Rescue A House
ONE of the UK's most deprived areas has collected £1/4 million to regenerate a local community centre.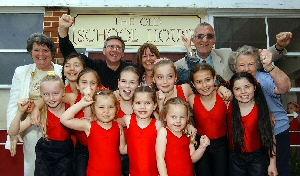 The Old School House Community Project in St Gabriel's ward, Knowsley, has secured a £250,000 grant from the Fair Share Trust, managed by the Community Foundation for Merseyside.

As part of a wider project, the money will help fund the refurbishment of a multi-purpose facility, situated at the centre of the ward, and create a base for the area's many community groups.

It is hoped the project will receive further funding soon and that a new look centre will enhance the lives of thousands of residents, become an essential part of the community and ultimately regenerate a neighbourhood where unemployment is above the national average.

Improvements will include a new roof and windows, lifts, upgraded electrical and heating systems, landscaping and more office space.

The grant, one of the largest administered by the Community Foundation, will also help part fund a centre manager. Construction work starts in the summer and the building should be ready by early next year.

Once up and running centre staff will work closely with key agencies including Job Centre Plus and Barnardo's, and with local schools.

Training and access to employment opportunities will be available and there will several services offered to young people including professional advice sessions on teenage pregnancy, drugs and alcohol abuse.

Father Karl Hart, who is helping to oversee the project, praised the Community Foundation for its help throughout the application process.

"Staff at the Community Foundation have been really supportive throughout the whole process, which has enabled us to secure funding for this community resource", he said

Community Foundation for Merseyside Grants Officer Tina Southern added:- "We're delighted to award this Fairshare grant to the Old School House Community Project. The money will make a huge difference the people of St
Gabriel's ward. The centre will be an essential resource for residents of all ages and help enhance their quality of life."

The Community Foundation for Merseyside provides a direct link between voluntary and community groups working to enhance opportunity, reduce hardship and improve quality of life in their communities, and individuals, companies and other organisations that provide funds to support their work.
GEAR UP TO FIGHT MENINGITIS
THE Meningitis Trust - the UK's leading meningitis charity is appealing for people from the North West to get on their bikes and join them for Wheelie Round the World, a new challenge event, taking place from 20 June to 3 July 2005.

Kate Baines, event organiser, Meningitis Trust explains:- "Wheelie Round the World is a huge challenge, with your help we are aiming to collectively cycle the equivalent of the earth's circumference, a total of 24,901 miles! So whether you manage to cycle 5 miles or 500 with Wheelie Round the World every mile counts against meningitis."

The challenge is open to absolutely any one, individuals, families, and teams of friends or colleagues. Kate continues:- "Charity challenges can sometimes seem time consuming and hard to organise, but with Wheelie Round the World this isn't the case. The event takes place over a fortnight which means people will be able to notch up miles as and when they can, and they'll all count towards our Wheelie Round the World grand total. It's free to enter and we don't mind how you clock up the miles - you could cycle to work for a week, head for the trails, organise a spin-athon in the gym, a relay race or simply go for a leisurely ride in the country as long as it's sponsored, and it's on wheels, it will count!"

To receive your free Wheelie Round the World fundraising pack containing information on the challenge and tips on how to make your event a 'wheelie' big success call 0845 120 45 30
Red carpet for award-winning schools
LIVERPOOL'S schools are getting the red carpet treatment this week at the city's own Oscars-style award ceremony. More than 50 schools are being honoured at the first ever Liverpool Inclusion Awards ceremony at the Town Hall this Thursday 12 May.

The event recognises the achievements of schools who have received national and regional awards for their commitment to inclusion. Awards will be presented to schools that have excelled in their provision for children with autism, dyslexia and other special educational needs. Liverpool's education service will also receive a prestigious award after becoming the first in the country to be named as a Dyslexia Friendly education authority.

Liverpool City Council's executive member for education, Councillor Paul Clein, said:- "If we are to successfully include children with special educational needs in our mainstream schools, the quality of support must be first class. These awards demonstrate this improvement in quality is taking place and it is heartening to see that so many schools are meeting the challenge so successfully."

Liverpool City Council's executive director for education, Colin Hilton, said:- "I'm delighted with the progress that has been made in making inclusion a reality in so many Liverpool schools over the last few years. It is not easy to achieve the standards set by the schools recognised through these awards. It requires excellent leadership and high quality staff to deliver effectively and with a strong sense of shared moral purpose."

The awards being presented are:-

Dyslexia Friendly Schools Award (Sponsored by Liverpool John Moores University).
Presented to 25 schools by Michael Brown, JMU Vice-Chancellor.

Dyslexia Friendly LEA Award.
Presented to Liverpool's education service by Susan Tresan, Chief Executive of the British Dyslexia Association.

North West Inclusion Awards.
Presented to 2 schools.

Liverpool Inclusion Charter Mark Awards.
Presented to 25 schools.

Trailblazers Awards.
Presented to Clifford Holroyde school - one of only 12 in the country.

National Autism Accreditation.
Presented to Abbot's Lea Special School.

Sure Start Partners in Excellence Award.
Presented to the city council's Neighbourhood Early Years Service.

The evening will start with a Town Hall reception, sponsored by 2020 Liverpool, and features performances by pupils from Windsor Street Primary School (African drums), Knotty Ash (signing choir), St Benedict's (dance and woodwind) and Springwood Heath (dance)

Grub's Up at The Warehouse Brasserie
SOUTHPORT'S most fashionable dining venue, The Warehouse Brasserie has hit ITV's prime spot last Thursday, featuring in the channels hit food show Grub's Up at 7.30pm.

Celebrity chef Simon Rimmer visits the Brasserie to spend time with renowned father and son team Claude and Marc Verite. Claude is Master Baker of the unique Warehouse Bakery, while Marc is the award-winning chef director of the sophisticated Brasserie.

The teaming of the duo was the brainchild of Warehouse owner Paul Adams, and as a result The Brasserie recently became the only venue in Merseyside to receive 2 rosettes in the prestigious AA Good Food Guide and be awarded the Michelin Bib Gourmand for the 4th year running - one of the reasons it was chosen for this prime time show!

During the programme, Claude, who originally trained for 5 years in a number of leading Parisian patisseries, demonstrates to Simon how the breads and pastries are made which the Warehouse Bakery supply fresh to local hotels, retail outlets and restaurants, including the Brasserie itself.

Then Simon spends time with Marc in the £150,000 state-of-the-art kitchen as he cooks up one of the famed dishes from the Warehouse menu, using produce and ingredients sourced mainly from farms in the Lancashire and Merseyside areas.

Paul Adam's founded the Warehouse Brasserie in 1996 and its profile has rapidly escalated as the quality of the venue has increased. Recently it underwent a half million pound face-lift which saw yet another new addition to the Warehouse - The Member's Lounge, which also offers food in the way of the 'Taste of Asia' tapas menu.

Paul said:- "At the Warehouse we will always adhere to the highest standards in order to ensure our customers enjoy the best possible experience. This is done by employing the best chefs, the best serving staff, sourcing the best food and drinks, as well as creating the right surroundings and atmosphere. I am pleased to see this is being recognised by programmes such as Grub's Up and by Guides such as the Michelin and AA Good Food Guide, but more importantly I am pleased to see that our customers are giving us their full support."