This weeks Happy Birthday messages...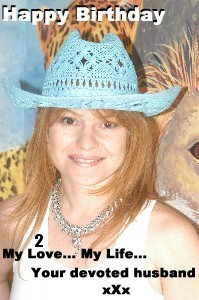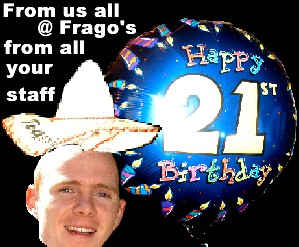 'Dare Devils' zipping into Old Trafford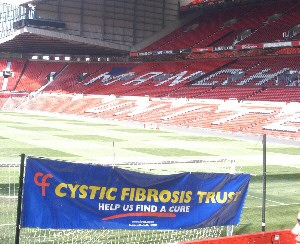 WELL known around town, Dug, owner of Dugs Diner in Dragons Health Club in Southport took part in full drag with female impersonator, Roberta Lee in a Zip Slide across the hallowed turf of Old Trafford on Saturday 14 May 2005. Also they were joined Coronation Street star Sushil Chudasama, AKA Scooter, also boxing stars, British Light Middleweight Champion Jamie Moore, WBU featherweight Steve Foster Jnr and former light middleweight champion, Anthony Farnell.
Not forgetting over 300 'dare devils' from across the country, some of the supporters of local football clubs, Manchester United, Manchester City, Everton, Liverpool and Rovers. The Zip Slide, which starts at 120ft in the air, takes participants high across the West Stand (formerly Stretford End) to the East Stand, providing an amazing bird's eye view of the world famous stadium.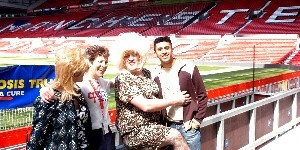 'Kicking off' the Zip Slide earlier this year, Ole Gunnar Solskjaer said:- "It is wonderful to see so many people taking up the challenge and I am delighted to be backing this event. It is an honour to play at Old Trafford and the Zip Slide will enable fundraisers to get close to the action, whilst knowing they are making a real difference to a great cause."

There is currently no cure for Cystic Fibrosis and average life expectancy is just 31 ..continued...
...continued... years. All the money raised will go to help the .7,500 babies, children and young adults with Cystic Fibrosis (CF), the UK's most common, life-threatening, inherited disease. The vital funds will help the Cystic Fibrosis Trust support people living with CF and fund scientists working to find a cure.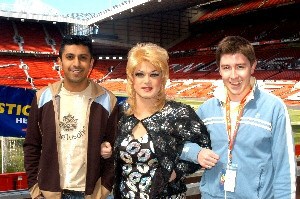 Roberta gets to grips with Sushil Chudasama and a representative for Cystic Fibrosis. Below Dugs gets in the line up with the world famous ground behind.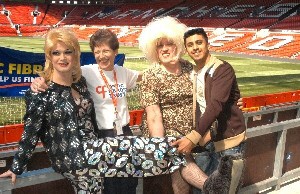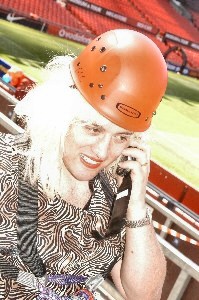 Dug from Dug's Diner above phones his wife to say he is going to do the stunt again and below Roberta Lee get ready for action!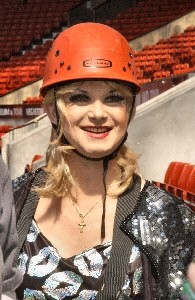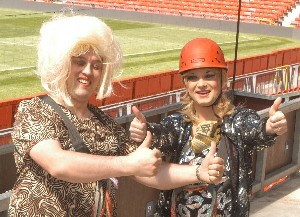 Page 1 of 3
If the green box above or the purple box below do not show, you must download a new edition of Java.