WHAT A PERFORMANCE!
IT will be camera, lights, and action! at Edge Hill when around 50 year 12 students attend a performance related residential weekend at the Ormskirk Campus. Edge Hill's bid to host 3 specialised courses for young people throughout the UK was recently accepted by the National Academy for Gifted and Talented Youth - the Government backed initiative based at Warwick University to develop and support educational opportunities for gifted and talented under 19s.

Edge Hill's expertise in performance and media will be shared with students from across the country at the film school, technical theatre and playwriting weekend scheduled for January 2006.

Bill Johnson, who is in charge of widening access is delighted that Edge Hill is working in collaboration with the National Academy for Gifted and Talented Youth:- "We already have a strong reputation for widening participation for young people in higher education and it's great to be able to share our expertise with those who show an aptitude for performance and film. We are busy putting in place the arrangements for the weekend when students will be able to follow one specialist track held in our new performing arts facility due to be completed in September this year."

Students are invited to apply for the weekends through the National Academy of Gifted and Talented Youth.
Southport Eco Centre short-listed for best in waterside regeneration
SOUTHPORT Eco Centre has been short listed for a prestigious prize by The Northwest Business Environment Awards 2005, in recognition of its environmental and business excellence.

Hosted by the Mersey Basin Campaign and the Northwest Regional Development Agency (NWDA), the awards celebrate the success of the region's innovators to combine exemplar environmental management with production practice. Set against the dramatic coastal backdrop of the town's Esplanade, Southport Eco Centre has beaten hundreds of entries to be placed on the shortlist at this year's Northwest Business Environmental Awards for the best in waterside regeneration category.

Designed by Liverpool architects Cass Associates for Sefton Council as part of its Agenda 21 programme, the building forms part of the seafront's park and ride facility as well as a conference and education facility. Southport Eco Centre makes extensive use of sustainable technologies and demonstrates a wide range of low energy, sustainable construction techniques, and it is these environmental credentials that have enabled the centre to get through to the short-listed finals.

The award recognises outstanding waterside development that enhances the region's waterways as an integral part of its concept, design and realisation. The building uses rainwater recovery methods to save on water usage and active and passive solar technology, together with a 20kw wind turbine to generate electricity. Combined with extremely high levels of insulation and ground-base thermal storage and recovery systems.

Steven Broomhead, NWDA Chief Executive, said:- "These awards demonstrate how Northwest companies are taking up the challenge and making environmental excellence part of their business success. Achievements such as these are great news for the prosperity and the environmental quality of England's Northwest and I would like to extend my congratulations to all organisations who have participated."

Walter Menzies, Chief Executive of Mersey Basin Campaign, said:- "These awards show where success in business has also given England's Northwest environmental, educational and recreational benefits. Despite the region's industrial legacy of environmental mismanagement, we are now home to a fantastic cluster of businesses, entrepreneurs and organisations that are leading the way in pioneering sustainable solutions to make the environment a priority for industry."

The winners of the Northwest Business Environment Awards 2005, will be announced at a ceremony on June 3, at Manchester United Football Club stadium.

The NWDA, Environment Agency, Envirolink Northwest, ENWORKS, CBI Northwest, Groundwork Northwest, The Royal Bank of Scotland and the Institute of Directors support the awards.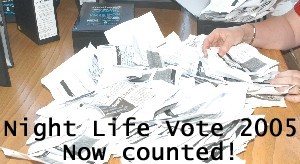 SEFTON ACHIEVES THE LOWEST UNEMPLOYMENT RATE IN MERSEYSIDE
540 less people claiming unemployment benefits than this time last year. Figures just released reveal Sefton is leading the way when it comes to reducing unemployment in Merseyside.

Official figures for April confirm 540 people across Sefton have come off unemployment benefits in the last twelve months. The borough's unemployment rate has again fallen 0.1points (92 claimants) since last month and is now 0.4points less than April 2004 - currently standing at 2.6%. This is now the lowest unemployment rate of all boroughs in Merseyside.

"Sefton has seen massive investment in recent years, and the falling unemployment rate is further evidence of this," says Thomas O'Brien, Chief Executive of The Mersey Partnership. "Increasingly the borough is being seen as a first-class location for business, with companies like MCL Software and Mellors both making major investments in the last 12 months. Ultimately this is leading to more jobs for local people."
Were you an evacuee during the Second World War? ResCEW NEEDS YOU!
AS many of us know year marks the 60th anniversary of the end of the Second World War, and researchers at The University of Reading are scouring the country for ex-evacuees to ensure that their experiences of wartime Britain are never forgotten.

During the war, hundreds of thousands of children were evacuated from towns and cities such as London, Birmingham and Manchester, and now the University's Research Centre for Evacuees and War Child Studies (ResCEW) wants to hear from ex-evacuees to help with the Home Front Recall Project.

Funded by the Big Lottery Fund, the Home Front Recall Project is a national initiative and a follow-on from the highly successful D-Day Anniversary celebrations in 2004. Its purpose is to make sure that the part played by civilians in the Second World War is fully represented during the events to be held in London in July 2005 to mark the 60th Anniversary of the ending of the war.
A key activity is the development of a database containing basic information relating to evacuees and their evacuation.

Dr Martin Parsons, Director of ResCEW, said:- "This database will provide a point of contact and create an opportunity to bring together people who may not have seen each other for the past 60 years. It will also enable us to answer queries that we already receive on a daily basis from ex-evacuees enquiring about individual schools, reception and evacuated areas. Finally, it will also help us carry out vital research in the field of evacuee and war child studies."

Ex-evacuees who would like to take part in the Home Front Recall Project should complete a questionnaire at the following website by clicking here.
BRIDGING THE GENERATION GAP
MYTHS of teenage yobs and moaning pensioners have been shattered with a Liverpool Culture Company project. People of different generations in South Liverpool got together to understand each other better and it was all captured on camera.

Jewish elders from Harold House taught non-Jewish teenagers from Harthill Youth Centre how to prepare Kosher food; and grannies from the Bridge Chapel Centre had a tea party with teenage girls from Garston where they swapped beauty tips, and stories about their childhoods.

The Creative Communities project was named The Generation Game by those who took part and photographs from the events will be shown in an exhibition in the Liver Building, Pier Head from Wednesday until Friday.

Liverpool's executive member for neighbourhoods, Councillor Marilyn Fielding, said:- "Engaging our young people in creative activities, and getting them interested and involved, is vital to the future of ourneighbourhoods. There is often the perception, especially among older people, that all young people do is cause trouble and create a disturbance. This project brings young and old together, breaks down barriers and helps them understand each other better."

Photographers commissioned by the Liverpool Culture Company include the organisation 'Aware' overseen by the visual artist Alex Corina responsible for the famous Mona Lennon artwork.

Chief Operating Officer of the Liverpool Culture Company, Jason Harborow said:- "This project really illustrates how culture in Liverpool is about grass roots community projects that make a difference to people's lives."

Further projects are taking place at the Penny Lane Development Trust and The Bridge Chapel Centre, bringing young people face-to-face with the older generation. And teenage girls in Garston will capture the memories and experiences of older women in the community through words and pictures.