AN EXCITING ADVENTURE THAT YOU WILL NEVER FORGET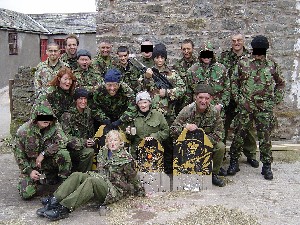 THE men of the SAS are widely acknowledged as the best Special Forces troops in the world. Who Dares Wins the motto states and as part of its 'Every Second Counts 2005' appeal, the Muscular Dystrophy Campaign is offering local readers the opportunity to take part in a weekend of team building and fun filled activities to see if you measure up against them as you also raise money for charity. Join other adventure seeking individuals on this Cumbria escape as you learn such skills as survival techniques, camouflage and concealment, shelter building and navigation. This thrilling event will test your newfound skills and leave you wanting more. All you have to do to take part is raise a minimum of £350 in sponsorship for an experience that will stay with you forever.

The dates for this adventure are 9 September to 11 September 2005 and the exact location near Penrith in Cumbria, but the full location will be revealed when you book your place. Participants can enter as individuals and be assigned to a team on arrival or can enter as a team of five with other like minded friends or work colleagues. You do not have to be super-fit, but you must be able to swim and be over eighteen to take part.

If you would like to put your determination and stamina to the ultimate test then contact the Muscular Dystrophy Campaign for an information pack on 01244 403012.
Hoodless Youths Launch New Website
TIRED of the label "yobs and delinquents," young people from the national helpline Youth2Youth have launched a new website to show that the youth of today do care about others.

The helpline, run by young people for young people, have launched the new website aimed at 11 to 19 year olds to coincide with the exam period to minimise the stress for students. The new website being launched this week provides young people with emotional problems the opportunity of being helped by trained volunteers from the local community. This peer approach of supporting vulnerable young people has helped over 5000 callers to date.

"Young people calling the helpline talk about a wide range of problems but particularly at this time of year there is an increase in young people expressing worries over their exams. We are here to help if they need us at this stressful time, " said Peter Bradley, Manager.

The helpline was established in 1997 and gained charitable status in 2004. It has a dedicated team of 48 young volunteers and a nation-wide network of organisations that refer "vulnerable young people" for help.

Julia, a 17-year-old volunteer working on the Youth2Youth helpline, said:- "Many young people experiencing exam pressures feel they have no-one to talk to. As most of the volunteers at Youth2Youth are taking exams themselves, we really do understand the problems they're going through. Many callers find being able to talk to another young person is easier than talking to an adult."

The launch of the website coincides with the Volunteers' Week 2005, a weeklong campaign that will run from June 1 to June 7 aiming to raise the profile of volunteering in the community. All the helpline staff volunteer their time to help others. If recent statements regarding young people were to go by, organisations like Youth2Youth would not exist. In actual fact, many young people from all walks of life across the country provide valuable skills to their community.

Youth2Youth Manager Peter Bradley said:- "We are tired of teenagers receiving bad press as the problems are caused only by a minority. It is time ministers and those in the media started to raise the profile of the positive contribution young people are having in today's society."