DIVE WITH SHARKS TO RAISE FUNDS FOR CHARITY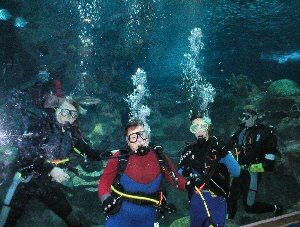 ARE you looking for a challenge with a difference? If you are then here is an idea you might find interesting. Why not learn the basics of scuba diving - in a tank full of Stingrays, Moray eels and 10 feet long Sharks!

Many people from all over the UK have already given this challenge a try and now more places are available so that you can come face to face with these creatures of the deep after a leading medical research charity has arranged these aquarium based 'Discover Scuba' diving sessions.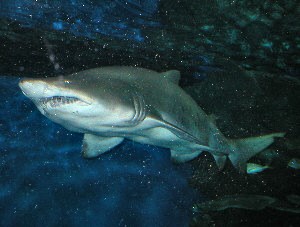 The Charity has arranged the sponsored dive sessions to raise vital funds and places are now available in July and August. Local readers are being invited to book a place and raise the minimum sponsorship of just £250 to get a FREE dive.

Charles Horton, Regional Fundraising Manager for the charity says:- "Anyone over 18 can take part in this breath-taking event, even with no previous experience of scuba diving. Coming so close to the inhabitants of the deep is the ultimate challenge. It's a very unique opportunity that will also help us raise income to fund a possible cure for muscle disease".

The dives take place at the Blue Planet Aquarium in Ellesmere Port, Cheshire, 1 of only 2 places in the UK to offer this special experience.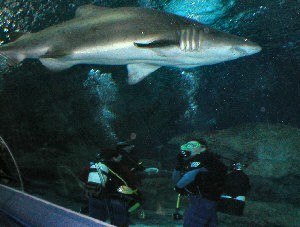 If the idea of sharing a tank with Sharks up to 10 ft in length appeals to you, then contact the Regional Office of the Muscular Dystrophy Campaign on
01244 403012 for an information pack and booking form or email:- charlesh@muscular-dystrophy.org.
Businesses want tourist resort yob crackdown!
A leading business pressure group is urging constabularies policing coastal resorts to follow the example of Devon and Cornwall Police, which announced this week it has secured 3 dispersal orders to crackdown on resort yobs this summer. The Forum of Private Business (FPB) launched a campaign earlier this year calling on police forces covering coastal towns to use dispersal orders this season to control anti social behaviour after they were used successfully in Bournemouth last year.

The FPB, which represents 25,000 small to medium-sized firms across the UK, 10% of which are in a coastal town, said businesses should work with police forces to identify yob hot spots where dispersal orders could be enforced.

"It is tremendous news that Devon and Cornwall Police has secured three dispersal orders for coastal towns.
The FPB has found overwhelming support from our coastal town members for a hard line to be taken by police in controlling drink-related violence and bad behaviour this summer. Drink-related crime is a grave and real problem in seaside towns and harms smaller business interests. Police have told us it helps build a case for a dispersal order if businesses tell them about trouble spots and keep a log of incidents. With the holiday season just weeks away, it is critical the resorts are properly prepared to cope with the sudden influx of visitors and late night boozing. The resorts are great places to have fun, but the police must have the towns under control so business interests - and the town's reputation - are not undermined by yobs, most of whom do not even come from the area. Shops, restaurants and hotels need public order if they are to flourish.

Dispersal orders can be particularly effective in providing a shield for high streets - protecting shop fronts from damage. They have also proved effective in dealing with crowds at closing time, which is a notoriously dangerous period. While dispersal orders may not be the long-term solution to problems, they can make a difference." said the FPB's Chief Executive Nick Goulding.

The order allows officers to disband groups they suspect of causing trouble and ban them from designated areas. Troublemakers who return within 24 hours are arrested and fined or sent to prison. Dispersal orders have also been used in other coastal towns including Portsmouth, Falmouth, Holyhead and Blackpool.

Director of Choices Furniture Ltd, Blackpool, Lancashire, Russell Brailsford, said:- "I would absolutely be in favour of these dispersal orders being used in Blackpool. ASBOs have worked and prove that taking a hard line is successful. Blackpool does suffer from drug addicts, alcoholics and yobs, and the police need to get a grip. We have 3,000 people being chucked out of the Syndicate nightclub alone of a night and the police struggle to cope. Blackpool sells itself as a stag and hen resort, therefore the police have to be able to control drinkers."

Owner of Southport Ceramics, Southport, Merseyside, Dave Wild, said:- "These dispersal orders are certainly worth considering. There just aren't enough police in Southport to properly control the drink-related problems. In recent years, there has been an increase in pubs and bars in town, but people from Southport, particularly over 30, go out in Liverpool because they feel safer. I know other businesses have suffered from broken windows and Merseyside police needs to improve its act in Southport."