Competition:- Lazijane CD and Southport Arts Centre Gig Tickets...

LAZIJANE a local band playing at the Southport Arts Centre live in Studio 1. the gig is on Friday June 10, and the band will be playing songs from their debut album 'Playtime'. Special guest performance from LEAH.
Ticket price £5, from Rimmers Music/ Darren or James, phone:- 0772 949 5159. Venue opens at 7.30pm show starts at 8.15pm.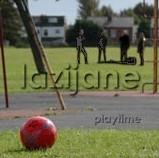 The competition is to win 2 tickets for the gig as well as a copy of the album 'Playtime'. The question is:- tell us how long has Mark the bass player been playing. Email us your address, phone number and also your answer to news24@southportreporter.com

Log onto the bands website, www.lazijane.co.uk if you would like help or to find the answer the question, hint, hint. The competition closes on the Friday 3 June, winner will then be contacted and given their prize and then announced in the next issue of Southport Reporter. Also remember that the bands album has been and will be played on our online radio station www.liverpoolreporter.com
Bikers Told to:- "Take iTT Easy"
MOTORCYCLISTS travelling from Liverpool to the Isle of Man for the TT Races are being urged to "take iTT easy and ride safely."

A road safety campaign is being run by Liverpool city council in partnership with the Isle of Man Government Road Safety Office targeted at the large number of bikers who travel through the city on the way to the races.

The LIVErpool take iTT easy campaign.will run from May 27.

It will include:-
· 2 large banners at the SeaCat terminal and outside Lime Street station.
· Safety literature in the ferry terminal and other port building and facilities
· Beer mats and posters with the campaign message in bars and clubs
· Repeat showing of motorcycle safety film on the Big Screen in Clayton Square
· Giant posters on the motorcycles only lanes in the toll areas of the Mersey tunnels

Councillor Peter Millea, Executive Member for Regeneration, said:- "Over the next couple of weeks there will be a large number of motor cyclists travelling to and from the Isle of Man on the Seacat via Liverpool. Many of them will spend some time in Liverpool so we want to press home the safety message. We want them to have a great time both in Liverpool and the Isle of Man but return home safe and sound."

Gordon Edwards, Road Safety Officer, added:- "We want to play our part in reducing motorcyclist casualties. While most of these accidents happen on the Isle of Man we want to play our part in reducing them by getting over the safety message before the bikers get on board the ferry. We would be urging all of them to take iTT easy in the next couple of weeks."
NO TURNING BACK ON RENEWABLES MINISTER REAFFIRMS TARGETS WITH NEWS ON WIND, TIDAL AND SOLAR
MALCOLM Wicks will today bring to his first speech as Energy Minister evidence of the Government's determination to press ahead on renewable energy. Speaking at the All-Energy conference in Aberdeen, Malcolm will say:- "I want there to be no doubt of our determination to push ahead on renewables. Energy policy was set in the White Paper for the long term and our target of generating 10% of electricity from renewables by 2010 is central to it. This will help us to meet our climate change commitments and build reliable energy supplies."

Malcolm will highlight news from his Department on wind, tidal and solar power:-
* Approval following public inquiry for the Scout Moor 26 turbine wind farm in Greater Manchester, generating enough electricity to power 30,000 homes.
* £2.68m Government funding for Newcastle-based SMDHydrovision's
"TidEl" tidal energy prototype to be developed and tested at Orkney's world-leading European Marine Energy Centre.
* £1.35m funding this week for 14 new solar installations across the UK, bringing total funding for medium and large scale solar since
2002 to £18.8m.

He will say:- "The Sustainable Development Commission last week reiterated the terrific potential of wind power. Our decision to give the go-ahead for Scout Moor was taken after extensive and thorough consideration of the representations I received, both for and against consent being granted. The independent public inquiry ensured that community and environmental concerns were heard. Approval takes into account the concerns raised, and includes a number of conditions recommended by the inquiry Inspector to mitigate any impacts.

We're also investing heavily in emerging technologies, and have committed some £500m in capital funding since 2002. Yesterday I awarded £1.35m to 14 solar projects across the country and today I'm announcing £2.68m for TidEl, a cutting edge tidal prototype.

The TidEl project is a good example of technologies being produced by the UK's marine energy industry. The project demonstrates the opportunities for UK companies, as well as the attractiveness of the UK as a place to locate and develop these technologies. Our support for initiatives by companies such as Newcastle's SMDHydrovision is designed to ensure that we maintain Britain's leading position, while promoting the generation of clean and sustainable electricity.

New tidal energy testing facilities at the European Marine Energy Centre are set to boost the development of this and other marine energy technologies, reinforcing the role of Orkney and Scotland at the forefront of renewables development."

John Reece, Managing Director of SMDHydrovision said:- "We are delighted to be awarded this grant which as well as allowing the project to proceed also represents a vote of confidence in our technology. We are greatly looking forward to working with our partners and suppliers to reach a successful conclusion at the European Marine Energy Centre next year and to carry on with developments thereafter."
Practice Makes Perfect, Prize Bingo...
HOLY Trinity Church Hall, opposite the Southport YMCA is holding the Practice Makes Perfect Sign Language 's latest idea, Prize Bongo at 7pm on Friday 11 June 2005. All welcome. More info. on learning sign language, call Maureen on 01704 546626