SOUTHPORT OFF LICENCES WIN NATIONAL AWARD
3 off licences in Southport have been voted the best in the UK by their customers. The stores, which are located on Sussex Road, Hesketh Drive and Forest Road, took part in a national off licence survey and came out top after scooping three awards. Booze Buster and Wine Cellar, both owned by Wine Cellar Ltd, were named the best retailer and were also voted as having the friendliest staff and the fastest service.

The awards were decided by Specialist Off-Licence Tracking survey (SOLTrack), which interviews off licence customers to find out their views on service and performance.

Booze Buster and Wine Cellar dominated the awards ceremony, which was held in London recently, by winning three out of the seven awards and beating stiff competition from other well-known high street off-licences.

Dave Cahill, regional manager for Wine Cellar and Booze Buster in Southport said:- "We employ nine people across Southport and they've all played a part in helping us win these awards. Our stores are at the hub of the community and it's important for us to know what our customers think. That's why these awards are so impressive, as it's our customers who have voted for us and winning 3 out of the 7 categories is a great achievement. It demonstrates how committed we are to providing good service to our customers. This is the first SOLTrack awards ceremony and it's a good way for us to benchmark our services against other off-licences and therefore continue to further improve the business."

Wine Cellar and Booze Buster are part of Wine Cellar Ltd which has over 230 stores nationwide.
KOP THAT, MARTINA!
WINNER winner of 58 grand slam titles, including nine Wimbledon singles titles, Martina Navratilova, lifted the biggest trophy in club football this week. The tennis legend, who is to guest star at the 4th Liverbird Developments Liverpool International Tennis Tournament this week before attempting to win a 59th title at Wimbledon, was seeking some inspiration by swapping centre court for the centre circle of the sporting cathedral of Anfield and lifting the cup the Reds memorably won for a 5th time against all odds in the 'greatest ever European final'.

The visit was part of a wider tour of the 2008 European Capital of Culture, before playing at Calderstones Park on Wednesday, June 7 and Thursday, June 8.

The 46-year-old is to receive an exclusive tour of Liverpool Football Club by former reds Captain and Assistant Manager Phil Thompson, who is also an Official Ambassador of The Liverbirds Developments Liverpool International Tennis Tournament.

Ms Navratilova was joined on a tour of the Anfield museum of the current Champions League Winners, by the 2004 Liverpool International winner and current highflying ATP top 10 star Ivan Ljubicic.
What's the helicopter doing over my house?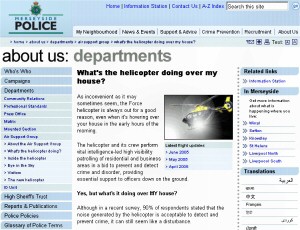 WELL after being asked so many times, Merseyside Police have now got a web page so you can find out just what it was doing.

Merseyside Police said that:- "Details will be updated on our site as soon as possible often on the next working day. So if we had to fly over your house, and you are disturbed at three o'clock on the morning, a visit to our page may help you understand why. We can only give you brief details of the helicopter's activities and no confidential information will be released on these pages. But it should give you a fuller picture of the vital service the helicopter performs and we hope to say why we went over your house."

Click here to see it.
IS YOUR COMPANY THE UK'S MOST FAMILY FRIENDLY FIRM?
COMPANIES in Southport are being invited to compete for the title of the UK's most family friendly company. The competition is being organised by the NSPCC to recognise the achievements of employers who help parents juggle busy working lives with caring for their children.

The NSPCC Family Friendly Award, which is sponsored by executive search firm Norman Broadbent, is open to companies of all sizes and from all sectors. Successful examples from last year's winners included up to 15 days compassionate leave if children or their parents are sick as well as flexible working to allow parents to attend school events.

Dr Jan Hartley, the NSPCC's business adviser for Southport, said:- "Providing flexible work life options not only take the pressure off families, it makes good business sense too. The NSPCC Family Friendly Award is a chance for employers to highlight their creative work life balance. We have invited young people to join the judging panel this year to collate their views on what would be the best family friendly policies and they will be able to comment on what really works for them."

The NSPCC Family Friendly Award is a category in the Employer of the Year Awards 2005, organised by the charity Working Families. Companies can enter by registering at www.workingfamilies.org.uk. The closing date for registration is 29 July 2005. The winner will be announced at a ceremony in London in December 2005.