The Southport Jazz Festival in Formby!
IT is a shame that Formby doesn't get to participate in the festival, so a small pub come coffee shop has worked independently with the organisers of the Jazz Festival in Liverpool to bring a 'JAZZ DIVAS WEEKENDER' to them.

Woodwards Cafe Bar in Formby Village will hold the event that will see:-
Saturday 25 June 2005... Blundell Street and Pan American regular TONI JAMES on from 3pm with her smooth mix of jazz and funk.

Sunday 26 June 2005... Living Rooms and Hope Street Lounge regulars THE NEED STEVENS DUO playing everything from Aretha Franklin through to Norah Jones.

Sunday 26 June 2005... Formby's own jazz diva, Woodwards regular ANNA CORCORAN on from 8pm, back by popular demand.

"This will be a fantastic weekend of fun and we look forward to seeing you." said Woodwards.
POP heartthrob Darius Danesh is playing 'Haydock Park Live' on Friday night 1 July
THE Glaswegian singer who hit Britain's TV screens first on Popstars and then on Pop Idol comes on stage at the racecourse as soon as the horses have finished racing. Though he was 3rd in Pop Idol to Gareth Gates and Will Young, he had wowed a nation and when he released his own single, Colourblind, it went straight to No 1.

The Southport Reporter has teamed up with the racecourse to offer 3 lucky readers a pair of County Enclosure badges for the evening. They'll be able to watch the racing, and then see Darius. All you have to do is answer the following question correctly and post your answer to reach 4a Post Office Avenue, Southport Merseyside, PR9 0US by 23 June 2005. Please include your address and telephone number so that you can be contacted by the racecourse immediately to let you know that you have won.

Question:- What was the name of Darius's No 1 single after he was on Pop Idol?

Racing on Friday 1 July is scheduled to start at 7pm. The last race is at 9.30pm, after which Darius comes on stage. Admission is £8 to the Newton Enclosure, £15 to Tattersalls, £24 to the County Enclosure, and £38 to the Premier Enclosure on the top floor of the Centenary Grandstand.

Accompanied children under 16 enter free. Senior citizens and students, with appropriate identification, enter Tattersalls and the Newton Enclosure at half price. More details about Haydock Park are available on web site www.haydock-park.com.
Batman in Southport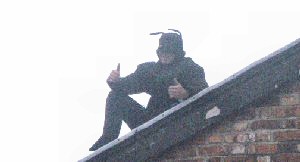 THE Fathers For Justice campaign was out and about in Southport protesting. One of the protesters was out dressed as Batman on the roof of the social services building from June 13 (Monday) to June 15 (Wednesday). Police cornered off a small section of the car park in front of the building, but Hoghton Street remained open to traffic Some supporters stayed below with flags and banners...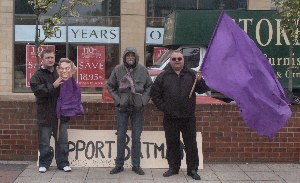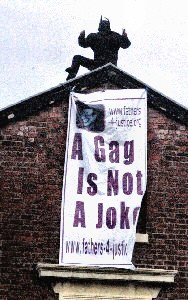 ATKINSON ART GALLERY
Painting of the month...

THE event will be held on Friday 24 June at 12.30 at the Atkinson Art Gallery in Southport.
Jo Jones will give a talk about A Gypsy Camp by Richard Parkes Bonington