Local Sailors in the Clipper, Round The World Race... Part one.
Photographs by Patrick Trollope.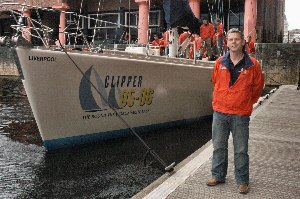 WE were going to run this a few weeks back, but we decided to hold fire and then run this feature as a two part story. Next week we interview a Formby man who will be on the 05-06 Liverpool clipper, this week's interviewee is from Ormskirk, who has strong links with Merseyside and is a Sports Diver in the local Sub-Aqua club called OSAC.

42 year old Andy Tomlinson is embarking later this year on another sport, this time above the waves. The self-employed Building Contractor, who lives in Aughton, near Ormskirk, has always had a thing about the sea. He took up diving a long time back, but now has risen to meet a different challenge of the high seas,this time above the waves and has mastered the sails of a clipper.

After being lucky enough to be selected to take part in two legs of the Clipper 05-06 Round the World Yacht Race, as part of the 18 strong crew on the Liverpool '08' Clipper, he has been working and studying hard for the race. We asked him what it is like to have such an epic voyage awaiting him, as well as the hopes of the people of Merseyside riding on the team's performance..... "Having sailed on the new yacht in very difficult conditions, I feel more excited than anxious about what the race and the Atlantic Ocean can offer, and look forward to the challenges that it sets us. I've met many of the crew that I will be sailing with and each one seems to want the same things out the race as myself. I'm sure that there will be very difficult times during the race, but we have been trained to a very high standard so, hopefully, are ready for what might be thrown at us. Considering that I had never sailed before in my life, the learning curve has been very steep! This year seems to have flown and now it is less than three months to the race start. But I will do my best and so will the team to make the Liverpool clipper victorious!"

We asked why he set himself such a hard task and he responded which:- "It is an adventure that is once in a lifetime experience and not many people get the opportunity to do anything like this. I am also involved with Alder Hey Children's Hospital in Liverpool, and they have agreed that all profits from the money raised will go into their General Fund. I have collection boxes in many of the places, shops, etc. that have been kind enough to support me, and the generosity shown by local businesses has been quite overwhelming. What better way of raising cash for charity and also doing something that benefits Liverpool and also gives you the such a buzz?"

Andy is married to Tracey, a Personnel Officer with Merseyside Police, based at Huyton Police Station and has a 15 year old son attending school in Crosby, but despite the voyage taking him away from them, they are backing him all the way. Andy told us:- "I am not looking forward to being away from them for so long, even though I am not doing the full trip, it will still be hard to be separated from them for so long. I have had great support from my wife and from my son, who has just sat his GCSE's. Both are excited for me and I get them involved whenever I can. My wife has been extremely understanding, seeing that I surprised her with the fact that I had booked another leg (leg 1), without telling her, though it cost me in the end! I will leave Liverpool on 18 September, this year (2005), and travel to Salvador, in Brazil, via a stop-off in Portugal. My wife is flying out to meet me, and hopefully spend some time with me, when we arrive in Portugal. It takes about six weeks to get to Brazil, where, after spending a few days relaxing, I'll fly back home from Rio.

In the middle of May next year, I fly out to Curacao, in the Southern Caribbean, to rejoin the yacht and complete the race. The yacht sails through the Caribbean, with stop offs in New York, and New Jersey.

Again many friends and members of my family are flying out to New York, and we should have some party when I arrive. We have many relatives living in the USA and they are arranging to bring all their friends with them as well.

After nine days in New York we head off back across the Atlantic, to Jersey, and finally arriving in Liverpool on, hopefully, 1 July 1 2006."

At a press conference a few weeks back he said:- "I feel that it is a great honour to be able to represent the city of Liverpool in such a massive global event, and I, with the rest of the 'Liverpool 08' crew will be trying our hardest to win the race.

Many friends and family will be following my progress in the race online, as it will be permanently covered on the Clipper website and reports will be added in the local media (Southport Reporter)."

If you want to sponsor, him please email us your details and we will pass them on to him. "The more cash I can raise for Alder Hey Children's Hospital the better... Please suport me. Thanks!"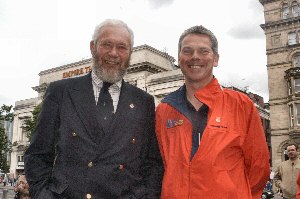 Pictured above, Andy Tomlinson with Chairman & co-founder of the Clipper Race, Sir Robin Knox-Johnston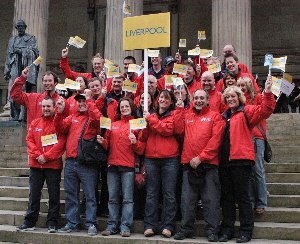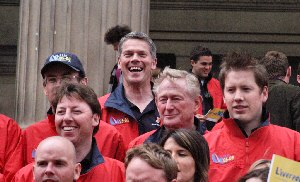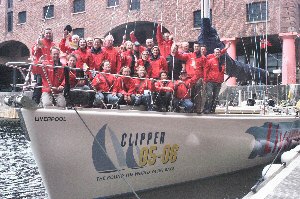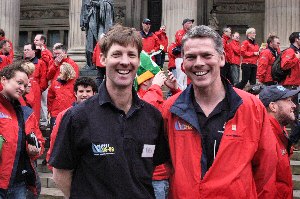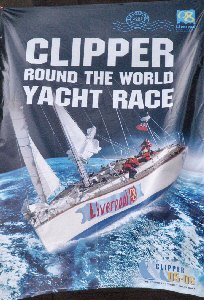 Click here below for free Screen Savers
| | |
| --- | --- |
| All the Clipper 05-06 teams out side St Georges Hall | Shots of 05-06 Liverpool Clipper, the all the 05-06 Liverpool Clipper crew on board & more... |
| | |
To see the full list of free screen avers and for download information and examples of above, click here
5 Clipper did you knows...
Fact 1:- When the Clipper is doing 12 to 15 knots or more 80% of the pull comes from the Spinnaker (The very small sail) and the rest from the main sail (the big sail).
Fact 2:- All the Clippers are identical, except for the markings and names...
Fact 3:- The Clippers are 68ft and newly built for this race.
Fact 4:- The race will cover 35,000 miles, in all weathers.
Fact 5:- The only onboard entertainment is a car radio/tape player!