NOT POLITICALLY CORRECT
Written by Dionne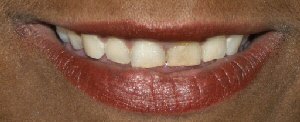 Can you spot the correct markup or not?

BLACK women have often felt ignored by cosmetic companies; they also have had trouble finding simple make-up products such as foundation, with colours that are flattering. Black women usually have sensitive, oily skin that scars easily, so products that are powdery can look ashy and chalky on darker complexions, so pink pigmented products are unflattering to black skin tomes. Black women now have more options as companies realize the potential of a powerful consumer base, unlike two years ago when it was very rare to find make-up for black women in your ordinary cosmetic shops, then it had to be ordered by mail order and was very expensive. It is only thanks to women like Whitney Houston and fashion model Iman wife of David Bowie who in 1994 was tired of mixing her own colours and formula started her own cosmetics line for black women before any of the major cosmetic companies took notice. In reality cosmetics companies should research black women in more depth to provide the same amount of make-up choices and colours that Caucasian women have.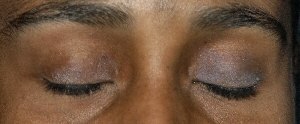 Can you spot the correct markup or not?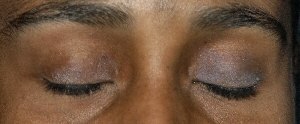 There is many misconceptions that people have, such as they don't need sunscreen as there skin should be used to the sun and hot weather, therefore they have no worries about skin cancer or other related illness which can be caused by the sun. Black skin is affected as much by sunlight, pollution and stress as women with lighter skin tones, in many respects women with black skin are faced with even greater challenges. Black women, for instance need to be very conscious of hyper-pigmentation, since their skin scars so easily. This affects the melamine, which can cause a problem with skin pigment and can leave dark patches on your skin, and is known as a mask, as it covers parts of your face. To prevent scarring, they need to always guard against acne and to continually protect their skin from the sun; generally black women also tend to have oily facial skin, which can be compounded by more than just the skins natural oils. Skin like style, is Unique. There are 35 different shades of black skin tones and probably just as many subtle gradations of Asian, Latin and Middle-Eastern complexions. Uniting them all is tone rather than actual colour identifying your skin tone is the key to finding the right makeup for you. ...continued....
...continued.... A few beauty myths about black skin:-

§ Black skin doesn't need sun protection; Everyone's skin needs protection to prevent premature ageing and formation of skin cancer. The average black woman does have an advantage on the sun; her skin has a natural SPF of 13, allowing 13 times more sun exposure than the palest shade of white, which doesn't have any.

§ Black people can't burn:- Dark skin still burns if exposed to too much sun rays, dermatologist recommends a daily application of sunscreen of SPF 15 or higher on the face and arms to protect from premature ageing and skin cancer.

§ There are three basic shades to dark skin-light brown, medium brown and dark brown; Skin is never that generic no matter what colour they are, even Caucasian skin has different shades of white.

Most women are willing to pay for quality products and good service, especially if the products are tailored to her needs. A black woman wants to feel welcome at the cosmetics counter, and feel comfortable with beauty consultants who should be aware of her needs. They should also have beauty consultants who are either black or al least someone who has taken the time to learn and find out about beauty products for black women, so that they can offer the correct advice. Companies should also feature more black women in their advertising, as we still feel 2nd class women to our equally bright and beautiful Caucasian counterparts.
FINDING FOUNDATION
Determining the exact match for any skin colour is never easy. Some of the brands that carry shades for darker skin are, Bobby Brown, Iman Perspectives and Laura Mercier. Visit as many make-up counters as you can, and test the foundation on your entire face not just your jaw line. These areas are not the same colour as the skin on your face. Be sure to go outside in the sunlight, and don't buy foundation the first day you go looking, take samples first to make sure the one you pick is the most natural. You are after a tone that disappears into your skin, foundation is meant to even out the colour and surface of your skin not act as a mask. When applying colour, less is more, the aim of make-up is to highlight your features, not to create a new face. Practice by applying the right natural base, once you've got this down you will be able to experiment a bit more.
AIR AMBULANCE FLIES IN A NEW FULL TIME PARAMEDIC FROM MERSEYSIDE
THE North West Air Ambulance (NWAA) has recently appointed Lee Winterbottom from the Wirral as 1 of 3 new airborne paramedics. Lee, who joins the NWAA from Mersey Regional Ambulance Service as a full time paramedic, began his career as an Ambulance Assistant in 1998. His experience in emergency service also encompasses a number of years as an operational civilian in the Metropolitan Police. He began working as a state registered paramedic in 2001.

His wealth of experience in dealing with emergency and high-pressure situations will stand him in good stead working with the NWAA, and Lee has undergone further intensive training to ensure his paramedic skills are supported by expertise in areas such as navigation, meteorology and aeromedical flight safety.

Lee comments:- "I applied to join the NWAA as I see it as a real challenge. As a paramedic, it was an opportunity I couldn't pass up as it gives me the chance to carry out my job in a unique and exciting environment. I look forward to the unpredictability of the job, making a difference to the people of the North West and representing such a vital and worthwhile cause".

Outside his work as part of the NWAA aircrew, Lee enjoys sports such as running and mountain walking. He also has interests in music, cinema and travelling.

For the patient, the NWAA is the fastest emergency service. Donations can be made by ringing 0800 587 4570.