LOCAL SIDECAR RACER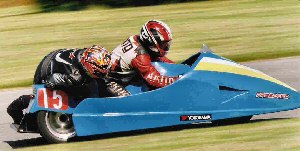 TEARING around a race track at speeds in excess of 130 mph inches from the ground in all weather conditions is not everybody's idea of fun but for one local girl, Claire Hopkins this is the highlight of her week. Claire, who lives in Birkdale, Southport races formula 2 sidecars with driver Paul Hauxwell at racetracks across the country most week ends. The outfit has a 600cc Yamaha engine and with two people on board it screams into the first bend fighting for the ideal race line against 15 to 20 other sidecars.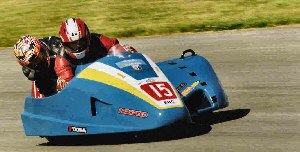 Claire started racing last year and picked up a number of trophies including 2nd at the local Three Sisters Circuit and a couple of 3rd's. Paul comes from a long line of sidecar racers and has been racing for over 10 years. The team PCG RACING was formed early this year and have recently upgraded their outfit, which experienced its 1st outing at Aintree Saturday 9 July, they came 6th in the F2 category racing against 15 F2's and 7 F1 outfits.

Next outing for the team is at Aintree on 13 August 2005.

Sidecar racing is an expensive sport and PCG Racing are on the look out for potential sponsors. The team can offer fantastic advertising opportunities and promotion at a very reasonable price, they also offer advertising for special occasions so if you want to surprise someone with a happy birthday sign on a racing outfit then contact us. For more information and to contact us, please contact Southport Reporter for our contact information.
Sponsorship is a great way of advertising your business, PCG RACING plan to race at the famous T.T in 2007, which will be celebrating their 100th anniversary, coverage is expected to be huge and so is the advertising potential.
Transport is a bill to high for on Cancer Patients
A hard-hitting report by the cancer charity Macmillan Cancer Relief has brought to light the huge financial burden on cancer patients who are footing the bill for travelling to, and parking in hospital car parks for their vital cancer treatment. The report entitled "Free at the point of delivery?" is the latest in the charities Better Deal Campaign, which is covering the financial problems faced by people with cancer.

Unlike other conditions, cancer requires treatments, which can see the patients travelling on a daily basis to hospital for appointments. Many patients attend hospital on as many as 60 occasions during the course of treatment, and if one of those treatments is radiotherapy then this includes a daily visits over 6 weeks. With radiotherapy equipment only available in larger hospitals, patients face long daily journeys.

Advances in cancer treatment mean that both radiotherapy and chemotherapy can now be delivered on a day-patient basis, but this means that the financial burden has shifted to the patients in the increased travel costs and heavy parking charges at hospitals.

The report shows that:-

Cancer patients spend an average of £380 on travel to hospital during the course of their treatment.
75% of hospitals charge for parking and 60% do not provide concessions for cancer patients.
Only 19% of hospitals tell patients about the Hospital Tavel Costs Scheme, which is designed to help patients on low incomes with the travel costs.
Public and hospital transport is neither adequate nor suitable for cancer patients.

So after analysing the report Macmillan is recommending:-

Patients being treated for cancer should be eligible for help on a none means tested basis under the Hospital Travel Costs Scheme.
Patients undergoing cancer treatment should be exempt from hospital parking charges.
The Hospital Travel Costs Scheme should be better publicised and reimbursement arrangements simplified.

Macmillan Regional Director Maureen Rutter says:- "Dealing with a diagnosis of cancer is an extremely stressful time for patients and their families. On top of the strain of coping with the disease and the debilitating effects of treatment, patients soon find that cancer can be extremely expensive. At a time when household income is often depleted due to loss of earnings, the cost of travelling to and from hospital can be a real burden."

Macmillan has a special freephone helpline for anyone with cancer who has financial worries. Phone free on:- 0800 500 800 or visit our web site at:- www.macmillan.org.uk/abetterdeal.