THE FACT IS BRITAIN A NATION OF HYPOCRITICAL 'LITTER THUGS'!!!
OUR UK, is it really a "Green and Pleasant Land", or it should be renamed a "Green and Unpleasant Dump...?" Yes, that is correct, a green slimy and moldy dump if current trends keep happening.... It is fact of life that in the UK over 30% of the population have littered in just the last 3 months, with 4% of the population own up to dropping in excess of 50 pieces of litter. Together we drop 2.26m pieces of litter per day and 68.6m pieces of litter per month...
7 facts for each of the 7 days of the week:-
Fact 1:- 2.97m more men than women dropped litter in the last 3 months

Fact 2:- On average, men drop 3 times as much litter as women

Fact 3:- 16 to 24yr olds drop 3 times as much litter as the rest of the population

Fact 4:- People aged 55 and over are least likely to litter

Fact 5:- Regionally, southerners drop more litter than northerners. Yes it is really a fact that Southerners are the worst litter bugs! On average, people in London drop over twice as much litter than people in the North of England

Fact 6:- Single people drop more litter than married people or couples!

Fact 7:- 82% of people agreed with fining for littering and 8% said that they agreed in principle but wouldn't want to pay up if they got caught (some councils have introduced fines of up to £75 for littering)

So what do we know from all of that? Well the new research reveals the British public's hypocrisy when it comes to littering. A new study from Symphony Environmental, the environmentally friendly degradable plastics company, shows that whilst approximately 46 million people (99% of the UK population) believe that people should discard of their litter appropriately, they still openly admit to dropping a whopping 205 million pieces of litter in just 3 months. This equates to over 30% regularly dropping between 1 and 50 pieces of litter in 3 months and the grubbiest 4% admitting to littering over 50 items in the same time period!

Despite these honest admissions from UK adults, the research shows that it is clear that people have real objections to certain types of litter and waste. 41% of respondents (19m people) hate to see uncollected dog faeces on the floor and a further 31% (14.1m people) dislike types of plastic litter the most. Chewing gum comes in 3rd with 17% respondents (7.7m people) taking offence. A substantial 96% also said that they realise that uncollected waste, particularly non-degradable plastic, will harm the environment and wildlife.

Allan Blacher, chief operating officer, Symphony Environmental said:- "These littering habits are worrying because some litter, especially if it is made of plastic, will never degrade and could end up harming the environment and wildlife. It is a fact that about 90% of all the plastic ever produced is still around somewhere today! People are unlikely to stop littering overnight so we need to encourage more businesses to start taking greater responsibility for their plastic bags and packaging that can so often end up as uncollected litter waste. Put simply, if consumers won't practice what they preach then retailers and the packaging industry should help address the problem of harmful litter by introducing and providing degradable plastic bags and product packaging."

The Symphony research reveals that the public's enjoyment of their local environment is being ruined by litter with 88% (40.1million) people stating that this was the case. The study also explored which public spaces and beauty spots, across the UK, were most affected by so called 'litter thugs'. Millions of people said that they had observed uncollected litter, in the form of packaging, crisp packets, drink bottles in many beautiful areas within their region and local area. The results show that British parks have been the most affected by plastic litter over the last 12 months.

The problem of litter has clearly been noticed by, and is disliked by, the majority of people. However, these same people openly admit that they contribute to the amount of litter that is either collected or left uncollected up and down the UK. Under new laws, councils are cracking down on litter thugs because they are now able to issue on the spot fines to those caught littering.

Symphony's research found that people were mostly positive about the introduction of fines, which can be as much as £75. 82% agreed with fining and 8% said that they agreed in principle, but if they themselves got caught they wouldn't want to pay up.
Twice as many men did not to agree with the fine or want to pay up if caught, when compared to women.
16 to 24 years agree the least with litter fines (60%) compared to 91% of 55-64 year olds and 85% of those aged 65+. And 19% of 16-24 years disagree with fines and 22% wouldn't want to pay if caught.
SOUTHPORT FLOWER SHOW SCHOOL WINNERS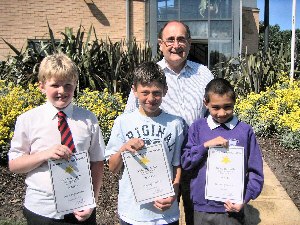 THE Wirral has fared well in this year's David Bellamy Schools Competition, run by Southport Flower Show with two out of the three winners coming from the area. Thomas Davis from Poulton Lancelyn Primary School and Peter Pegasiou from Stanton Road Primary School, both aged 11 were two of the successful applicants and the third winner Ben Green, also aged 11, attends St Andrews Catholic Primary School in Preston.

The competition was open to primary schools throughout the northwest and Southport Flower Show received over 7000 entries. David Bellamy chaired the judging process and together with Mike Mcleod, Southport Flower Show's general manager, the three winning garden designs were chosen.

Mike said:- "We were inundated with entries for the competition and the level of creativity and authenticity was impressive. Using the children's concepts we will be creating three very exciting gardens at the Show this year."

Southport Flower Show runs from 18 until 21 August and the winning designs were based on this year's theme which is World of Travel. All three children's visions will be brought to life at Southport Flower Show by the event's gardening team. Thomas Davis created a Japanese garden, Peter focused on a Greek theme and Ben submitted ideas for a Cuban garden. Each child won £50 of vouchers for personal use and £500 each for their respective schools.

This year Southport Flower Show is displaying more gardens than ever before, there will be a new interactive family entertainment area, a wide variety of attractions under cover, celebrities, crafts and lifestyle products, so there really is something for all ages whatever the weather. A flexible ticketing system is also proving popular, as people can purchase discounted tickets in advance and use them on any one of the four days without having to specify exactly which day they plan to visit. A special four-day pass offers great value for money at just £27 which allows admission every day throughout the show as well as access to a special patron lounge, restaurant and private conveniences. For tickets call Ticketmaster on:- 0870 44 44 226.
10 out of 10 for city's parks
LIVERPOOL'S parks and gardens have been awarded TEN of the highest environmental accolades. 10 of the city's parks and gardens will be able to hoist the prestigious Green Flag award, which has been awarded to them by the Civic Trust. The city has received one of the highest number of flags in the UK.

Liverpool city council's executive member for leisure, Councillor Warren Bradley, said:- "It's excellent news that ten of Liverpool's parks and gardens have received a prestigious Green Flag award. We entered ten parks and we've had a 100 per cent success rate which really is amazing. Liverpool has one of the highest number of Green Flags in the UK and it is a real credit to the city council's gardening service, our partners, friends groups and the community. The city council is dedicated to improving Liverpool's parks and gardens and making them areas where residents, and visitors, want to spend time."

The award is the national standard for parks and gardens, which recognises the excellent standards of Liverpool's green spaces.

The 10 winning parks and gardens are:-

· Calderstones Park
· Dovenfield Garden
· Everton Park Nature Garden
· Falkner Square
· Greenbank Park
· Our Lady and St Nicholas Church Garden
· Springwood Crematorium Garden of Remembrance
· Reynolds Park
· St John's Gardens
· Woolton Woods and Camphill

It is the first time that Devonfield Garden and Greenbank Park have received the accolade. And, to continue Liverpool's winning streak Sefton Park Palm House received a special Green Pennant award from the Civic Trust. This is awarded to high quality green spaces, which are maintained by voluntary and community groups.

Director of Sefton Park Palm House Preservation Trust. Elizabeth-Anne Williams, said:- "Winning the Green Pennant award for the fourth year running is a wonderful acknowledgement of the Trust's hard work over the past year. The Trust's focus on community involvement, its investment in the Palm House environment, its improvements in information available to visitors, the development of the events programme and the Palm Houses' role as part of the bigger park, makes this a well-deserved award."

The flags will be awarded to each winner at a special ceremony on Thursday 28 July.