TAXI DRIVERS' FUN DAY OUT FOR MERSEYSIDE'S BLIND YOUTH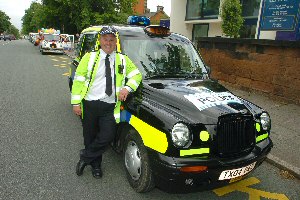 BIG hatred black cab drivers swapped fares for the fairground to take more than 100 blind youngsters on a special day out. Continuing a tradition which dates back to before World War II, around 55 drivers and their iconic LTI Vehicles taxis pulled up outside Wavertree School for the Blind, in Liverpool, this month to pick up the day's young passengers.

Complete with a police escort, they then travelled in convoy the 20 miles to Southport where the children were treated to lunch before being let loose in the fairground. And after all the fun of the fair, the youngsters gathered in a local hall to get a special gift before heading back home in the black cab convoy.

"The cabs are decorated before we leave and the in a convoy is an amazing spectacle. It really is so heart-warming. All the children have a fantastic time and there is such support among the drivers. Sometimes particular drivers can't make it because of prior commitments, so you get new drivers coming in. And having done it once, they can't wait to do it next year!" said Phillip Carpenter, aged 36, a committee member with the Taxi Drivers' Blind Children Outing Fund and a Liverpool cab driver for 18 years.

The charity was founded in the 1930s to help local blind children. It resumed after a break for the war and the 2005 event, on July 7, was the 56th outing. The children were aged up to 18 and came from both St Vincent's School for the Blind and the Royal Liverpool School for the Blind.

LTI Vehicles, the Coventry-based manufacturer of the black cabs, supported the event through local dealer Taxifix, providing vehicles, presents and prizes for the day. Damian Lynch, Managing Director of Taxifix, said:- "We have supported this fantastic event for the last three generations and will continue to do so in the future. We are delighted to be involved and help out in any way we can. There is a lot of unpaid time and effort involved in this event and we would like to congratulate the committee and participants on such a successful outing."